Friday Cocktails: The Prince of Wales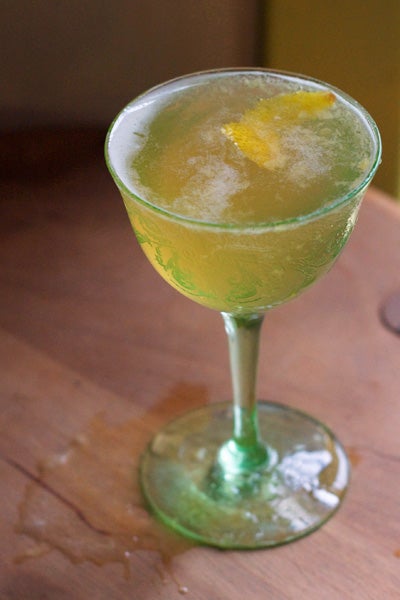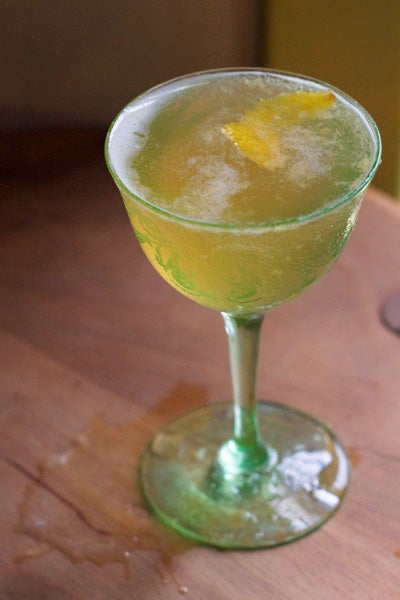 My dad is a whiskey drinker; he likes blended Scotch, preferably Famous Grouse, neat, at five on the dot. My uncle is an American whiskey man through and through, an official Tennessee squire and a Jack Daniels loyalist. Despite this lineage, I've never liked the stuff much, finding the taste too strong, too sweet, too musty, or simply just too much for my taste.
That is, until I tried the Prince of Wales cocktail at New York's The Beagle bar and restaurant. The Beagle specializes in pre-Prohibition cocktails, where the spirits form the flavor foundation of every drink. One glance at their back bar told me this would be a whiskey drinker's paradise, but I was a little concerned for myself. Whiskey-based cocktails had never been my cup of tea. But I kept coming back to the touch of Champagne and hint of muddled pineapple in the Prince of Wales on their menu, whose base spirit is a rye whiskey. When I finally decided to give it a try I was completely blown away by the complex marriage of the ingredients—they did not mask the whiskey flavor, but served to enhance its characteristics instead, and all the sudden I found myself loving it. The rye provided a spicy, warm undertone of flavor that complemented the high acidity of the pineapple, and the Champagne, which also served to lighten the drink, underscored its vibrancy. I got the recipe from the bartender, and now I know exactly what I'll be mixing for myself while I'm back in Georgia with my whiskey-loving relatives for the holidays. Maybe my dad will even like it too.