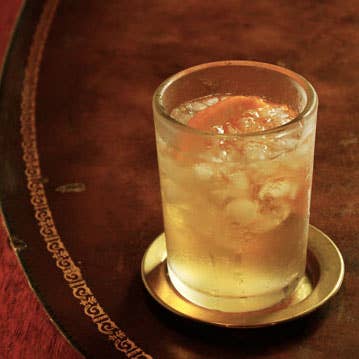 Drinks
Friday Cocktails: The Rivington Ride
When somebody tells me they've created a great new cocktail, I don't expect much. It's no different than when someone claims to have the best mechanic for a car you drive, or the perfect partner for an unmarried friend. I nod, smile, and think to myself "What are the chances of that?" Maybe that speaks to my cynicism, or maybe I just haven't known the right bartenders.
When Cary Kappel, a proprietor of the New York City bar 151 Rivington, told me he had created a signature cocktail for the establishment, I did my usual nod and smile. Then he handed me an up glass chilled by the cloudy looking liquid it held: a mixture of Jameson and Cointreau, with orange bitters and a splash of soda. It had that warm whiskey bite, tempered by a perfectly balanced hint of citrus. I was a fan from the beginning. And it was the beginning: The drink was so new it didn't even have a name.
Since then, the drink was named — and gave rise to a warm-weather version. The barley-based Jameson is a perfect base for the chilly months, but the summer edition of this cocktail is anchored by wheat whiskey, which has a cooler touch, and is served in a tall glass over crushed ice to help it stay chilled. It also calls for a bit less Cointreau. The resulting cocktail is the same, but different: it's true to the flavor of the original, yet it's more refreshing; rather than hitting you in a wave, it delivers a spark of warmth that makes you wish the season would linger.