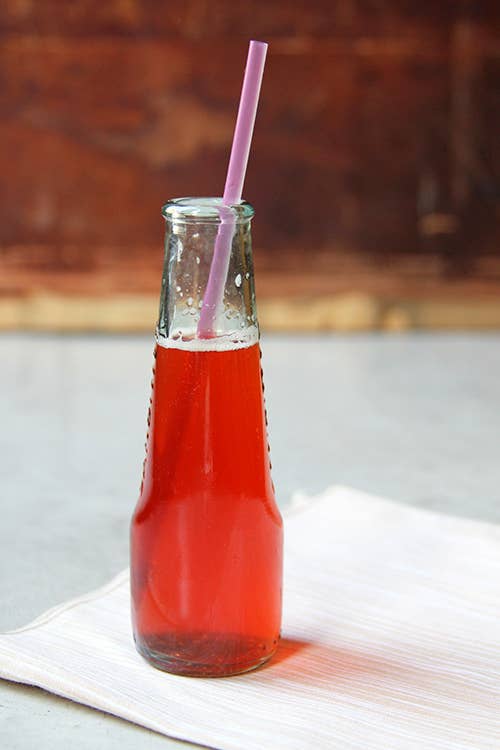 Drinks
Friday Cocktails: The Venetian Cup
On a recent sunny Monday I found myself sipping cocktails on a stranger's terrace. The owners of OAK at fourteenth in Boulder, Colorado, had traveled to New York for the Manhattan Cocktail Classic, and decided to extend their stay with a pop-up dinner to showcase their menu—not in a rented space or at a neighboring restaurant, but at a friend's apartment in Brooklyn.
There is something extra-wonderful about being on a rooftop in New York City, where it can sometimes feel like you're enclosed in a concrete box. And there is something extra-intimate about being invited into a stranger's home in a city where people go out more often than they entertain. As the ten of us (also all strangers) admired the view of Manhattan and chatted about the sudden good weather, beverage director and co-owner Bryan Dayton walked around cheerfully shaking hands and handing out tiny glass bottles filled with a lightly sweet, bubbly cocktail—a mix of Campari, Pimm's No. 1, and OAK's own ginger beer.
Whether they had predicted that the weather would bestow on us a perfect evening or whether they just got lucky, I don't know, but the cocktail was exactly what I was looking for as we enjoyed the last of the afternoon. Spicy, effervescent, a little bitter, and the color of a sunset, it was the perfect warm-weather aperitif—I can easily imagine enjoying one or five of these on rooftops all summer long (my own rooftop, sadly, having a somewhat less picturesque view of the construction site next door).