3 Great Drinks from the Manhattan Cocktail Classic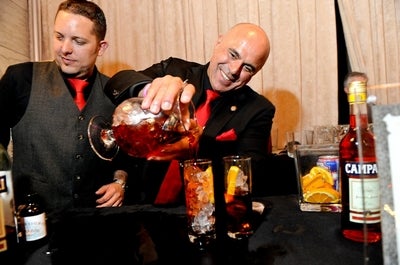 The main branch of the New York Public Library was packed last Friday night, as fascinator-clad ladies and Bond-villain men (including a particularly dapper gent making the rounds in a white suit and an eyepatch) wandered the marble halls tasting the more than 100 cocktails on offer as part of the opening-night celebration of the Manhattan Cocktail Classic. With spirits on offer ranging from corner-store staples to the most obscure liqueurs, there was something boozy for every palate; of the dozens and dozens of drinks, three stood out as particular highlights.
The Peruvian grape brandy pisco was played off to excellent effect in Pisco Gran Serpe's Snake Eyes cocktail, a fruity, tropical cocktail with a fiery twist thanks to muddled jalapeños. Mixologist Toby Maloney poured out tall glasses of Balaton, a shockingly bright concoction, based on the Hungarian liqueur Zweck, that was like biting into a juicy orange. And the Negroni, a classic which bears little room for variation, which reached a near-perfect state at the hands of bartender Tony Abou-Garim, who garnished the bitter-sweet cocktail with a twist of flaming orange peel.
See all the cocktails — and get their recipes — in the gallery »