Promised Land
The sun, the fog, the slopes and the soil makes California a place naturally blessed for wine-making.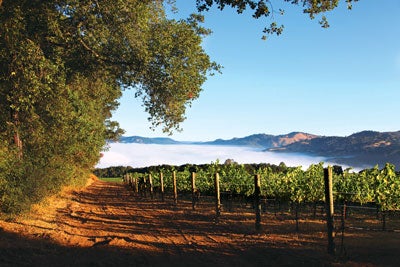 California is a place naturally blessed when it comes to winemaking. The French have a word for this blessing. They call it terroir, from the Latin word terratorium, meaning earth. It evokes the unique, often magical properties a wine derives from the particular spot where it was made. Below, four aspects of California terroir.
1. Sun is great for grapes in moderate amounts. Its warmth triggers vines to metabolize: the leaves' pores open to produce sugar, which pumps into grapes, where some of it converts into flavor. Too much sunlight, though, and the sugar making shuts down. Luckily, the Golden State's beachy reputation is misleading. "California's sun is adequate," says Roger Boulton, professor of enology at UC Davis. "If you want sunshine, go to Arizona. But they don't grow many grapes there."
2. Fog is a common coast and valley phenomenon. But California's fog is particularly dramatic, brought on by the coolness of the Pacific's California current. By definition, fog is 100 percent humidity. Along with cool nights, its early-morning moisture and cover help grapes rebound from the previous day's water loss, enhancing flavor and acidity. But fog's effects vary daily and from site to site. "So we need to maintain vines more carefully in California," Boulton says. "It's intervention by necessity."
3. Slopes occur all over California, a state filled with geologic folds and ripples. In the 1960s, vintners influenced by Europe's hillside vineyards became inspired to expand from valley floors onto slopes. A benefit of slopeside planting is ample drainage: soils retain less water, so vines yield smaller grapes with concentrated flavor. (Flatland vineyards tend to drain less efficiently, which can be harmful to berry development.) But as California's mudslides show, erosion can be an issue on slopes. Planting rows parallel to hills' contours creates mini-terraces that aid soil retention.
4. Soil is a crazy quilt in California; loam, clay, limestone, you name it. The earthquake-prone state has seen its share of tectonic activity, so though surface dirt might be one mix (iron-rich, for instance, as in this photo taken at Chappellet Winery in the Napa Valley), a meter down, the vine roots might reach into different soil. Also, soil content and quality vary across vineyards. With the advent of winemaking focused on using grapes from only a few vine rows, these nuances show up in the wine. As Boulton says, "Terroir is a changing variable. That's what's exhilarating."