Tasting Notes: 2007 Vacqueyras Le Pont du Rieu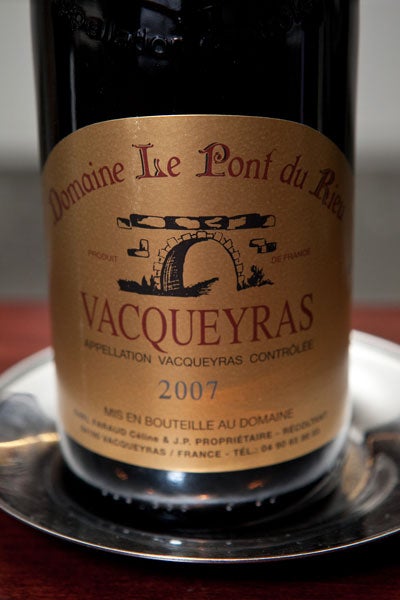 I've long enjoyed reds from the Southern Rhone, not only because I like the variety of ways that the grapes intermingle in their blends (according to AOC laws, up to 13 varietals can be included), but also because, compared to other renowned French winemaking regions, high quality Rhone wines are available at remarkably affordable prices.
The 2007 Vacqueyras Le Pont du Rieu ($19) is an excellent example of both these qualities. Its dense purple color matches the dark berry fruit you detect on the palate, with notes of cassis and black cherry melding with hints of pepper. 2007 was a great year in the Southern Rhone, and the bottle age has rendered this blend of Syrah, Mourvedre, Grenache, and Cinsault silky smooth and incredibly easy to drink. It's a wine that pairs well with red meat, earthy mushrooms, and other autumnal dishes.