The Many Flavors of Darjeeling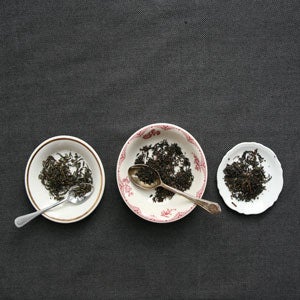 The highest-quality teas grown in Darjeeling come from a varietal of the Camellia sinensis plant commonly known as China bush; the shrub thrives in the high elevations of Darjeeling, where it produces slow-growing, tender leaves. Since the growing season in Darjeeling is shorter than that of other tea-growing regions like Assam, it can be harvested only four to five times a year, after bright new leaves have emerged. Each new growth, or flush, yields tea with its own distinct characteristics; in Darjeeling, the first two flushes of the year, as well as the last one (known as the autumnal flush), are particularly prized for their nuanced flavors.
First flush: Picked after the arrival of the spring rains, from late February to early April, the first growth of the season produces a delicate, golden brew with a bright, grassy flavor and a lightly floral scent. Second flush: The next growth, picked in May, produces a deep-amber tea, slightly redolent of fresh-cut hay, that balances a tannic acidity with a deeper, nuttier character. Autumnal flush: The last growth of the season, picked from October to November, produces a mellow, woody-tasting tea with nutty overtones and a warm, fruity scent. Many high-quality darjeeling teas, which can keep for four to six months in a sealed container stored in a cool, dry place, indicate the flush on the label.