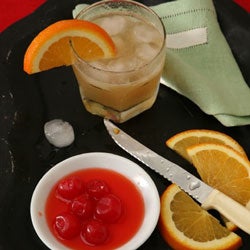 This famous drink is the perfect mix of sweet and sour.
Yield: makes 1 Cocktail
Ingredients
2 oz. whiskey
2 Tbsp. fresh lemon juice
2-3 tsp. sugar
3-4 ice cubes
Orange slice
Maraschino cherry
Instructions
Put whiskey, lemon juice, sugar, and ice cubes into a cocktail shaker. Shake vigorously, then pour contents into an old-fashioned glass, a flute, or a sour glass. Garnish with orange slice and maraschino cherry and serve immediately.