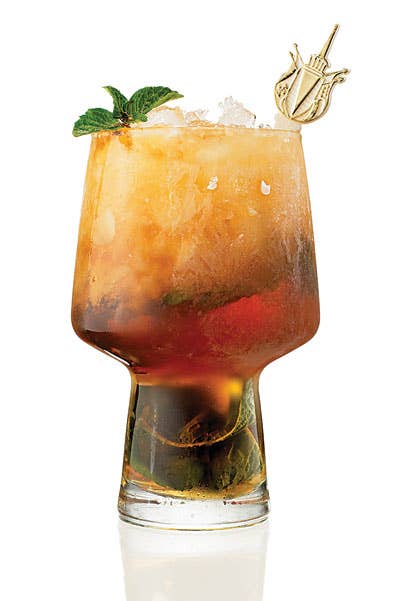 Drinks
Cognac Cocktails
In this year's SAVEUR 100, we take stock of our favorite things: recipes, people, places. We consider every last one a new classic.
During the 100-odd years between the War of 1812 and World War I, when American bartenders perfected the fine art of mixing drinks, American drinkers liked their cocktails, punches, fizzes, sours, and even mint juleps made out of good French brandy, preferably cognac brandy—the smoothest of grape-based spirits. Cognac and the cocktail had long since parted ways, though, by the waning years of the 20th century, when most drinks were designed more to disguise the taste of the liquor that went into them than to highlight it. Even in the past decade, with the recuperation of the bartender's craft, I have rarely come across cognac drinks.
The problem, I think, lies with the type of cognac touted for mixing. That's the one sometimes known as "three star" and now as "VS," or "Very Special." Cognac is primarily a blended spirit. Unlike whiskey blends, which incorporate light, bland spirits made in industrial column stills, cognacs are made up purely of old-fashioned pot-still brandies: older ones to give bouquet, younger ones to keep it lively and fruity. In the case of VS, though, by French law, the youngest cognac in the blend must spend a mere two and a half years in the barrel. That's not enough time to remove the burn. For spirit-forward drinks, you need something smoother and more concentrated. You need at least a VSOP ("Very Superior Old Pale"), blended from cognacs four to 15 years old. At $40 to $50 a bottle, VSOPs aren't cheap, but then, neither are 100-percent-agave tequilas or microdistilled whiskeys, and they've earned a place in the modern cocktail bar.
And what about mixing drinks with an XO ("eXtra Old")? For the $100 or so you'll pay for a bottle, you'll get something blended from brandies that have spent at least six years in the barrel, with considerable amounts of ones that have spent two or three times that long. As the cocktail theorist David Embury wrote in 1948, "To mix this nectar of the gods with any other substance whatsoever-even a single drop of water—would be sacrilege, pure and simple." But what if I were to suggest you put a very small amount of superfine sugar and water in a tall glass, stir them, lightly press five or six fresh mint leaves in the resulting syrup, fill the glass with ice pounded until it's the consistency of snow, let two and a half ounces of XO trickle over that ice, stir gently until frost forms on the glass, and float a spoonful of fragrant Jamaican rum on top, to make an antebellum mint julep? The fact is, very old cognacs do something for a drink that no other spirit can. They possess all the leathery, chocolaty richness and layered complexity that prolonged rests in older, mellower oak can bring, without the overpowering woodiness that American whiskeys so often develop in their new wood casks. In a drink like the elegant brandy crusta, a drink that combines cognac with plenty of citrus, or the bright brandy snapper with its hit of raspberry liqueur, or any drink whose other ingredients complement rather than mask the cognac, those intense flavors will mingle with the rest, become approachable, without losing complexity. If that's sacrilege, I'll drink with the sinners.