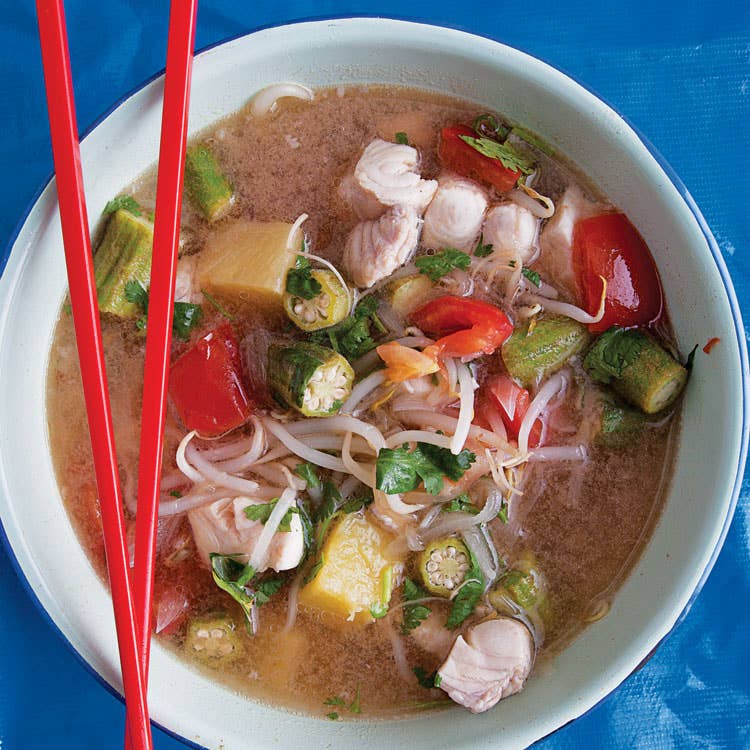 Recipes
Vietnamese Recipes
Tour one of the most exciting cuisines in the word
The cooking of Vietnam encompasses a diverse range of flavors, techniques, and dishes: the simple, honest flavors of the country's north; the gutsy, earthy soups and dainty court delicacies of Huế, the old imperial capital; the voluptuous, multilayered dishes and fresh seafood of the south. To give you an introduction to the country's varied cuisine we've rounded up our favorite Vietnamese and Vietnamese-inspired recipes.
Pho, a light but complex rice noodle soup, is one of the most famous foods of Vietnam. Hailing from the north, it is commonly eaten for breakfast. Chef Danny Bowien gave us this recipe for a simple chicken pho flavored with fish sauce, lime juice, onion, scallions, and cilantro. For something richer try pho bac, a beef version redolent of anise, cinnamon, and cardamom.
Another popular Vietnamese food is the banh mi. A product of French colonialism, The banh mi is a sandwich featuring various meats and pickled vegetables on a light, airy baguette, which differs from a French baguette in that it is made with rice flour as well as wheat flour. Our version features seasoned pork with the traditional fixings: pickled carrots and daikon radish, cucumber, mayonnaise, and Vietnamese-style pork roll and ham.
For a somewhat lesser-known dish from southern Vietnam, look to a catfish soup in canh chua cá. Catfish is very popular in Vietnam, and in this soup it is paired with okra, pineapple, and tomatoes and flavored with tamarind, cumin, and fish sauce.
Take a tour of one of the most exciting cuisines in the world with our collection of Vietnamese recipes.