Recipes
Sườn Nướng (Vietnamese-Style Caramelized Pork Chops)
Thin cuts and a lemongrass marinade deliver maximum flavor in minutes.
Serves

serves 4-6

Cook

1 hour 30 minutes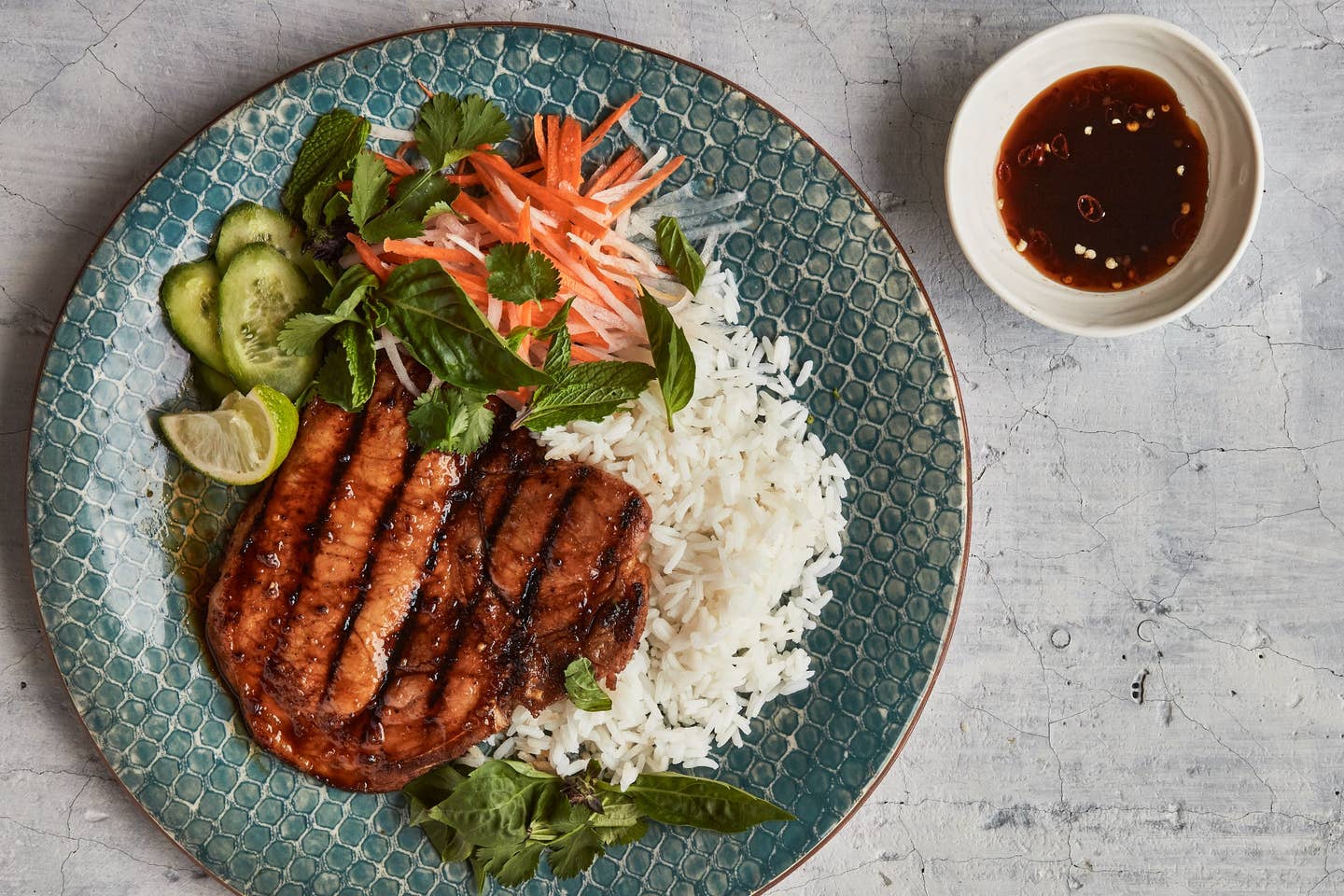 Because these bone-in cuts of pork chops are so thin, they soak up the caramelized lemongrass marinade like a sponge and cook in minutes, charred on the outside, tender and intensely seasoned on the inside. Check out all of our favorite Vietnamese recipes here.
Ingredients
½ cups plus 2 Tbsp. sugar, divided
⅓ cups thinly sliced shallots
¼ cups thinly sliced lemongrass
2 tbsp. peanut oil
2 tbsp. soy sauce
1½ tbsp. fish sauce
1 tbsp. freshly ground black pepper
8 garlic cloves, finely chopped
1 lb. ¼-in.-thick pork blade chops, pounded thin
Steamed white rice and nước chấm, for serving
Instructions
Step 1
Bring a kettle of water to a boil. To a small pot set over medium-high heat, add ½ cup of the sugar and cook, swirling frequently, until dissolved and caramel colored, about 10 minutes. Add ¼ cup boiling water and cook, swirling, until the liquid is homogenous, about 1 minute. Set aside to cool slightly, then scrape into the bowl of a food processor along with the remaining sugar, the shallots, lemongrass, oil, soy sauce, fish sauce, black pepper, and garlic. Process until smooth, 30–45 seconds.
Step 2
To a 9-by-13-inch baking dish, add the pork chops. Pour over the sauce, cover, and refrigerate at least 1 hour (or up to 10).
Step 3
Set a large grill pan over high heat. When it begins to smoke, add enough chops to fill the pan without crowding, and grill, turning once, until charred in spots and cooked through, about 2 minutes per side. Transfer to a plate and tent with foil; repeat with the remaining chops. Serve immediately with the rice and nước chấm.