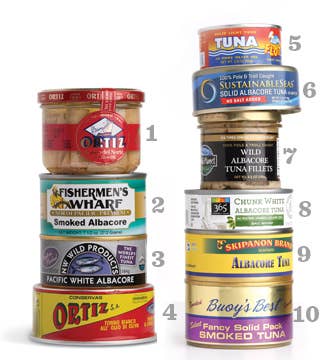 Shopping & Reviews
Nice Cans
When we buy canned tuna, we like it to be sustainable. Here are some of our favorites:
1. Conservas Ortiz Bonito Del Norte in Olive Oil (7.8 oz.) from Spain has a clean, classic flavor.
2. Fishermen's Wharf North Pacific Premium Smoked Albacore (7.5 oz.) is cured in brown sugar and sea salt and smoked over alderwood for a sweet, woodsy flavor.
3. NW Wild Products Pacific White Albacore (6.5 oz.) has a delicate brininess.
4. Conservas Ortiz Ventresca is made up of tender, pungent albacore belly.
5. 5 Flott Solid Light Tuna in Pure Olive Oil (2.8 oz.) is packed with soft soft and rich yellowtail.
6. Sustainable Seas Solid Albacore No Salt Added (4 oz.) is mild and versatile.
7. Wild Planet Wild Albacore Tuna Fillets (4.5 oz.) have a sardinelike depth.
8. 365° Chunk White Albacore Tuna in Extra Virgin Olive Oil Salt Added (5 oz.) gets its nutty flavor from the oil.
9. Skipanon Brand Albacore Tuna (6 oz.) is packed in its own juices, making it tender and saline.
10. Buoy's Best Select Fancy Solid Packed Smoked Tuna (7 oz.) is touched with light smoke.** **