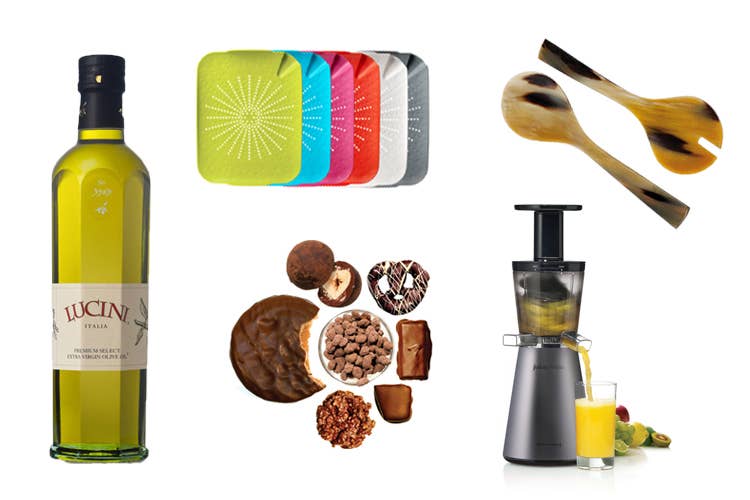 Shopping & Reviews
SAVEUR Selects: April 2014
We come across all sorts of great products in the SAVEUR office. Check out our favorites this month: limited edition olive oil, colorful colanders, and more selected by managing editor Camille Rankin. Sign up for the monthly SAVEUR SELECTS e-mail newsletter »
I'm tempted to hang these on the wall as art, but I'd rather use them to scoop up helpings of my favorite salads.
Burstenhaus Redecker horn servers, $80 at gracioushome.com
I love all the indie food products from Brooklyn-based mouth.com, including this irresistible combo of chocolate-covered treats.
Chocolate Covered Deliciousness, $60 at mouth.com
My husband has a fresh-squeezed glass of orange juice every morning; this cold-press juicer is up to the task and much more.
Juicepresso juicer, $500 at juicepressousa.com
Limited Edition Olive Oil
Lucini's super-premium Founders Reserve olive oil, with its fresh aroma and peppery finish, is one of the best I've ever tasted.
Lucini Founders Reserve Premium Select Extra Virgin Olive Oil, $40 for 500ml at lucini.com
The Sinkstation adds a pop of color to my kitchen and is more practical for many tasks than a conventional colander.
Sinkstation flat colander, $14 at taylorgifts.com
All of the unusual preserves from Vermont-based Blake Hill Preserves are delicious, especially this single malt whiskey–spiked marmalade.
Marmalades and jams, $8 for 14 oz. at blakehillpreserves.com
CAMILLE RANKIN, managing editor
What's your go-to dish for entertaining? Filet mignon. I simply rub it with a little olive oil and coat it with a lot of freshly cracked pepper.
Where are you looking forward to traveling this summer? We're planning to spend a week in Taormina in July. I've traveled a lot in Italy but I've never been to Sicily, so I'm super excited to go.
What's the best restaurant experience you've had in the past year? We were on vacation in Vancouver and my husband caught several large chinook salmon. He brought them back to our hotel where the chef prepared an amazing dinner using our fish for the appetizer, mid-course, and main. It was phenomenal.