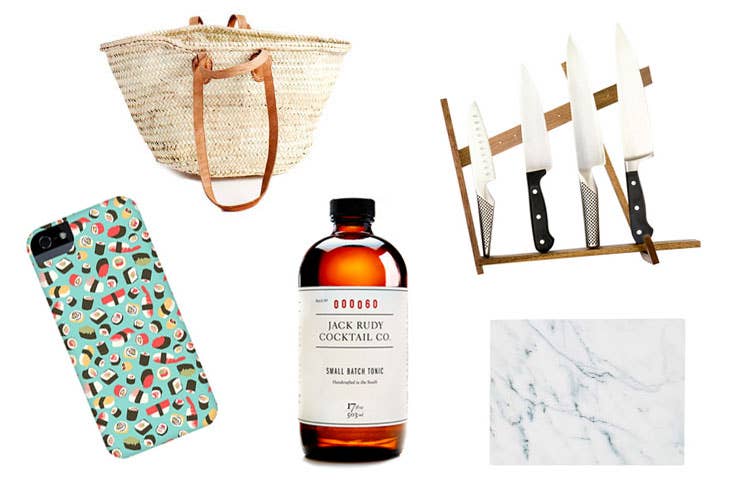 Shopping & Reviews
SAVEUR Selects: August 2014
We come across all sorts of great products in the SAVEUR office. Check out our favorites for August: the perfect summer tote, a handy four-season gardening guide, and more selected by assistant digital editor Zoe Schaeffer. Sign up for the monthly SAVEUR SELECTS e-mail newsletter »
A classic French market tote with leather straps in two lengths is the perfect stylish carry-all for trips to the farmers' market—and the beach.
French market tote, $65 at gallantandjones.com
Gin & tonics are a summer go-to. With Jack Rudy's complex, concentrated tonic syrup, I can mix drinks exactly to taste.
Small-batch tonic, $16 for a 17oz. bottle at jackrudycocktailco.com
Marble pastry boards are essential for buttery pie crusts, but they also make great backdrops for food photos.
20" marble pastry board, $60 at wayfair.com
My first high-quality knife changed the way I thought about cooking; it deserves a display rack I can be equally proud of.
NoHo knife rack, $160 at ahalife.com
If I had the luxury of a backyard, I'd make use of Modern Farmer's handy (and eye-catching) guide for turning it into a four-season farm.
Four-Season Farm cards, $5 at modernfarmer.com
Because I work in social media, it's doubly important my phone stays protected. A colorful case from Keka keeps it safe—plus, sushi!
Yummy Sushi Classic Snap-on Case, $35 at kekacase.com
ZOE SCHAEFFER, assistant digital editor
All-time favorite cookbook: I love Tamar Adler's poetic approach to intuitive cooking, and I find her book An Everlasting Meal endlessly inspiring.
Favorite summer ingredient: It's a tie between tomatoes and peaches—they're just not the same at any other time of year.
Best dish eaten in the past year: I had the most stunning pappa al pomodoro (bread and tomato soup) on a recent trip to Tuscany—it was rustic and comforting, yet so fresh and summery.