Bread Pudding with Caramel Sauce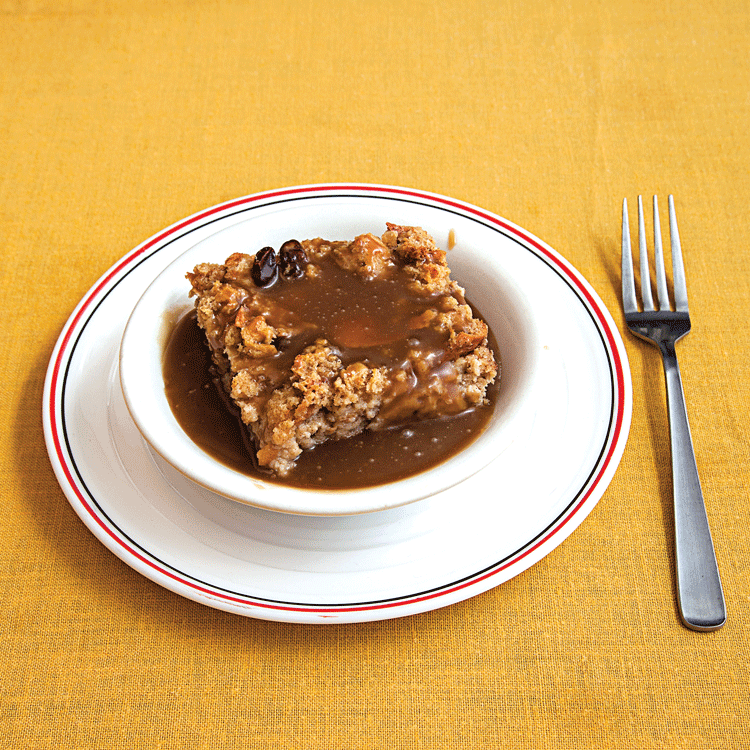 A veil of luscious caramel sauce cloaks a gooey, indulgent bread pudding from Canada's Prince Edward Island. This recipe, inspired by the one served at Brackley Beach's Millstream Restaurant and Dairy Bar, first appeared in our October 2013 issue with the article Where the Farm Meets the Sea.
Bread Pudding with Caramel Sauce
A veil of luscious caramel sauce cloaks this gooey bread pudding recipe.
For the Pudding
5 tbsp. unsalted butter, melted, plus more for greasing
6 kaiser rolls, cut into 1″ pieces
1 cup packed light brown sugar
1⁄3 cup maple syrup
1 tbsp. ground cinnamon
2 1⁄2 tsp. vanilla extract
1⁄2 tsp. kosher salt
5 eggs, lightly beaten
5 cups whole milk
1⁄3 cup raisins (optional)
For the Sauce
8 tbsp. unsalted butter
2 tbsp. light corn syrup
3⁄4 cup light brown sugar
1⁄4 cup granulated sugar
1⁄3 cup heavy cream
1 tbsp. dark rum
1⁄2 tsp. fresh lemon juice
1⁄2 tsp. kosher salt
Instructions
Make the bread pudding: Heat oven to 400°. Grease a 9″ x 13″ casserole dish with butter; fill with the cut rolls. Whisk 5 tbsp. melted butter, brown sugar, maple syrup, cinnamon, vanilla, salt, and eggs in a bowl. Whisk in milk. Stir in raisins, if using; pour evenly over rolls and mix gently. Set aside for 15 minutes. Using your hands, gently mash rolls and custard together; smooth the top. Bake until most of the custard is absorbed, about 30 minutes. Let cool.
Make the sauce: Heat butter, corn syrup, and 1⁄4 cup water in a 2-qt. saucepan over medium-low heat. Cook, stirring constantly, until butter is melted, about 3 minutes. Stir in both sugars and scrape down sides of pan with a rubber spatula. Bring mixture to a boil and cook, without stirring, until golden brown and a candy thermometer inserted in sauce reads 245°, 8–10 minutes. Remove from heat; carefully add heavy cream, rum, lemon juice, and salt; stir until sauce is smooth. Let caramel sauce cool to room temperature.
Using a toothpick, poke several holes in pudding. Pour 2⁄3 sauce over the top. Cut pudding into squares; serve additional caramel sauce on the side.