Recipes
Broccoli with Sicilian Sauce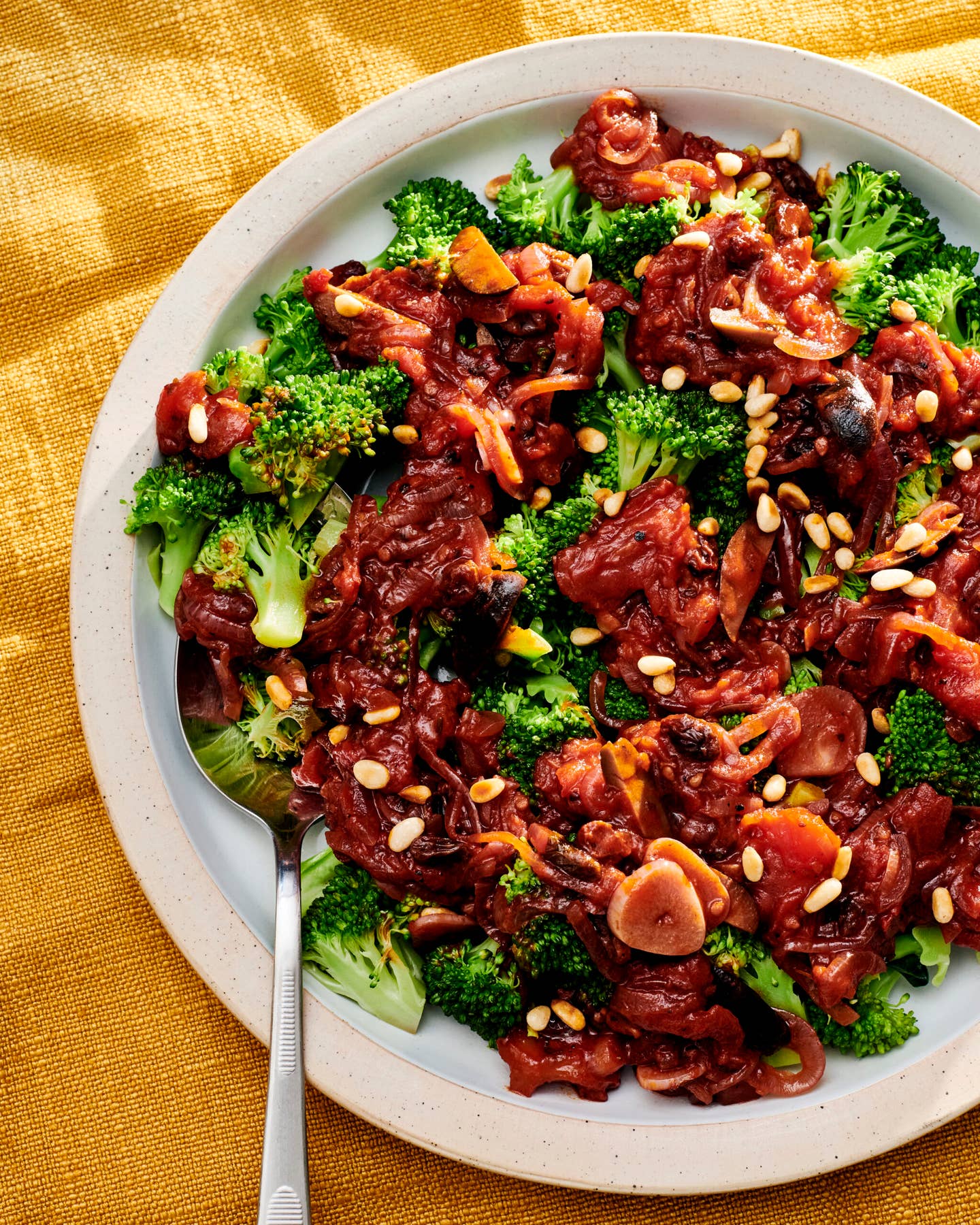 "For me, Thanksgiving isn't a holiday unless there is some piece of Italy on the table," says Rossetto Kasper. "No region does tomato sauces like Sicily, and this sauce, which straddles the line between a pasta sauce and vegetable dressing, is intensely delicious, with its mass of sauteed onions, its reduction of wine, vinegar, garlic, and tomato, and its near-to-Arabic finish of olives, raisins, and pine nuts."
Ingredients
2 heads broccoli (about 2 1⁄2 lbs.), cut into florets
Kosher salt and freshly ground black pepper, to taste
3 tbsp. extra-virgin olive oil
4 sprigs flat-leaf parsley, finely chopped
3 medium red onions, thinly sliced
1⁄2 cup dry red wine
2 tbsp. red wine vinegar
1 heaping tbsp. tomato paste
1⁄2 tsp. dried oregano
1⁄8 tsp. red pepper flakes
3 cloves garlic, thinly sliced
1 (28-oz.) can whole peeled tomatoes (with liquid), crushed
1⁄3 cup pitted black Sicilian olives
1⁄3 cup seedless raisins
1⁄3 cup pine nuts, toasted (optional)
Instructions
Step 1
Set a collapsible steamer in the bottom of a tall pot. Add enough water to just cover the steamer. Cover and bring to a boil over high heat. Lay broccoli in a crosshatch pattern in steamer and steam, covered, until tender, 6–8 minutes. Transfer broccoli to a serving dish and season with salt. Set aside at room temperature.
Step 2
Heat the oil in a large skillet over medium-high heat. Add the parsley and onions, season with salt and pepper, and cook, stirring often, until onions are softened and browned, 10–15 minutes. Add the wine, vinegar, tomato paste, oregano, pepper flakes, and garlic and cook, stirring occasionally, until the mixture is reduced to a glaze, 4–5 minutes. Stir in the tomatoes with their liquid and bring the sauce to a boil. Lower the heat to medium-low and simmer, uncovered, stirring occasionally, until somewhat thick, 8–10 minutes. Add the olives and simmer until sauce thickens further, about 10 minutes more. Stir in the raisins. Spoon the tomato sauce over room-temperature broccoli and sprinkle with the pine nuts, if you like. (The sauce may be made up to 3 days in advance and refrigerated.)