Cacio e Pepe Rice with Guanciale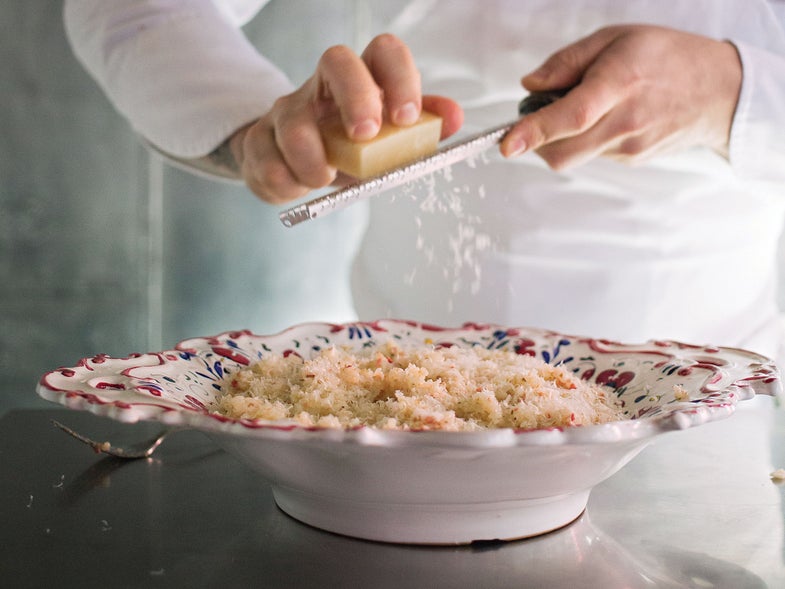 The luscious fat from ground guanciale, Italian cured pork cheek, melts into a spicy sauce for this quick-fire risotto-like dish. Featured in: Hong Kong, Italian-Style
Cacio e Pepe Rice with Guanciale
Fatty ground guanciale, Italian cured pork cheek, melts into a spicy sauce for this risotto-like dish.
Ingredients
4 oz. guanciale, cut into 1/2″ pieces
6 tbsp. unsalted butter
3 tbsp. brine-cured green peppercorns, rinsed and coarsely chopped
1⁄2 tsp. coarsely ground black pepper, plus more for garnish
1 tsp. kosher salt, plus more to taste
4 cups cooked plain sushi rice
Grated Pecorino Romano, for garnish
Instructions
Pulse guanciale in a food processor until ground; transfer to a 4-qt. saucepan. Add butter, green peppercorns, coarsely ground black pepper, salt, and 3⁄4 cup water; simmer over medium-high until butter is melted, 2–3 minutes. Stir in rice and cook until warmed through, 3–4 minutes. Divide rice between bowls; garnish with pecorino and more pepper.