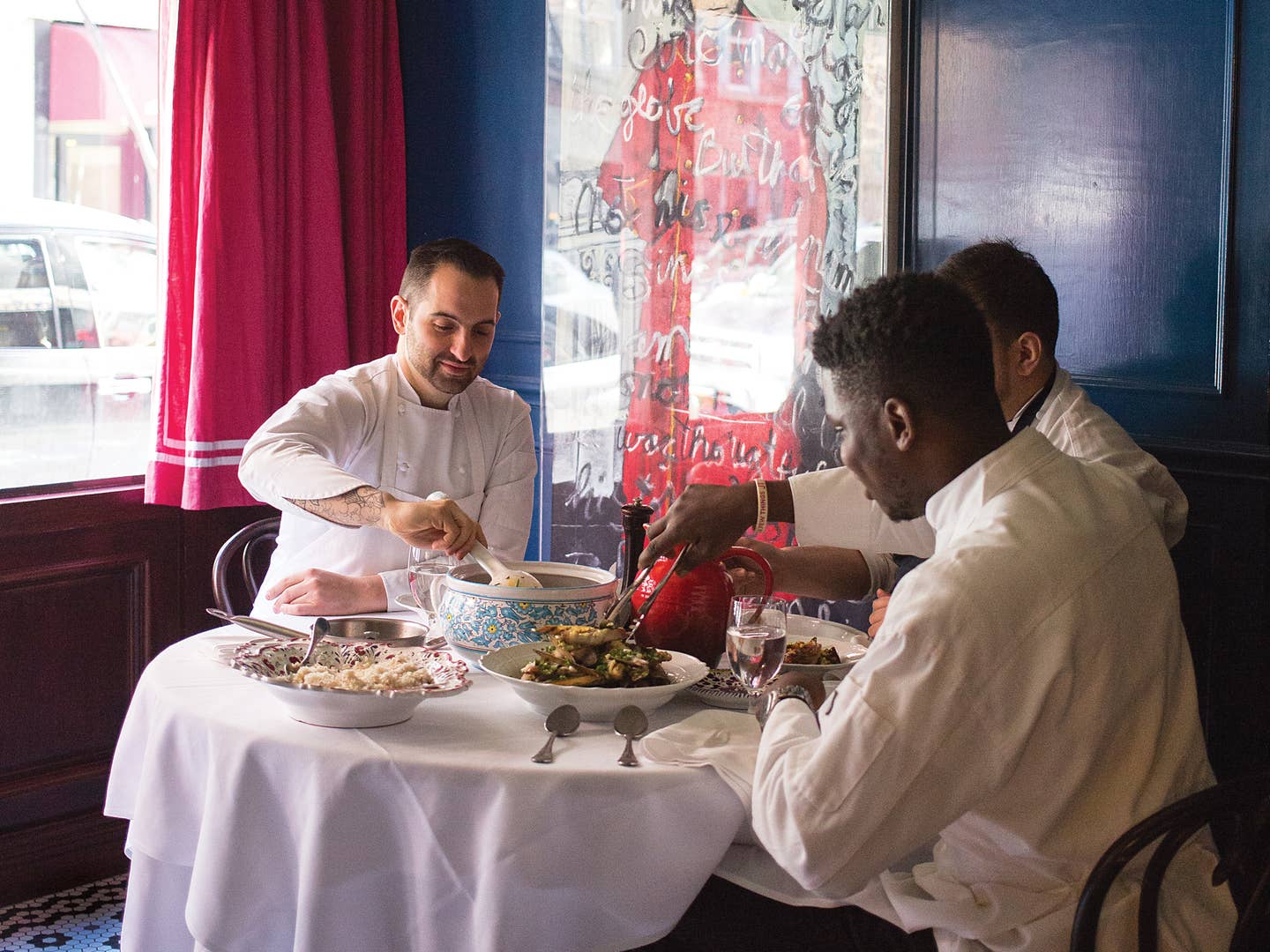 Culture
Hong Kong, Italian-Style
Chef Mario Carbone created the ideal Italian red-sauce joint in New York—then opened a perfect replica in Asia. Now he's playfully mixing the flavors of Hong Kong and Italy in innovative off-the-menu creations.
Here's the whirlwind story of how Mario Carbone became the accidental pioneer of a fusion cuisine that might be called Sino-GoodFellas. In March of 2013, he and Rich Torrisi, having already established themselves with their Little Italy restaurants Torrisi Italian Specialties and Parm, opened the dressier restaurant Carbone: their ultimate distillation of Italian-American red-sauce-joint cookery into a fine-dining experience—waiters and captains in midcentury livery (burgundy tuxes and bow ties) serving elegant versions of such old standbys as clams oreganata and veal marsala. Carbone, the restaurant, was an instant hit. A mere three months into its existence, The New York Times awarded it three stars.
To celebrate the review, Carbone and Torrisi, along with their business partner, Jeff Zalaznick, decided to reward themselves with an eating tour of Tokyo (for sushi) and Hong Kong (for dim sum). While in Hong Kong, the three young men received an unexpected query from Black Sheep Restaurants, a hospitality group based there, regarding their interest in opening a second location of Carbone in the LKF Tower in the city's Central District. In less than a year's time, Carbone Hong Kong was up and running, and the Torrisi boys, as the three men are colloquially known in New York, were suddenly international businessmen.
Of the three, Carbone fell the hardest for Hong Kong. He logged the most time there, overseeing his namesake restaurant and roaming hungrily in his spare time. He explored the city's markets and dined at dozens of restaurants. He spent six consecutive evenings eating his way through the encyclopedic menu of China Tang, an opulently decorated dining palace owned by the fashion mogul David Tang, where dishes are offered in a variety of regional Chinese idioms, from those familiar to Western palates (Sichuan, Cantonese) to those rather more exotic. (This is the place to go for "double-boiled snow goose soup," its broth augmented by cordyceps, an insect-eating fungus.)
At Carbone Hong Kong, the goal is replication—the Torrisi boys' boosters and customers want Italian-American food rendered as faithfully to the New York template as possible. New Jersey tomatoes are shipped across the Pacific by the pallet-load. Still, where fresh ingredients are concerned, Carbone has to learn to adapt. "I just think of myself as a chef who's cooking food from the Italian region known as Hong Kong," he says. Absent langoustines, which are not native to Asian waters, he uses spiny lobsters in his scampi alla scampi, and, instead of using halibut in his fish piccata entrée, as is the norm in New York, he subs in grouper, purchased "from a guy who shows up at our door with the fish swimming in a plastic tub."
These adaptations, born of necessity, have inspired Carbone to explore Chinese-Italian crossover cuisine more playfully in his off hours. Take cacio e pepe, for example, the classic Roman preparation of pasta with pecorino cheese and cracked black pepper. What would it be like if it were made instead with fresh green peppercorns, scarce and expensive in America but cheap and plentiful in Hong Kong, where they're sold still on their branches, clustered like little grapes?
The answer to this question blurs the lines between culinary traditions: Carbone applies the green-peppercorn treatment to sushi rice. The result is a creamy, risotto-like cacio e pepe that is familiar yet unfamiliar—brighter, with more floral spice than we're used to. "You're tasting more of the plant life of the peppercorn, when it's still a berry," says Carbone.
Carbone likes to experiment with putting Italian-American spins on dishes he's enjoyed in East Asia. In the Greenwich Village kitchen of the original Carbone, he recently drew upon his taste memory of a favorite China Tang dish—a simple steamed grouper fillet overlaid with Sichuan chiles, their slick red oil pooling around the fish—to conjure his checkered-tablecloth version. This involved using a blend of Calabrian chiles and plating the fish on a bed of fregola, or Sardinian couscous, instead of rice.
So pleased were Carbone and his cooks with the result of this experiment that the grouper-chile dish, in some iteration, stands a good chance of appearing on the menu of one of the Torrisi boys' restaurants (which recently expanded to include Santina, a seafood-focused place in Manhattan). "This is how we normally R&D dishes anyway," he says. "It's just that now, I have a whole new set of references."