Recipes
Mapo Tofu
The spicy and tingly dish is one of Sichuan province's most well-known specialties.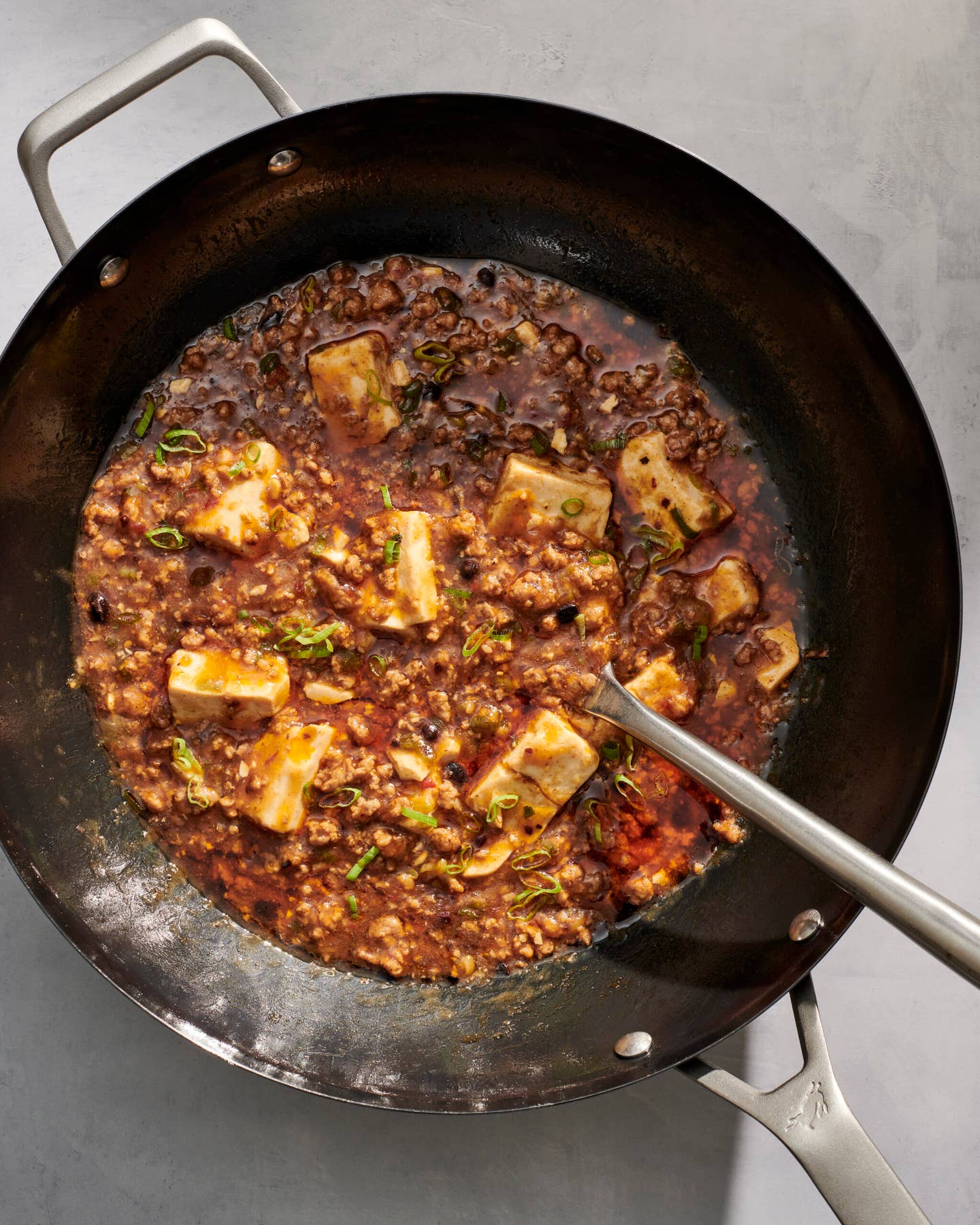 One of Sichuan province's most well-known dishes, mapo tofu is a comforting braise, garnished with mouth-numbing Sichuan peppercorns.
Ingredients
1 (14 oz.) package silken tofu, drained and cut into 1-inch cubes
Kosher salt
½ cup hong you (Sichuan red chile oil), or substitute store-bought
6 cloves garlic, minced
6 oz. ground pork or beef
4 suan miao (Chinese chives, blossoms discarded) or scallions, thinly sliced, plus more for garnish
1 xiao mi la or red Thai chile, stemmed and minced
2½ Tbsp. douban jiang (Chinese red chile bean paste)
1 Tbsp. dou chi (Chinese fermented black soybeans)
1¼ cups chicken stock
1 Tbsp. sugar (optional)
1 Tbsp. light soy sauce
¼ cups cornstarch, mixed with 6 Tbsp. water
¼ tsp. ground Sichuan pepper, for garnish
Steamed rice, for serving
Instructions
Step 1
Place the tofu in a bowl with 3 cups boiling salted water; let sit for 15 minutes. Drain and spread on paper towels to dry; set aside.
Step 2
In a 14-inch flat-bottomed wok, heat the chile oil over medium-high. Add the garlic; cook until fragrant, about 1 minute. Add the pork and cook, stirring and breaking up the meat, until browned, 4–6 minutes. Add the chives, chile, doubanjiang, and dou chi; cook, stirring, until the chives are wilted, about 2 minutes. Add the stock and reserved tofu; bring to a boil, stirring gently, so as not to break up the tofu. Add the soy sauce and sugar (if using); cook, stirring, until the sugar is dissolved, about 1 minute. While stirring, slowly add the cornstarch mixture; continue cooking until the sauce has thickened, about 2 minutes more. Transfer to a dish and garnish with Sichuan pepper and more chives. Serve with rice.