Recipes
Bamonte's Pork Chops with Pickled Peppers
At the beloved Brooklyn institution, these piquante chops are a menu mainstay.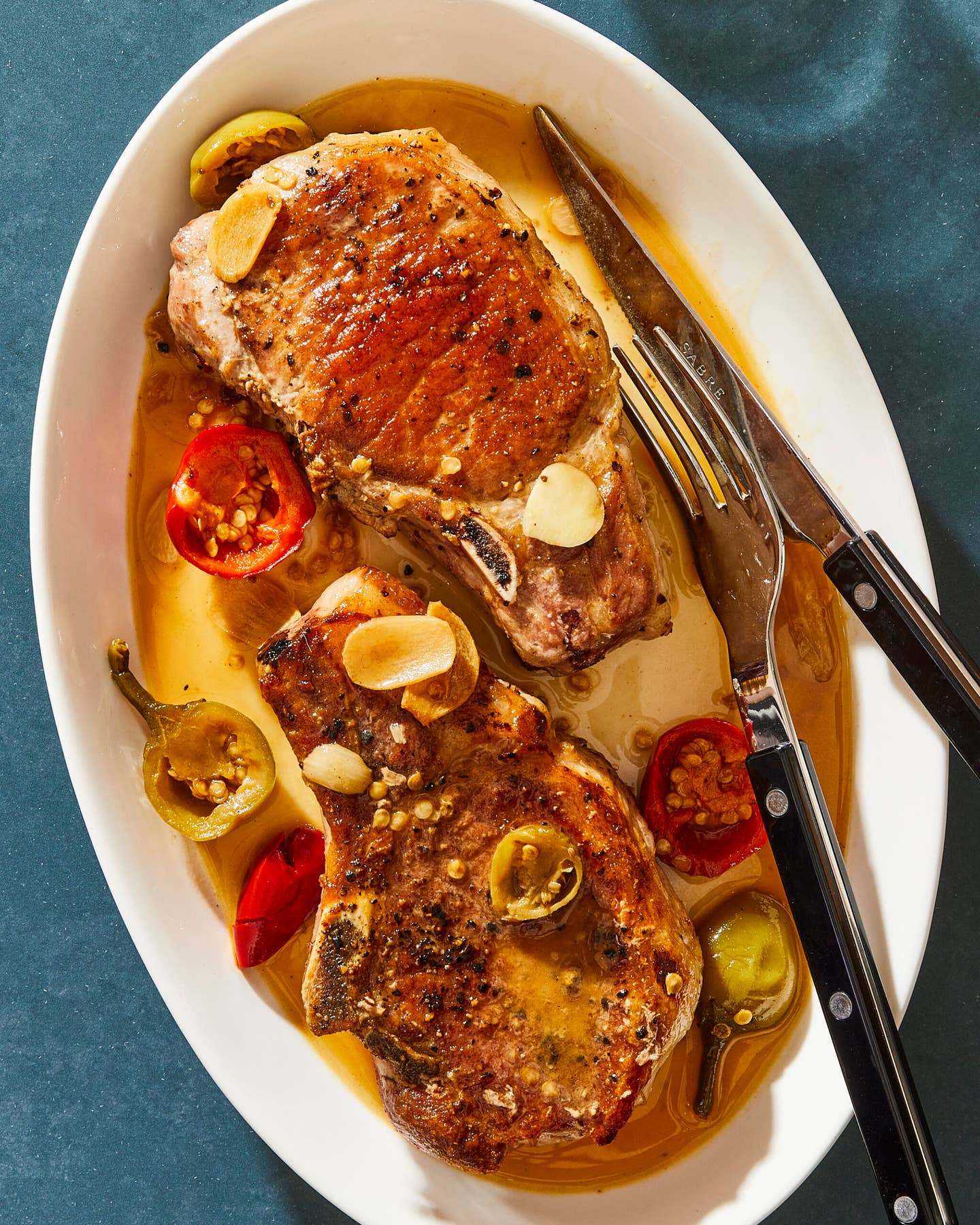 These juicy pork chops with pickled peppers have been a menu staple at Bamonte's restaurant in Williamsburg, Brooklyn, since the 1950s. Both sweet and hot pickled cherry peppers are available at Italian grocery stores and online; if you're sensitive to spicy foods, use either all sweet peppers or a mix of the two.
This recipe first appeared in our January/February 2013 issue along with Greg Ferro's article "Bamonte's".
Ingredients
Two 1-in.-thick bone-in pork chops
Kosher salt and freshly ground black pepper
3 Tbsp. olive oil, divided
5 cloves garlic, thinly sliced
12 pickled cherry peppers, halved
¼ cup dry white wine
¼ cup chicken stock
Instructions
Step 1
Preheat the oven to 425° F. Season the chops generously with salt and black pepper.
Step 2
To a large skillet over medium-high heat, add 2 tablespoons olive oil. When the oil begins to shimmer, add the chops and cook, flipping once, until evenly browned, 5–8 minutes. Transfer the skillet to the oven and roast until the chops are just cooked through (145°F on an instant read thermometer), 18–20 minutes. Transfer chops to a plate and set aside (the meat will continue cooking as it rests).
Step 3
Return the skillet to the stovetop over medium heat, add the remaining oil, garlic, and peppers, and cook, stirring frequently, until the garlic is golden, 3–4 minutes. Turn the heat up to high, stir in the wine and stock, and continue cooking until the liquid has reduced in volume by half, 3–4 minutes. Spoon the sauce and peppers over the pork chops and serve hot.