Recipes
Palestinian Red Lentil and Squash Soup (Shorabit Jarjir)
When cold nights call, this silky Middle Eastern bowl is your answer.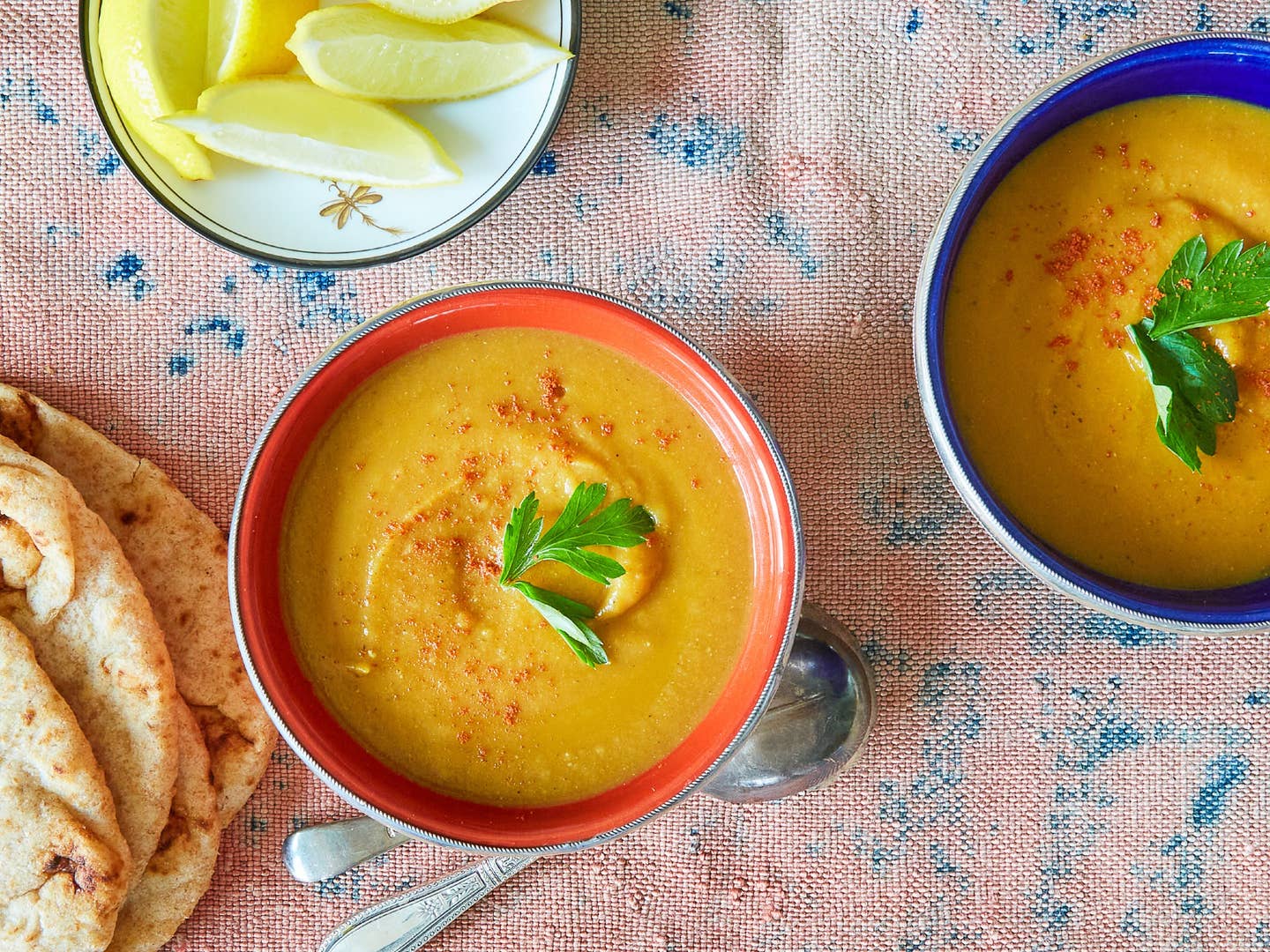 Protein-rich red lentils and hearty butternut squash are transformed into a silky soup; served with flatbread, it's a simple and comforting main course. Check out all of our soup recipes here.
Ingredients
1⁄4 cup extra-virgin olive oil
4 cloves garlic, finely chopped
3 medium carrots, finely chopped
2 stalks celery, finely chopped
1 medium white onion, finely chopped
1⁄2 small butternut squash (about 1 lb.) peeled, seeded, and finely chopped
1 tsp. ground cumin
1⁄2 tsp. crushed red chile flakes
Kosher salt and freshly ground black pepper
6 cups chicken stock
1 cup red lentils
Finely chopped Italian parsley, for garnish
Paprika, for garnish
Flatbread and lemon wedges, for serving
Instructions
Step 1
In a large pot set over medium-high heat, add the oil; when hot, add the garlic, carrots, celery, and onion; cook, stirring occasionally, until the vegetables are softened and just beginning to brown, 12–14 minutes. Stir in the squash, cumin, and chile flakes, season lightly with salt and black pepper, and cook, stirring frequently, until the squash is soft, about 15 minutes. Add the stock and lentils and bring to a boil. Lower the heat to medium-low, partially cover, and cook until the lentils are very tender, about 20 minutes.
Step 2
Remove from heat and set aside to cool slightly, then, working in batches, puree the soup until very smooth. Ladle into bowls, garnish with parsley and paprika, and serve warm, with flatbread and lemon wedges on the side.