Recipes
White Bean and Lacinato Kale Soup with Smoked Ham Hock
Bulk up your stock pot with fatty pork knuckles and hearty greens.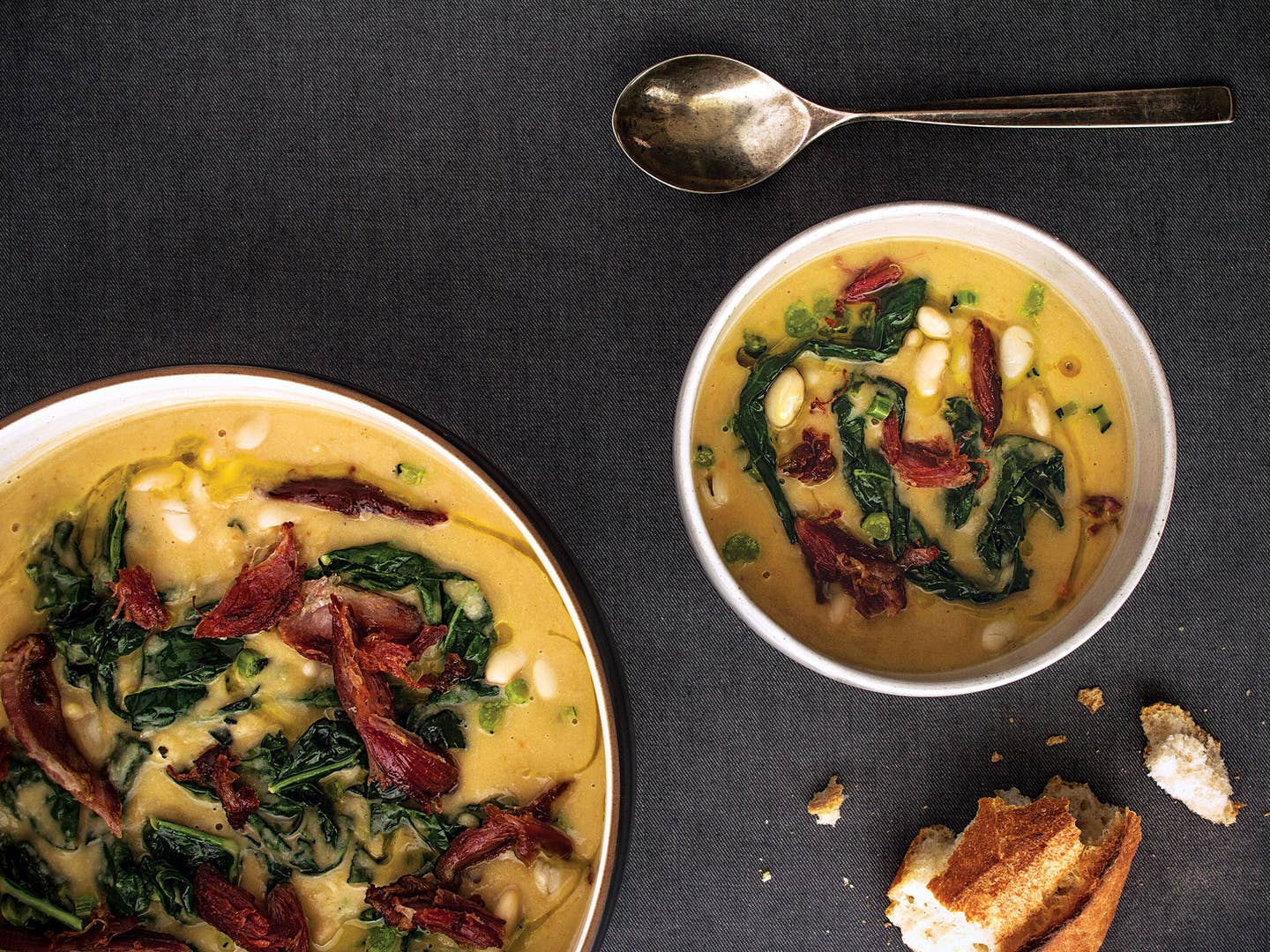 After flavoring the beans for this creamy winter soup from Oceania Cruises senior chef instructor Kellie Evans and Vice culinary director Farideh Sadeghin, smoked ham hock is shredded and pan-fried, intensifying its flavor. Lacinato kale, or cavolo nero, is more tender than the curly variety, and cooks down quickly to add bright acidity to the beans.
Ingredients
1⁄2 cup olive oil
3 cloves garlic cloves, peeled and smashed with the heel of a knife
2 celery stalks, coarsely chopped
1 carrot, coarsely chopped
1 large yellow onion, coarsely chopped
8 cups chicken stock
2 1⁄2 cups dried cannellini or Great Northern beans, soaked overnight and drained
1 bouquet garni (1 tsp. black peppercorns plus 2 each of the following: bay leaves, rosemary sprigs, and thyme sprigs, all tied up in cheesecloth)
4 stalks lacinato or regular kale, cleaned, leaves and stalks separated and thinly sliced
Kosher salt and freshly ground black pepper
Instructions
Step 1
To a large Dutch oven, add ¼ cup of the oil and the garlic, celery, carrot, and onion. Turn the heat to medium-high and cook, stirring continuously, until golden, 10–12 minutes. Add the stock, beans, bouquet garni, and ham hock. When the liquid begins to boil, turn the heat to medium and cook, partially covered and stirring occasionally, until the beans are completely soft, 1–1½ hours.
Step 2
Remove from the heat and discard the bouquet garni. Use a slotted spoon to transfer the ham hock to a plate. When cool enough to handle, discard the skin and bone, then shred the meat and set aside. Use a slotted spoon to transfer half of the beans to a bowl, and set aside. Using an immersion or regular blender, thoroughly purée the soup. Stir in the reserved beans and season with salt and black pepper to taste.
Step 3
Into a large cast-iron skillet set over medium-high heat, pour 2 tablespoons of the oil. When it is hot and shimmering, add the kale stems and cook until tender, 3–4 minutes. Add the kale leaves, season with salt and black pepper to taste, and cook until the leaves are wilted, 2–3 minutes. Scrape the kale into the soup and return the skillet to the stove. To the empty skillet, add the remaining oil and the shredded pork and cook until crisp, 6–8 minutes.
Step 4
To serve, ladle the soup into bowls and top with the pork.