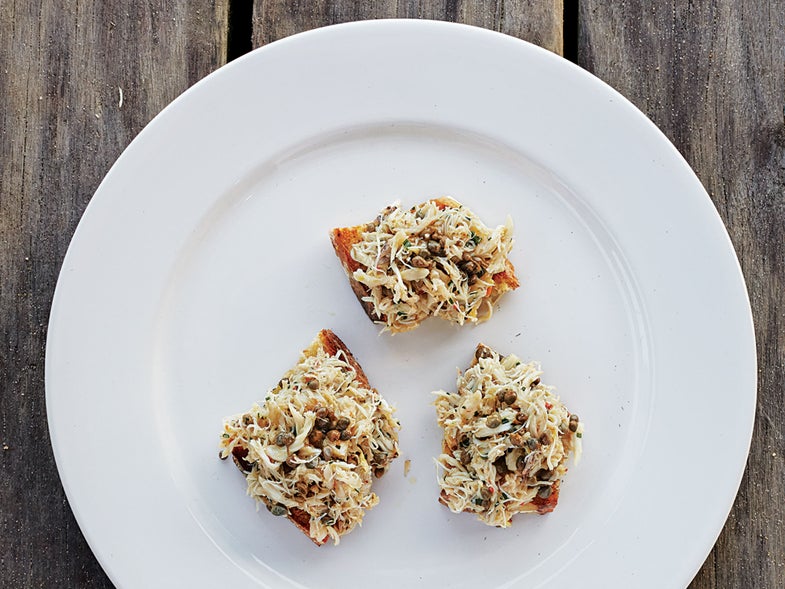 Spreading mayonnaise on both sides of the bread before grilling yields a perfectly golden brown crust in this recipe from chef Ignacio Mattos.
Crab Toast
Grilled sourdough, spread with mayonnaise, makes a lush vehicle for lump crab meat salad tossed with briny capers, spicy chile flake and bright lemon vinaigrette.
Time: 20 minutes
Ingredients
1⁄2 cup mayonnaise
1 (10-oz.) loaf sourdough, sliced 1/2″ thick and cut into thirds
Kosher salt and freshly ground black pepper, to taste
12 oz. lump crabmeat
1⁄4 cup capers, rinsed
1⁄4 cup extra-virgin olive oil
1 tsp. crushed red chile flakes
2 lemons, zest and juice
Instructions
Heat a charcoal or woodburning grill or set a gas grill to medium-high. (Alternatively, heat a cast-iron grill pan over high.) Spread mayonnaise on each side of bread and season with salt; grill, flipping once, until slightly charred and crisp, 4–5 minutes, and transfer to a serving platter. Stir crab, capers, olive oil, chile flakes, lemon zest and juice, salt, and pepper in a bowl; spoon crab salad over toast.