Recipes
Pork with Juniper Berries (Filetto di Maiale con Bacche di Ginepro)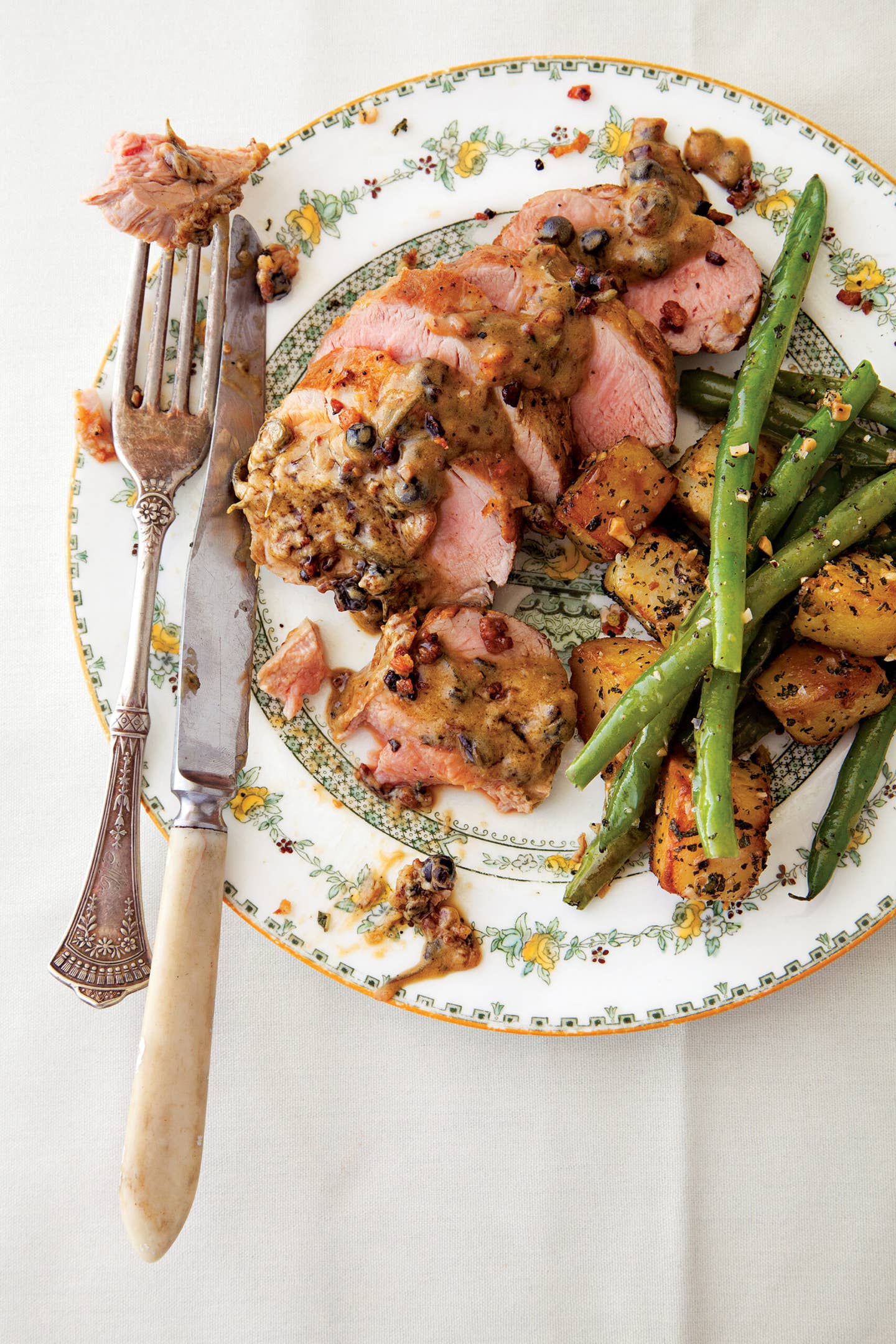 Juniper berries and fresh herbs add aromatic appeal to pan-seared pork loin with potatoes and green beans. The recipe comes from chef Maria Luisa Scolastra at the historic inn Villa Roncalli in Foligno, Italy. It's a full-flavored partner for the area's famed and intense red wine, sagrantino. This recipe first appeared in our November 2014 issue with the story Taste of Umbria.
Ingredients
For the Potatoes
1⁄3 cup olive oil
1 lb. russet potatoes, peeled and cut into 1" pieces
10 oz. green beans, trimmed
1 1⁄2 tbsp. minced sage
3 cloves garlic, minced
Kosher salt and freshly ground black pepper, to taste
For the Pork
3 tbsp. lard or olive oil
2 oz. guanciale or pancetta, minced
1 (1-lb.) pork tenderloin
Kosher salt and freshly ground black pepper, to taste
1 tbsp. juniper berries
4 sprigs rosemary
3 sprigs thyme
3 bay leaves
2 cloves garlic, minced
2 sprigs flowering fennel, optional
1 cup dry white wine
1 cup chicken stock
Instructions
Step 1
Make the potatoes: Heat oil in a 12" skillet over medium-high. Cook potatoes until golden, 10–12 minutes. Stir in green beans, sage, garlic, salt, and pepper. Reduce heat to medium; cook, covered, until potatoes are tender, 6–8 minutes. Transfer to a bowl; keep warm.
Step 2
Make the pork: Wipe skillet clean and melt lard over medium-high. Cook guanciale until crisp, 2–3 minutes. Using a slotted spoon, transfer guanciale to a plate. Season pork with salt and pepper; cook, turning as needed, until browned, 8–10 minutes. Add juniper berries, rosemary, thyme, bay leaves, garlic, and, if using, the fennel; cook 1–2 minutes. Add wine; cook, stirring and scraping up browned bits from bottom of skillet, until evaporated, 12–15 minutes. Add stock; boil. Reduce heat to medium; cook, slightly covered, until an instant-read thermometer inserted into pork reads 145°. Let pork rest 5 minutes, then slice 1⁄2" thick; divide between plates. Simmer sauce until thickened, 10–12 minutes. Discard herbs and stir in reserved guanciale, salt and pepper; spoon over pork. Serve with potatoes and green beans.