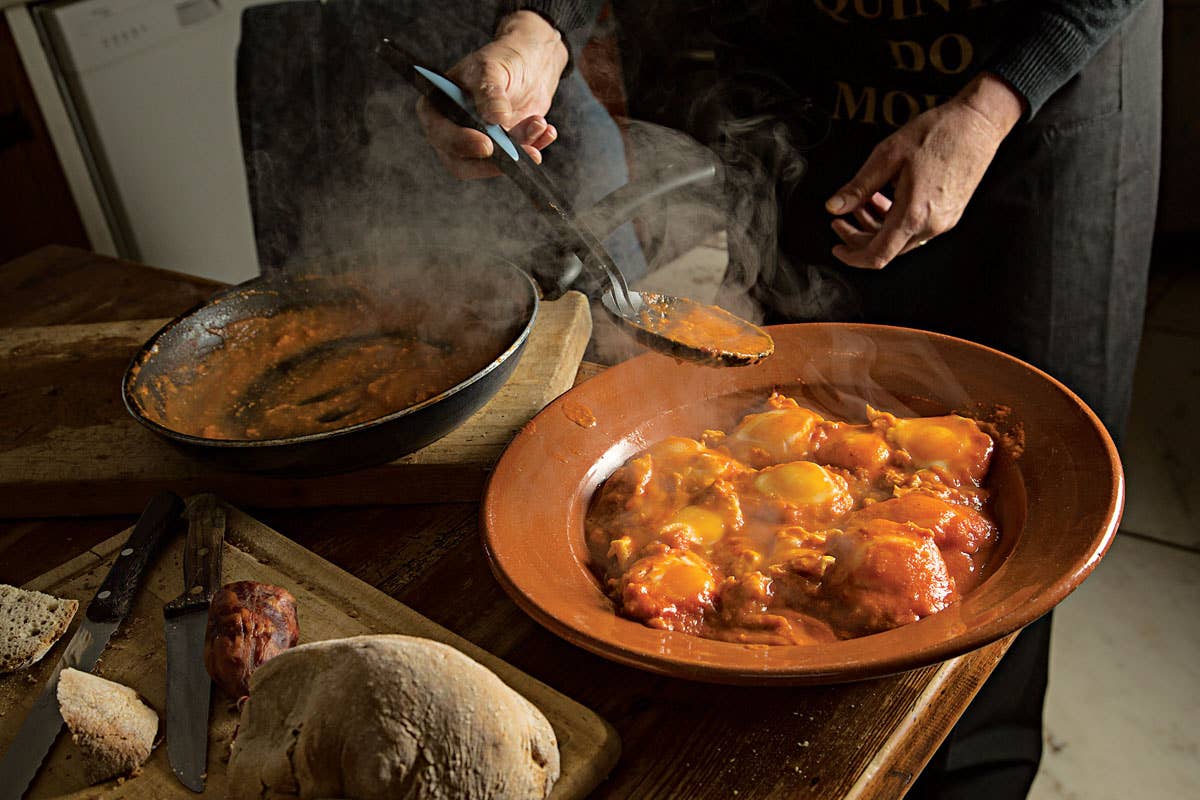 Travel
The Food I Dream Of
One writer's love letter to Alentejo, the sleepy Portuguese region whose rich, rustic foods hold her in thrall
As soon as I cleared customs at Lisbon Airport, I was in my rental Volkswagen heading east into Alentejo, eager to dip my spoon into a bowl of açorda à Alentejana, the garlicky bread-thickened, cilantro-packed soup found in every home, restaurant, and farmhouse in the region. The rustic dish is served hot, so the eggs that are traditionally broken into it poach on contact—one bite and I always remember why Alentejo is my favorite place in the world.
I've never understood travelers to Portugal who, hell-bent on catching rays at a southern beach, bomb through this vast province rippling across a third of the country, where cork oaks, misshapen as scarecrows, dance into infinity, whitewashed villages pop up like icebergs off-course, and medieval castle towns cling to mountainous outcrops of granite.
My love affair with Alentejo began in the 1960s when I was assigned a feature article on Portugal. Though I'd never set foot in the country, the instant I reached Alentejo, I felt immediately at home. Maybe it was the red soil, so reminiscent of the South where I grew up, or the pottery (an obsession of mine)—the brightly colored clay plates, platters, and pots made everywhere in the region. But more likely it was the food. I fell hard for pão, the crisp-crusted, chewy country bread that's the foundation of so many of Alentejo's dishes; the deeply flavorful Black Iberian pork; the fruity olive oil; the nutty sheep cheeses; the tomatoes.
Alentejo's tomatoes were the plumpest and reddest I'd ever seen. And, oh, the soups made from these tomatoes! They ran the gamut from hot, bright-tasting broths simmered with flavorful bacon and chouriço drippings to icy gazpachos flecked with bits of red and green bell pepper. At the Saturday market in Estremoz in the eastern part of the province, I found ropes of linguiça sausages—crimson with the salty-sweet red pepper paste known as massa de pimentão—ready to grill, drop into soups, or slice and slap between two pieces of bread. Addicted to achingly sweet Southern cakes, I immediately took to Portugal's rich convent desserts, like the delicate brûléed scramble of encharcada, golden as the yolks with which it's made. On that first trip, I ate myself out of shape, filling steno pads with notes on dishes I wanted to try back in my Stateside kitchen.
Hooked on the flavors of Alentejo, I returned year after year, sometimes even without an assignment. While I've come to know Portugal intimately since that first visit, I've always felt most at home in Alentejo, and prefer its honest, unpretentious cuisine to all others. On my most recent trip, I caught up with old friends, rambled through the walled towns and pottery villages that first caught my fancy so long ago, and returned to the restaurants that do justice to Alentejo's earthy cuisine, the magnet that keeps pulling me back. I discovered that sleepy Alentejo is beginning to modernize, but the region still remains faithful to the cuisine's ancient roots.
Maria de Lourdes Modesto, an Alentejo native who was the country's most beloved TV chef for years, once told me that Alentejo's food "is the most Portuguese of Portuguese food." It's an agricultural cuisine shaped by the land and those who came this way from the Mediterranean and North Africa ages before. As early as 210 b.c., the Romans turned Alentejo into their breadbasket with farms and olive orchards. The Moors, settling in centuries later for a reign of nearly 500 years, left their culinary mark in the almond, lemon, and orange trees they planted. The East Indian cinnamon brought home by Portuguese explorer Vasco da Gama became a staple of the cuisine, along with significant New World arrivals: tomatoes and peppers, both sweet and incendiary. Alentejo cooks distinguished themselves early on by pairing these ingredients in their own ways, combining chicken with chouriço, and chickpeas with Portugal's beloved bacalhau (dried salt cod). But for me, one combination trumps them all—the magical pork and clam union known as porco à Alentejana.
This dish, un-shucked baby clams braised with pieces of pork lightly rouged with sweet red pepper paste, lured me back to Restaurante Filhao in Evora, the bustling capital of Upper Alentejo. Opened by Manuel Filhao shortly after World War II and now run by sons Amor and Gabriel and their children, the restaurant is built on classic Alentejo dishes, and its menu has barely changed over the years. I lunched there with my old friends Luís and Conceição Abilio, eating my fill of the succulent porco à Alentejana, savoring each bite that married land and sea. Of course I saved room for encharcada, that ruinously sweet eggy dessert created long ago at Evora's 15th-century Santa Clara Convent.
A few days later, at the country home she and Luís own in the nearby village of Evoramonte, Conceição showed me how to make encharcada. A delicately featured woman who knows her way around the Alentejo kitchen, she sieved raw egg yolks before swirling them into a skillet of boiling sugar syrup. Adding them bit by bit in a circular motion around the edge of the skillet, she scrambled waves of rich yolks ever so gently and in layers, which is what gives the dessert its complex texture. Conceição scooped the sweet mixture into a shallow earthenware casserole, dusted it with cinnamon, and carefully caramelized the top with a small butane torch. I spooned it up, pleased to finally know the secret of encharcada's sublime silkiness.
There's always more to learn about this food, so for another lesson in home cooking, I looked up Conceição Louro, an Alentejo native in Estremoz, known locally for the traditional dishes she's been cooking for decades. Her husband Miguel and son Luís now produce some of Alentejo's best table wines, and when I arrived at Quinta do Mouro, the harvest was in full fury with truckloads of grapes sweating under a blazing sun, ready to be crushed.
Oblivious to it all, Louro, a tall, striking woman with shoulder-length auburn hair, turned coolly to a basket of red-ripe tomatoes. It was time to show me how to make Alentejo's robust sopa de tomate, a family favorite. She began with bits of smoked bacon crisped and browned in olive oil with slices of chouriço. Slowly, she softened onions and garlic in the drippings until they were golden—a simple Portuguese base for sauces and soups known as refogado—and then added coarsely chopped tomatoes. The pot was left to bubble lazily for nearly an hour until the disparate flavors of pork and tomato melded into one. Like so many other Alentejo dishes, sopa de tomate is built over chunks of pão, yeasty country bread which goes into the bowls first, followed by soup and glorious barely poached eggs, eased in just seconds before serving. No Alentejo meal, whether eaten in a home kitchen or a fine restaurant, is complete without that pão, the flavorful bread made with a hard wheat known as trigo duro. My favorite comes with a bulbous topknot from the town of Vidigueira, where local baker Joana Roque cooks it in a stone oven fueled by dried olive branches. Louro reminded me this dish should always be eaten right away: "Never reheat a soup that has bread in it—the bread disappears!"
Though Alentejo isn't as famous for its wines as other regions of Portugal, gold-medal bottles have recently been produced in this land of pork, cork, and olives. The wines are still being made the old Roman way in Vila de Frades, however, just two kilometers away from the sprawl of Roman ruins at São Cucufate in Lower Alentejo. Just before my trip, I learned about País das Uvas, the century-old adega where the wine is aged in talhas, towering terra-cotta amphoras that have been used for thousands of years. I'd barely arrived at País das Uvas when owner António Honrado, a handsome 44-year-old, showed me his latest batch of wine. The frothy red must of foot-crushed grapes sat waist-high in a stoneware vat. The must, he told me, will go into the talhas in February, and as the yeasts in the surrounding air ferment the grapes, skins and seeds will drop to the bottom, forming a lees that deepens the wine's flavor and acts as a natural filter. The new wine will be drawn through it at the ceremonial first tasting on November 11, São Martinho (St. Martin of Tour's Day).
I stayed for lunch at País das Uvas, well-known for its hearty renditions of regional dishes. Honrado's wife Jacinta and her mother Francisca prepared lunch, sending out farm-fresh eggs gently beaten and cooked with wild mushrooms to start, then cozido de grão—a fortifying chickpea stew with pork, lamb, veal, sausage, and a garden of vegetables, plus a handful of freshly chopped mint. To finish, there was a puff of sericaia, a delicate cinnamon-dusted dessert baked in a tacho de barro, one of the locally made heavy clay casseroles indispensable to every Alentejo cook because it distributes heat so evenly. And that Roman wine? The rustic red blend surprised me with its richness and balance.
Despite its ancient ways, it struck me on this trip, as I drove along the Lisbon-Madrid highway, that Alentejo, for eons a slumbering giant, is beginning to modernize like the rest of Portugal. Nowhere was this more evident than at Alqueva Lake. From the car park of Monsaraz, a lofty castle tower in an area with roots so deep there are Stone Age relics all about, I could see Alqueva shimmering over the horizon. I was staggered by its immensity. Created by damming the Guadiana River in 2002, it's now Europe's largest man-made lake. Alqueva brings precious water to Alentejo's arid plains, but it had so impacted the landscape that I was disoriented as I drove from Monsaraz to the village of São Pedro do Corval on a two-lane blacktop once as familiar as my own driveway.
To my great surprise, the food of Alentejo was also beginning to change. Suddenly petiscos, Portuguese tapas, were trendy. Platters once piled high with meat, fish, or fowl and both potatoes and rice were being edged out by smaller plates offering just a few bites. I quickly found a favorite place to pig out on petiscos: Manuel and Carolina Oliveira's sophisticated Tasquinha do Oliveira, a nook of a restaurant that wasn't open last time I was in Evora. There were just six tables and a minuscule kitchen, but framed culinary awards crowded walls decked with brightly colored Alentejo plates. The traditional dishes were excellent, as were the newly spun: updated fritters of bacalhau, a thin batter of salt cod fried crisp; poached quail's eggs with chunky black sausage served hot off the grill; and an elegant escabeche of partridge.
Even in smaller villages, cooks were beginning to catch the new wave. At O Barro, a tiny restaurant in the pottery town of Redondo, a gifted cook named Rosa Filipe worked miracles, bouncing boneless slivers of pork in and out of a hissing skillet, to serve them simply well-seasoned with a deep, rich sear. They were secretos, a trendy cut of black pork whose precise source remains a mystery. Some cooks claim these little slices are cut from the front leg, some say hind, while others insist they come from the shoulder or back. After extensive research, I've come to suspect that secretos come from different parts of the hog, depending on what's available, which explains why tenderness and flavor vary, and also accounts for their name. Secreto, after all, means "secret."
If I needed further proof that Alentejo is modernizing, I found it in the tasting menu at Herdade do Esporão, the first estate to mass-produce top-quality Alentejo wines. The four-course feast laid before me featured seared scallop salad with apples, poached cod in a meaty jus with mushrooms, roast loin of black pork with fennel and garlic-creamed yellow potatoes, and, instead of a traditional convent sweet, a dark chocolate soufflé with a side of raspberry sorbet. Just 75 miles south at Herdade da Malhadinha Nova, an estate known for its wines, extra-virgin olive oils, and black hogs, even more reinvented recipes popped up. My multicourse lunch included an unforgettably fresh chickpea and bacalhau salad, black pork mixed grill (made from the farm's own pigs), and a rich dark chocolate cake. It was a sophisticated departure from the cuisine I was accustomed to, yet the flavors of the pork, chickpeas, salt cod, and olive oil were intact.
When it came time to leave, I found myself already thinking about my next visit. Despite the changes beginning to stir, I'll always be at home in Alentejo, where cooks remain anchored by tradition, and a blushing plate of porco à Alentejana and a hot, perfect bowl of açorda await.