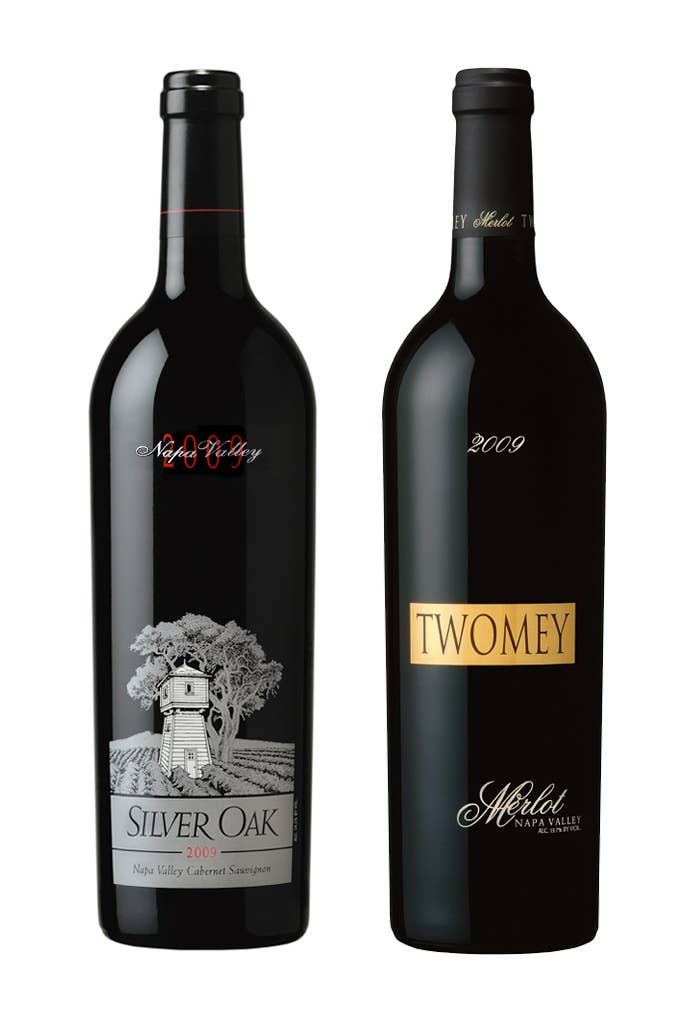 Drinks
Drink This Now: Silver Oak Cabernet Sauvignon and Twomey Merlot
These elegant Napa Valley bottles taste of the grapes from which they are produced
My partner's uncle, Dan Baron, was in Manhattan not too long to celebrate the release of the 2009 vintage of two wines he makes: Silver Oak Napa Valley Cabernet Sauvignon ($110) and Twomey Soda Canyon Vineyard Merlot ($50). I've always liked Dan's wines, but this year I was struck by their nuance and complexity. The merlot piles on layers of black cherry, funky truffles, floral spice, and dark roast coffee—and the cabernet shimmers with dark fruit, violets and roses, wet earth, cassis. Drinking either is like digging for treasure; the riches just keep unfolding. I may be a sort of relation to the man, but trust me on this one: I've never been a fan of California's classic red varietals; too many labels wallop drinkers with macho alcohol levels, wood, and fruit. In contrast to their broad-shouldered neighbors, these elegant bottles are enormously gratifying to drink.
What is it about the 2009 vintage that makes the wines so good? For one thing, says the winemaker, the weather was "boring." In other words, it cooperated with a mild summer, a dry winter, and nice spring rain. But that was the case across the Valley. What was different at Silver Oak was that this was the year Dan truly married science and art, putting quantifiable measures on a subjective approach he first learned while working at Petrus, in France's Pomerol appellation, 30 years ago.
Back then, Californians only used chemistry to decide when to pick their grapes, analyzing the grapes' juice for the proper ratios of acid and sugar. But at Petrus, the winemakers simply trusted in their palates. They walked the vineyards and sampled the fruit. And when the grapes tasted and felt the way they wanted them to, they harvested.
The hands-on method proved difficult to scale up at sprawling Silver Oak. So, in 2009, Dan layered on a system called Berry Sensory Analysis. Now, armed with clipboards and a set of shared parameters, teams at Silver Oak and Twomey go out into the vinerows and get intimate with fruit. They smell and feel and taste the grapes, crunching on their seeds, gnashing on their skins.
It's exacting work: They chew those skins, I kid you not, precisely 15 times to assess how easily they fall apart and, therefore, how well their compounds will release into the wine. Together they're creating a biography of that fruit that can be read, like a book, for its climaxes and denouements.
"I can look back at my notebook and see that on August 15, the grapes were crunchy with green pepper notes, and the seeds were green, and on August 20, five days later, the skins were beginning to soften. I can correlate that with temperature and water stress," says Dan. "It's quite fascinating."
It's also quite wonky. But the wonkiness is the winemaking team's job. Enjoyment is the work of the drinker, and that's an easy task with these bottles. I plan to drink some of each throughout the summer grilling months. With its velvety tannins and gamey earth notes, merlot will be wonderful with duck or lamb. The lithe cabernet is made for steak, but I'll make sure to leave a little left over for the cheese course.