Friday Cocktails: Kyushiki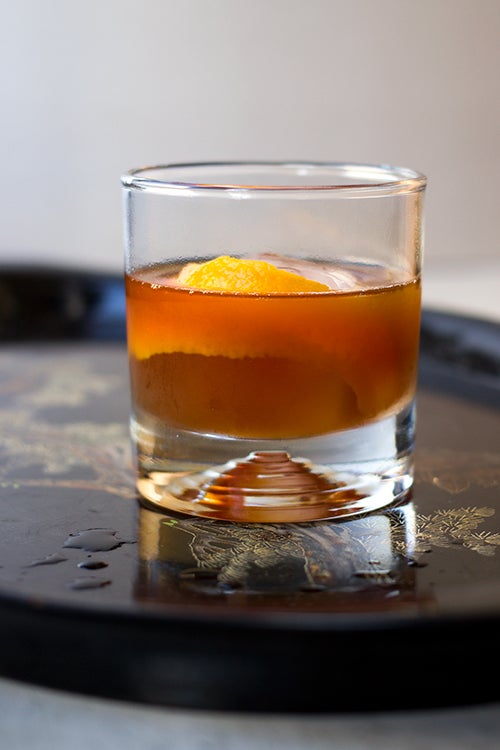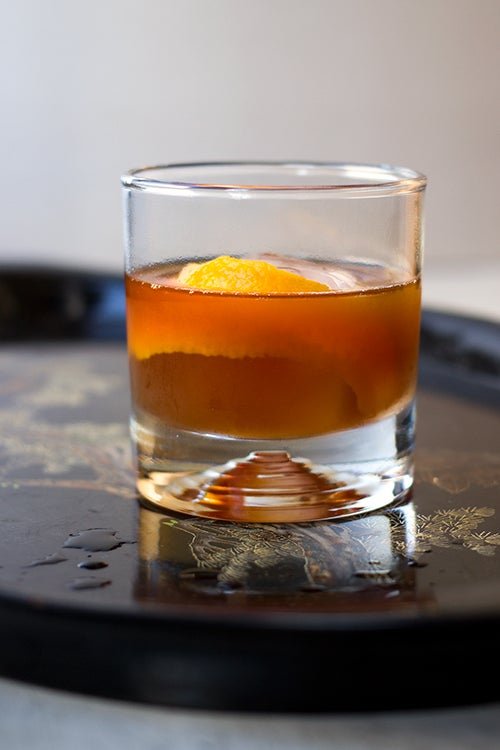 As a general rule I try to stay away from gimmick restaurants, especially when the schtick is fusion cuisine. Straddling the line of two very different culinary cultures is difficult to execute successfully, and more often than not I'm left wishing I had picked a restaurant that just committed fully to one side or the other. But Brooklyn's newly opened restaurant Shalom Japan (which, as the name implies, fuses Jewish and Japanese) is helmed by the husband-and-wife team of Aaron Israel and Sawako Okochi, chefs with enough serious experience between them that I was willing to give this unusual combination a chance. On a visit a few weeks ago, I tested the waters with their cocktail menu, which features drinks such as the Oy Vey Iz Kir—Palmer Brut and Manischewitz—and the Sweet and Sawa, which is a surprising blend of Mizunomai shochu, bourbon, yuzu, and honey. I went with the Kyushiki, a sweet, gingery twist on the classic Old-Fashioned that turned out to be the ideal autumn libation.
Around this time of year, as the leaves change color and the dropping temperatures call for a sweater in the evenings, I find myself craving the sweet-smoky warmth of bourbon. The Kyushiki takes these notes and amplifies them, adding heat and the flavor of fall baking spices with muddled ginger and the molasses sweetness of kuru sato,__ also known as black sugar—found frequently in Japanese baking, it's made by boiling unrefined sugar cane, and has a flavor similar to brown sugar, but with deeper, richer notes. When I was replicating the cocktail at home, I decided to up the spice by using an overproof bourbon, and muddling additional ginger and black sugar in the bottom of my mixing glass. And I guess I've warmed up to the idea of Japanese-Jewish fusion—the next dinner party I throw, I'm planning to serve this decidedly Japanese cocktail with Lekach, a classic Jewish honey-spice cake.