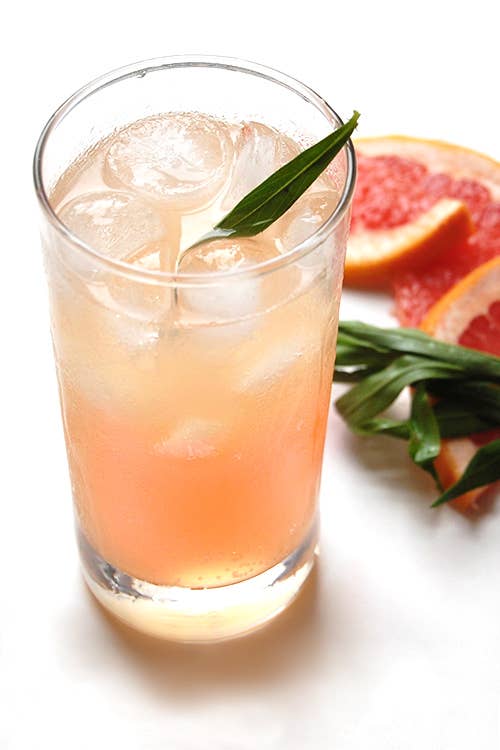 Drinks
Friday Cocktails: The Charleston Fizz
In South Carolina, where I'm from, summer remains long after Labor Day has come and gone. The heat can be unforgiving through September, and light, refreshing flavors still rule until a chill finally sets in at the end of October. It was on one such late summer day while working at The Ordinary, an oyster bar in Charleston, South Carolina, that I first tasted a revelatory combination of flavors: grapefruit and elderflower.
Since the restaurant was closed on Mondays, on Sundays the staff would often bring in treats like candy, lottery tickets, and—if we were lucky—some Piggly Wiggly fried chicken to celebrate the last shift of the week. On one of these "Sunday Fundays", one of the bartenders brought in his own creation: a grapefruit-elderflower drink from his soda business, Cannonborough Beverage Company. Sourcing locally grown fruits and vegetables from purveyors around the area, Cannonborough prides itself on creating complex, all-natural sodas. Elderflower was something I had never heard of before, but I was immediately hooked: Its delicate flavor elevated the tangy grapefruit, resulting in a light, fragrant, and refreshing drink.
Remembering the soda recently, I was inspired to turn the soft drink into a cocktail. The floral flavor of gin is a natural match for bright grapefruit and elderflower liqueur, and fresh tarragon adds an aromatic, peppery anise note. A splash of soda turns it into a cooling, effervescent sipper—perfect whether you're trying to escape the heat or just hold onto the taste of summer a little longer.