Friday Cocktails: The Red Carpet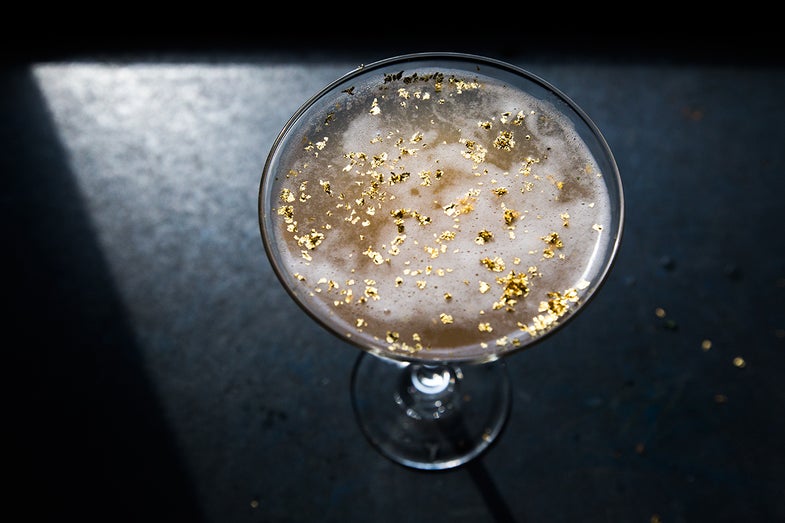 There was a lot I loved about the movie Annie when I was young, but one part that always bothered me was her trip to the movies. Stern Daddy Warbucks and lithe Grace Farrell dance the little curly-haired orphan to see her first movie, a chorus of ushers armed with flashlights welcome her to an enormous theater, and—she falls asleep! For shame! The day I saw my first film is vividly etched in my mind. I was four, and my dad held tightly to my hand as we swung open the theater doors to reveal a multisensory world: the plush carpets and a luminous candy display, the aroma of buttery popcorn in the air, the sharp-edged feeling of my ticket clutched tightly in my hand. The lights dimmed, the movie began, and the glow of the screen shut out the rest of the world. Unlike Annie, I stayed wide-awake—riveted—until the very last credit rolled.
Years later, I still get butterflies in my stomach right before a movie starts, giddy with anticipation of the action to come. And after a years' worth of laughing, crying, gasping, and cheering at the movies, the Academy Awards are my Super Bowl, my World Series. I gather with friends for food and drink as dresses are scrutinized, nominees judged, and victors announced. At my party this year, I'll be serving the same drink New York City restaurant Daniel will have on offer: The Red Carpet, a sophisticated, frothy concoction of vodka, tangy bergamot juice, pear jam, and fiery ginger. It's a rich, transportive cocktail—a perfect accompaniment to the rich, transportive world of the movies.