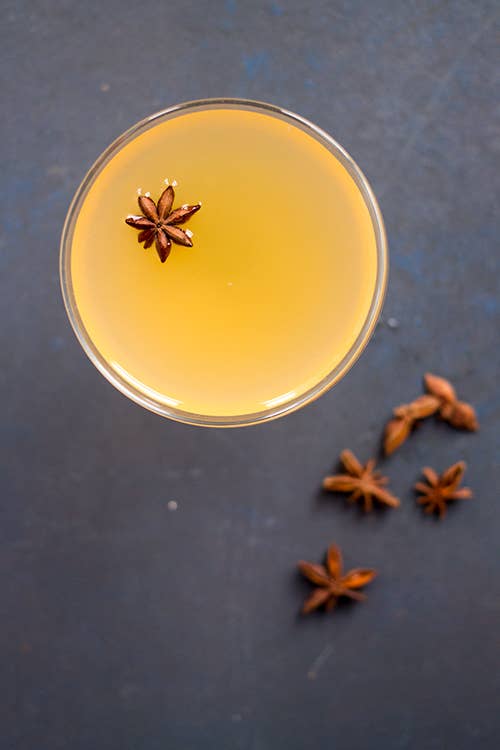 Drinks
Friday Cocktails: The Spice Trade
Not too long ago, a few of us slipped out of the SAVEUR office in the middle of the afternoon for a drink—very Mad Men, if the men in question were all ladies wearing lipstick. We landed at the Breslin, a British-inflected restaurant not too far from our office whose dark wood-paneled bar area was the perfect stage for a warming drink on a chilly day. I flirted with the idea of ordering a lighter drink to make my afternoon in front of the computer a little easier, but something stronger kept calling to me. The menu called it the Spice Trade: a heady combination of genever, vermouth, persimmon, star anise, and pressed lemon.
Genever, though popular in Europe, is one of those spirits you don't often see on a cocktail list in the states. I was given a big bottle a few months ago as a gift that I wasn't too sure what to do with. Dutch tradition calls for drinking it straight from a tulip-shaped glass alongside a beer, but there's no way I was going to get through the whole bottle in that fashion—so for inspiration, I've taken to ordering a genever cocktail whenever I see one on a menu. Through these taste-tests, I've learned that it's incredible for mixing. A precursor to gin, the juniper-infused spirit carries a malty, woodsy flavor that complements a whole range of cocktails.
So I went in for the Spice Trade, and was glad I did. The genever provided the perfect backbone for the rich, bright flavors of winter fruits and the herbaceous, exotic anise. It was the ideal drink for an afternoon pick-me-up, and it's my new favorite way to use genever.