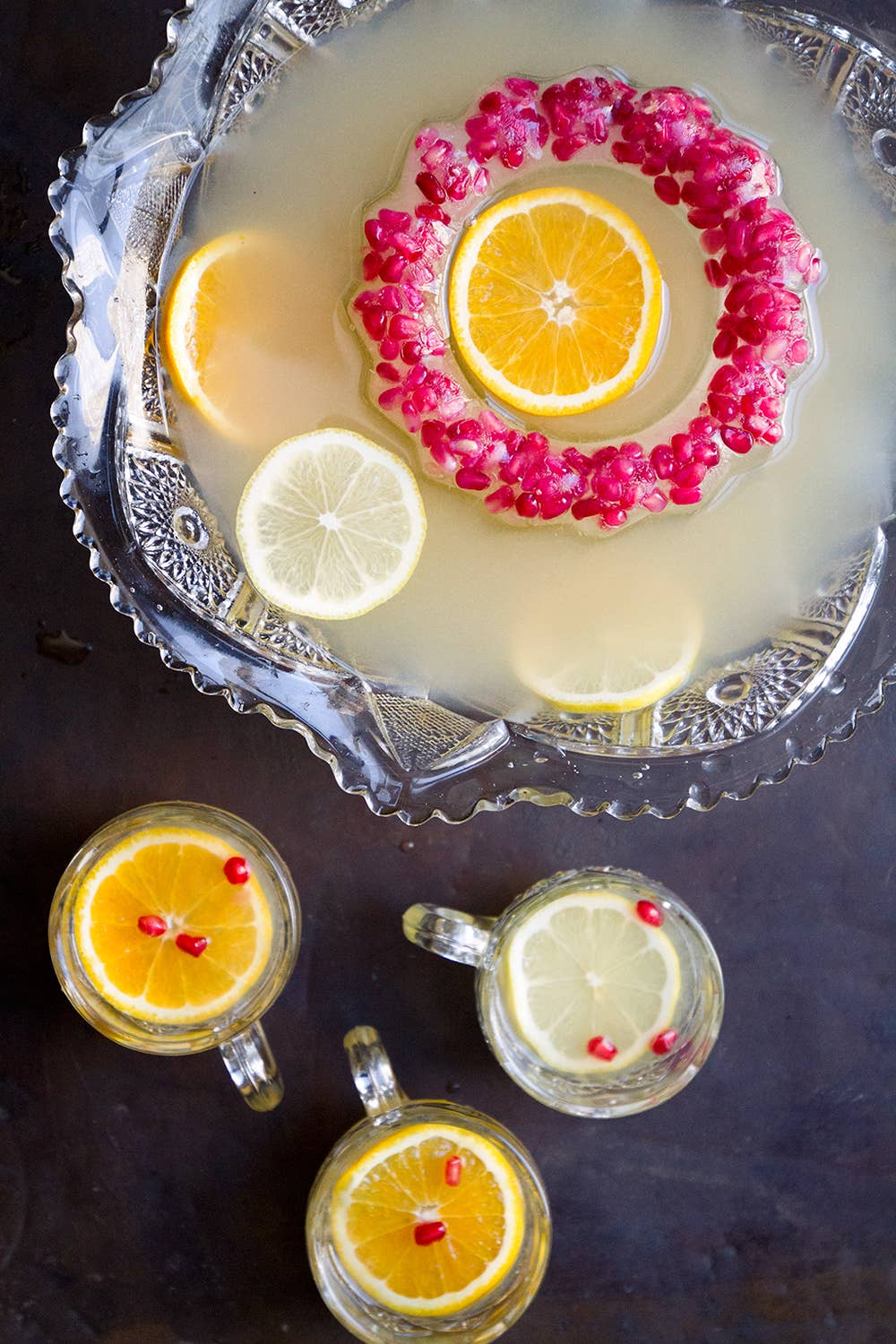 Drinks
Friday Cocktails: Horse & Carriage
An effervescent gin punch that makes a perfect party cocktail for any season
I'm always on the lookout for large-format cocktail recipes to shake up my go-to party offerings; serving from a punch bowl or a few pitchers is so much easier than playing bartender all night, and as I've learned after scrubbing one-too-many countertops the following day, much less messy than setting out bottles and accoutrements for guests to mix to their taste. Thankfully, the trend of large-format drinks in bars in and around New York City has given me plenty of opportunity for inspiration. At the top of my list right now is the Horse & Carriage from Nolita's The Daily, a lightly sweet, floral, effervescent gin-based punch garnished with citrus and pomegranate seeds—as pretty to look at as it is lovely to sip.
On a recent visit, before arriving at the bar—a narrow, dark but cozy establishment that shares management (and thankfully, a kitchen) with Michelin-starred Public—I knew to expect well-executed classics, and they certainly delivered. The Perfect Manhattan, Corpse Reviver #2, and Boulevardier on their daily-changing menu were all thoroughly enjoyed by my companions as we nibbled on cerignola olives and taro chips with black truffle baba ghanoush. The unexpected touch, though, was the punch delivered to our table (the Daily offers a rotating menu of seasonal punches for groups of at least 6 people)—even the non-gin drinkers and non-punch fans were imbibing with enthusiasm.
I'm thrilled to have the recipe in my repertoire because it's so versatile. The combination of gin, tea, and champagne makes the drink as appropriate at a brunch party as it is at cocktail hour. The St. Germain carries elderflower and pear flavors, making it easy to adapt for either spring or autumn—I'll serve it this fall garnished with apples, pears, and cinnamon sticks; this winter with citrus slices and pomegranate; and next spring with edible flowers.