Recipes
Grilled Shrimp with Miso and Soba Noodle Salad
Miso pulls double duty as both a marinade and a dressing in this simple lunch.
Serves

serves 4

Cook

15 minutes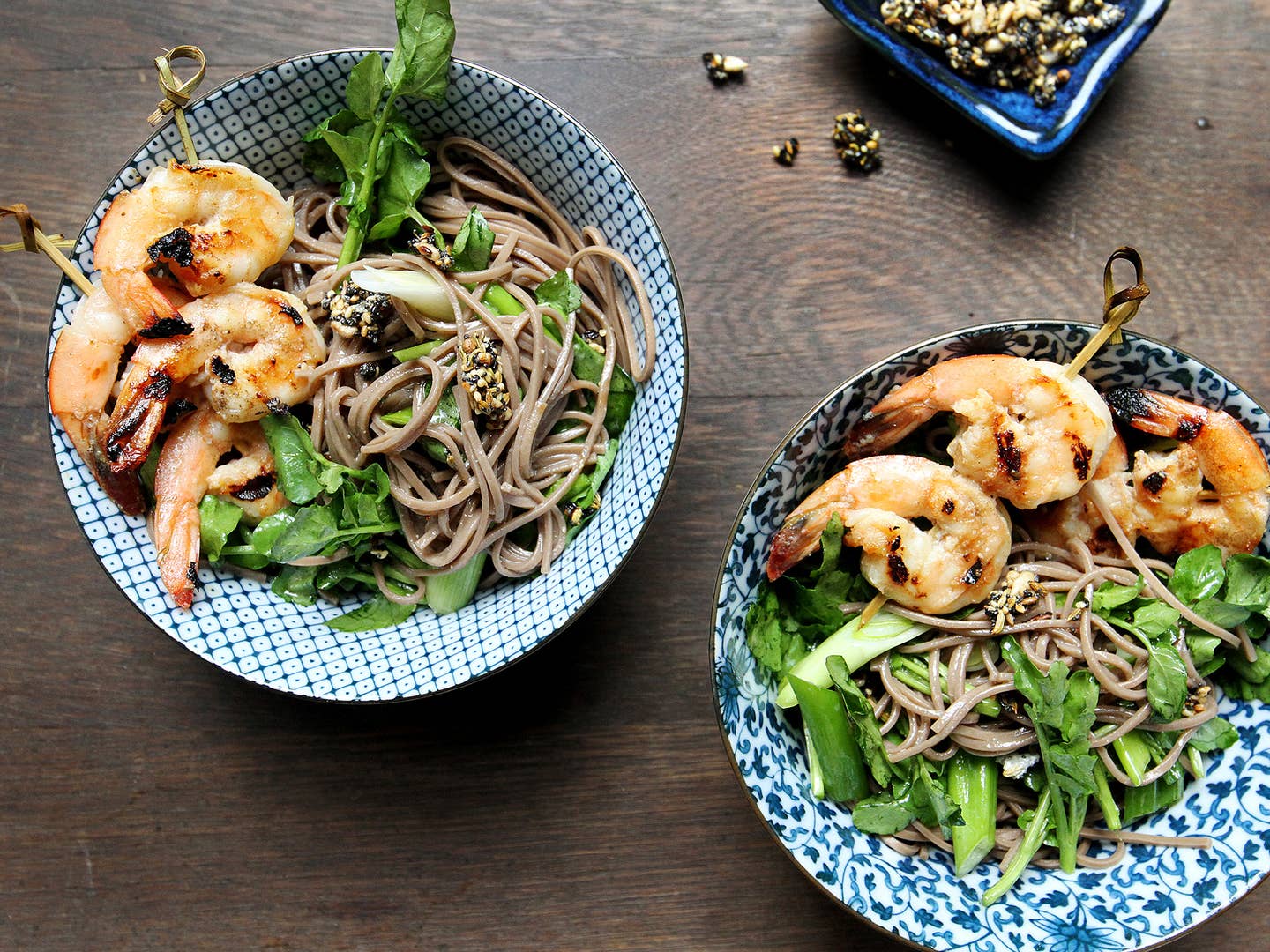 Munchies culinary director Farideh Sadeghin's miso marinade for grilled shrimp doubles as a dressing for a flavorful salad of watercress, scallions, and soba noodles. She likes to add a handful of Rhode Island chef Benjamin Sukle's toasted seeds for a little extra sweetness and crunch.
Ingredients
½ cups sesame oil
¼ cups mirin
2 tbsp. white miso
1 lb. large shrimp, peeled and deveined, tail-on
One 8-oz. package dried soba noodles
6 oz. watercress
4 scallions, cut crosswise into 1½-in. long pieces
2 tbsp. Toasted Seed Mix
Instructions
Step 1
In a medium bowl, whisk together the sesame oil, mirin, and miso. Remove and set aside half of the dressing, then toss the shrimp with what remains in the bowl. Cover and refrigerate the shrimp for at least 30 minutes and up to 4 hours.
Step 2
Bring a medium pot of water to a boil. Add the soba noodles and cook, stirring occasionally, until just tender, 6–8 minutes. Drain the noodles and rinse well under cold running water to cool. Transfer to a large bowl and toss with the reserved marinade, watercress, and scallions.
Step 3
Heat a grill or grill pan over medium heat. Thread the shrimp onto four 8-inch metal or (thoroughly soaked) bamboo skewers, shaking off any excess water before using. grill, turning once, until cooked through, about 3 minutes. Serve with the soba salad and toasted seeds.