Soba Noodle Salad with Miso and Grilled Prawns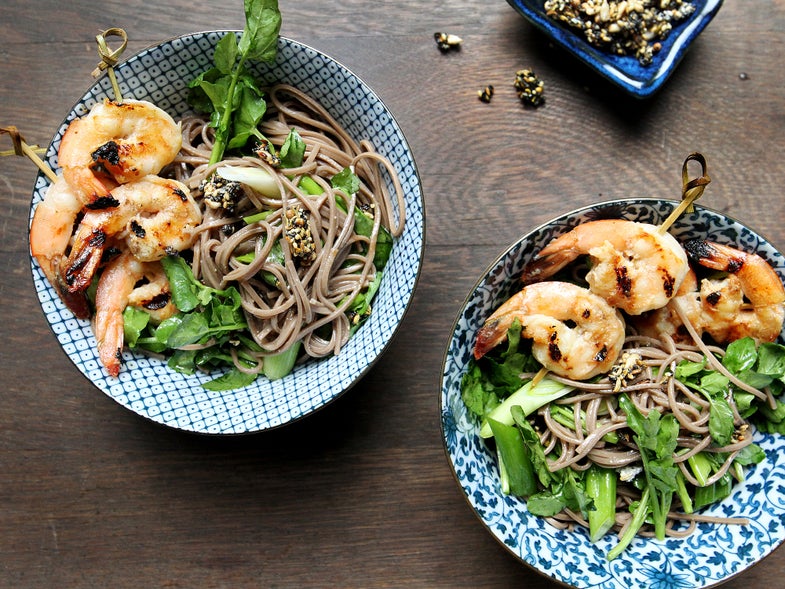 Miso is one of my favorite ingredients; I love it in dips, dressings, marinades. Here, I made a miso marinade that doubles as a dressing for a flavorful salad composed of watercress, scallions, and soba noodles. I like to add a handful of chef Benjamin Sukle's toasted seeds for a little sweetness and crunch; ever since we tested his recipe in our kitchen, I've been obsessed with them. —Farideh Sadeghin, test kitchen director
Prawn and Soba Noodle Salad
The miso sauce in this recipe does double duty as a marinade for grilled prawns and a dressing for the accompanying salad, composed of watercress, scallions, and soba noodles.
Time: 15 minutes
Ingredients
1⁄2 cup sesame oil
1⁄4 cup mirin
2 tbsp. white miso
1 lb. peeled and deveined tail-on shrimp (about 24)
1 (8-oz.) package soba noodles
6 oz. watercress
4 scallions, cut into 1 1/2″ pieces
Skewers
2 tbsp. toasted seeds
Instructions
Whisk oil, mirin, and miso in a bowl. Toss shrimp with half, cover, and refrigerate at least 30 minutes; reserve remaining marinade to dress your salad.
Bring a medium pot of water to a boil; cook soba, stirring occasionally, 6-8 minutes. Drain and run under cold water to cool. Toss with remaining marinade, watercress, and scallions.
Meanwhile, build a medium-hot fire in a charcoal grill, or heat a gas grill to medium. (Alternatively, heat a cast-iron grill pan over medium-high heat.) Thread shrimp onto skewers; grill, turning once, until cooked through, about 3 minutes. Serve with soba salad and toasted seeds.