Recipes
Basque-Style Fish With Green Peppers and Manila Clams
A vibrant seafood supper, in under 30 minutes.
Serves

serves 4

Cook

25 minutes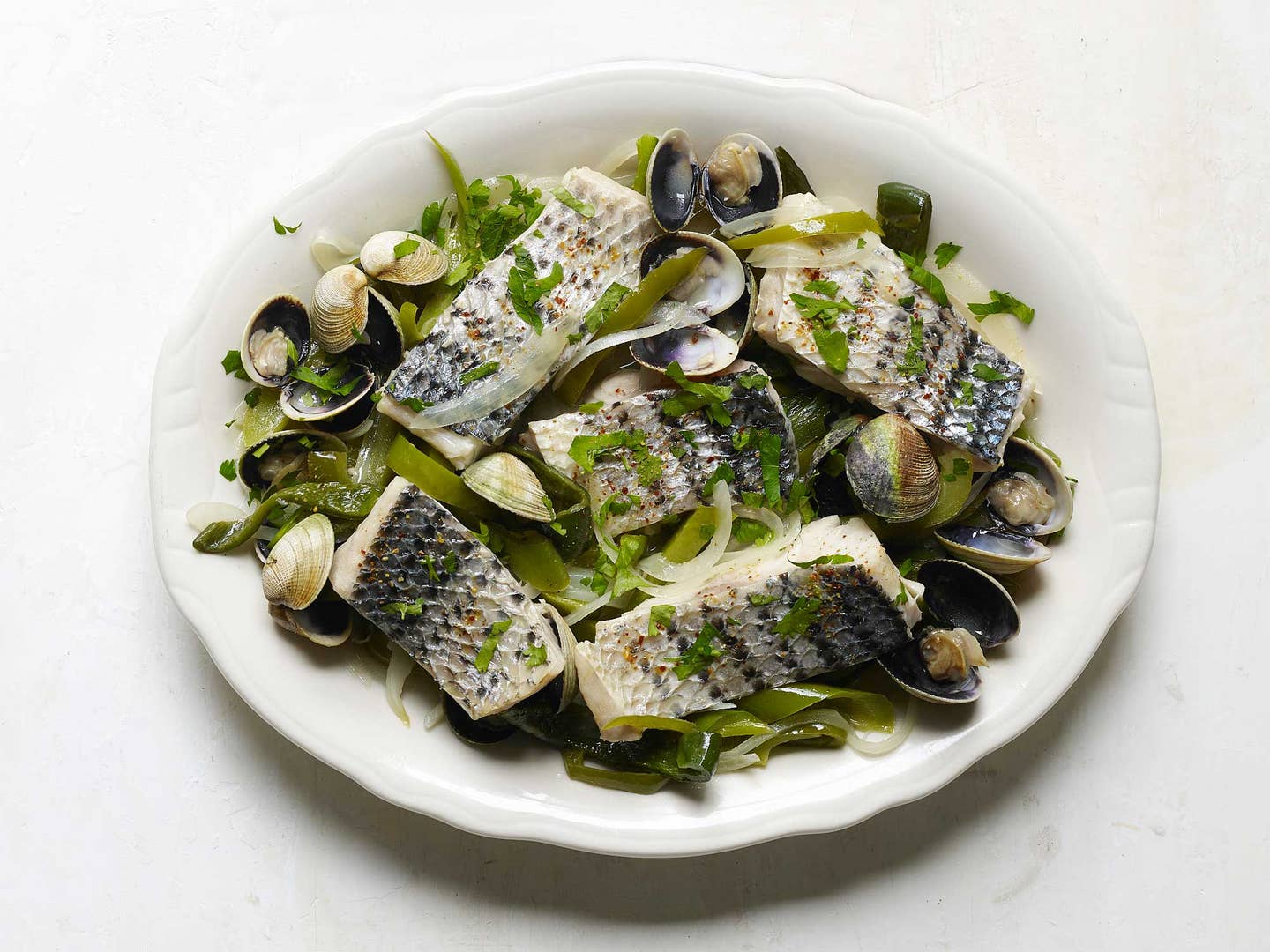 This is our riff on merluza en salsa verde con almejas, a traditional Basque fish dish with delicate hake and clams in a vibrant green sauce. If hake is unavailable, substitute striped bass or haddock. Check out all of our Basque dishes straight from the Pyrenees.
Ingredients
1⁄3 cup extra-virgin olive oil
2 cloves garlic, finely chopped (1 Tbsp.)
1 tbsp. all-purpose flour
1⁄2 cup dry white wine
2 cups fish stock or clam broth
3⁄4 tsp. kosher salt, plus more to taste
1 lb. assorted mild green peppers, cut into 1/4-inch strips (3 1/2 cups)
1 medium Spanish onion, thinly sliced
2 tbsp. coarsely chopped Italian parsley, plus more for garnish
2 lb. skin-on, hake fillets cut into 8 equal portions
12 small, fresh clams, scrubbed
1-2 tsp. piment d'Espelette (optional)
Instructions
Step 1
In a large skillet, heat the olive oil over medium-high heat. Add the garlic and cook, stirring occasionally, until just beginning to brown, 1 minute. Sprinkle the flour over the garlic and stir to combine. Add the wine and cook, stirring rapidly, until the mixture thickens and reduces slightly, about 2 minutes. Add the fish stock and salt, then bring the mixture back to a boil. Add the peppers, onion, and parsley, and spread into an even layer on the bottom of the pan. Raise the heat to high, cover the pan, and simmer until the vegetables are softened, about 5 minutes. Uncover the pan and place the hake pieces skin-side up in a single layer atop the vegetables. Nestle the clams between the fillets and season the fish with salt to taste. Cover and cook until the fillets are just opaque at the center and the clams have opened, 5–7 minutes. (Discard unopened clams.)
Step 2
On a deep serving platter, scatter the vegetables, then place the fish and clams on top. Spoon the remaining broth over the fish and garnish with chopped parsley and Espelette pepper, if using; serve immediately.