The Best Glassware for Your Home Bar
Essential presentation options for aspiring and accomplished mixologists alike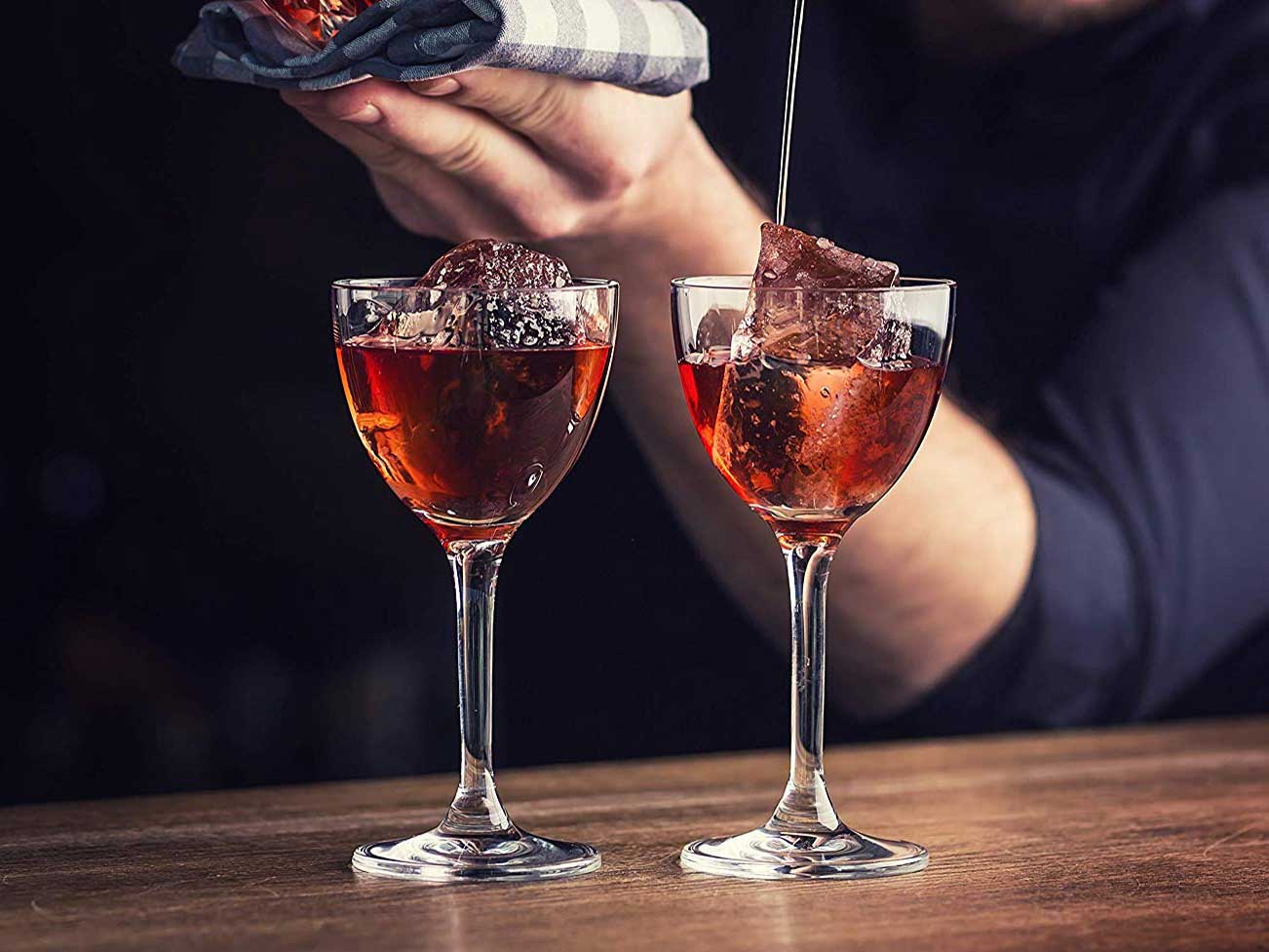 We may earn revenue from the products available on this page and participate in affiliate programs.
Not that glassware is a purely cosmetic concern—the right vessel can enhance mouthfeel, help stabilize temperature and dilution, and make sure drinks are the right proportions. Chances are that gin and tonic you're sipping from a pint glass is stronger than it ought to be. If you're looking to outfit your home bar with some quality glassware, check out our starter kit below.
The "Nick and Nora" glass is one of the most versatile pieces you can add to your home bar. Pretty much any drink served up (as in, not on the rocks) will feel classy in this glass. The lip is thin and holds any garnish gracefully. The "Nick and Nora" is ideal for booze-forward cocktails like Manhattans and martinis but works just as well for a Cosmo or apéritif.
These coupes from industry-standard brand Cocktail Kingdom come in a set of six. The stylish glasses are great for sipping something sparkling or any cocktail served up. They also have more capacity and a thicker lip than the "Nick and Nora."
These weighted crystal tumblers come in a set of four and feature laser-cut diamond-shaped designs. While they're large enough to be used as everyday glassware, they're really built for whiskey and equally adept at complementing an old-fashioned or Scotch on the rocks.
These simple, classic glasses come in a set of six and measure 2.15 by 6.5 inches. The Collins is the go-to glass for any highball or simple mixed drink, but its size makes it great for any thirst-quenching beverage. That's not to say it can't be fancy—try a Pimm's Cup or Americano to see its full potential.
Wine snobs agree that Libbey makes some of the best wine glasses for bringing out the nose and mouthfeel of complex wines. Tasteful and classic, these glasses let your wine speak for itself. They come in a set of 6 and hold 18.5-ounces.
Another brand favored by oenophiles and sommeliers, Riedel makes top-of-the-line wine glasses in a variety of shapes and sizes. These 8.5-ounce glasses are made of fine crystal and designed specifically for Champagne, but you can use them for any sparkling wine as well as cocktails, like a French 75 or Bellini.
Shots, shots, shots! These little guys come in a set of four and measure 2.25 inches tall, with a 2-inch top diameter and 1.3-inch base diameter. They feel sturdy in the hand without having an unnecessarily thick base as many shot glasses do. When it's time to celebrate, you'll want to have these around to turn the party up.
This pub-style pint glass comes in a set of four and measures 8 by 6.5 by 8 inches. It's thick, durable, and dishwasher-safe. Knock back a pint of lager, or use this glass to stir your Manhattans and martinis if you don't want to invest in a big mixing tumbler.