Drinks
French 75 Cocktail
Spirit and citrus are topped with a splash of Champagne in this easy-yet-elegant classic.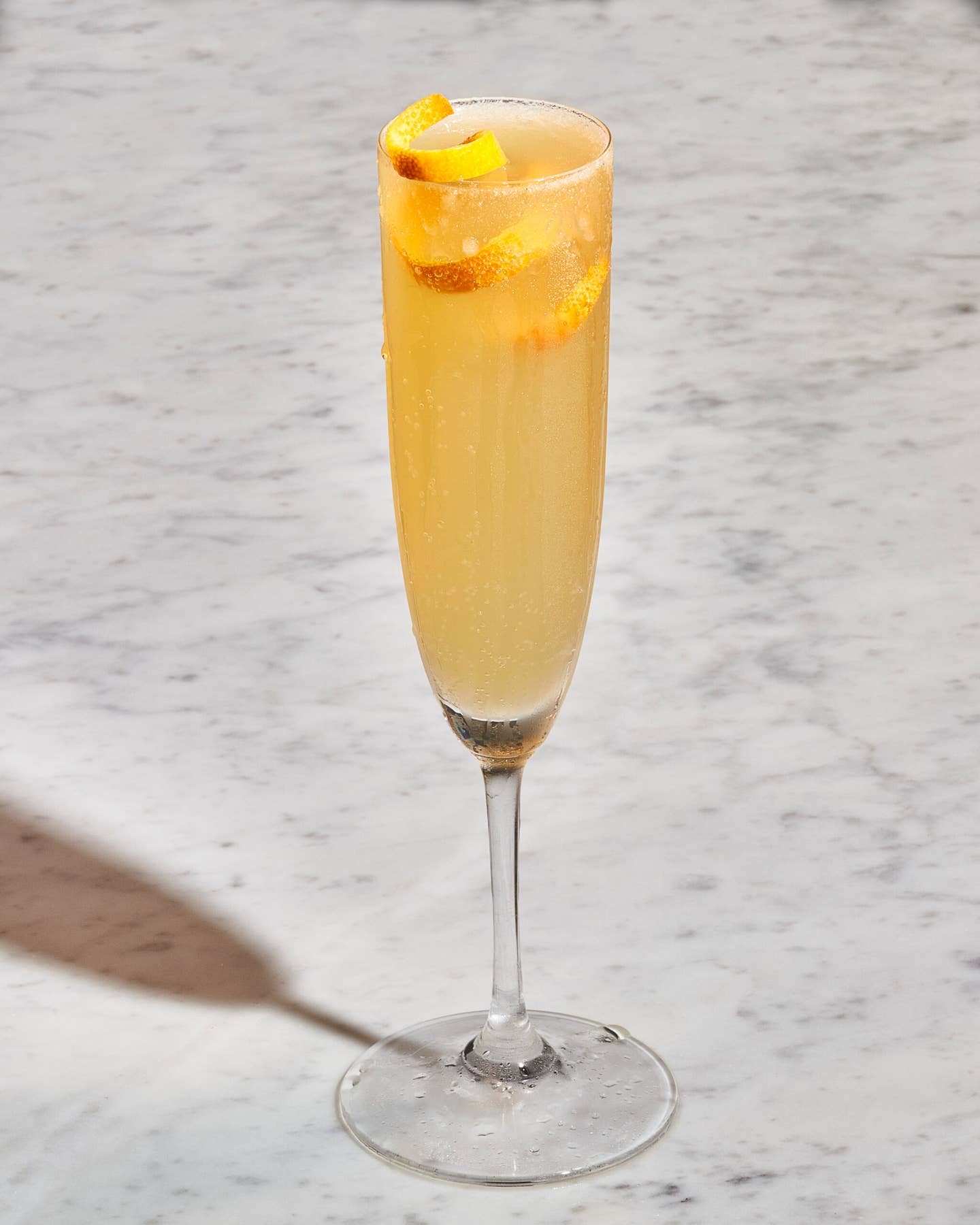 As the "Golden Age of Cocktails" started to wind down, palates began to favor lighter bodied serves - influenced in large part by the emergence of gin as the preferred cocktailing spirit. At the same time, Cognac and brandy, the base of iconic serves such as the Sazerac and Brandy Crusta, were put to use in cocktails that could keep pace with the demand for drinks that were light and quaffable. Enter the French 75.
A sort of elevated highball, you can think of this classic drink as the mimosa's elder, more elegant sister. A vibrant pairing of citrus, aged eau de vie, and Champagne, this drink signified luxury when it was invented at the turn of the 20th century. A Phylloxera epidemic had recently decimated France's wine industry, so at the time both of the beverage's alcoholic components were relatively expensive and difficult to obtain.
In recent years, this old favorite has returned to the bar scene, ushered in by the trade's growing appreciation for wine- and grape-based distillates, as well as the contemporary bar-goer's taste for lighter, more sessionable serves. The classic French 75 recipe is simple enough to be enjoyed casually, but it's also a serious cocktail that's particularly well suited to marking celebratory moments, offering the drinker the best of both worlds.
Ingredients
1 oz. Cognac
½ oz. fresh lemon juice
½ oz. simple syrup
3 oz. sparkling wine
One 2-in. piece of orange peel, twisted
Instructions
Step 1
To a cocktail shaker filled with ice, add the cognac, lemon juice, and simple syrup. Shake well, then strain into a chilled coupe glass. Top with the sparkling wine, garnish with an orange twist, and serve immediately.
Note: While some cocktail historians—Dave Wondrich included—believe that the French 75 cocktail was originally made with Cognac, there are numerous alternative versions published between 1920 and 1940 that call for gin. Your choice of spirit can be determined by personal preference, or by the season, using lighter botanical gin in the spring and summer and richer Cognac fall and winter.