The 11 Best Hyper-Regional Sodas in America
You have to try these sweet, bubbly American specialties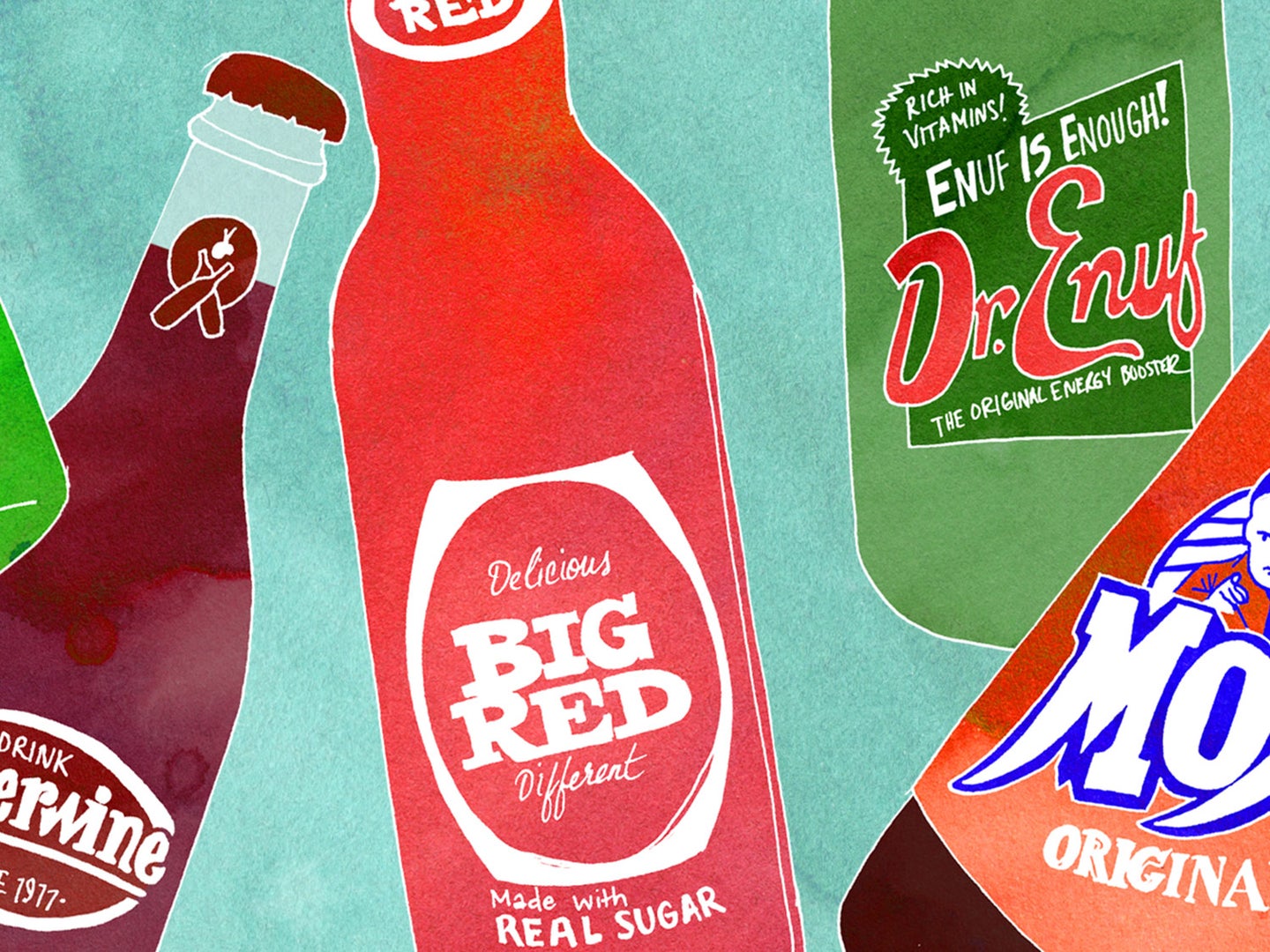 Ask a North Carolinian about the best drink to pair with barbecue and you might hear her extol the virtues of the state's famous cherry-flavored soda, Cheerwine. A born-and-bred New Yorker might remember with fondness the summer they were old enough to indulge in a bitter, espresso-based Manhattan Special. And a Texan will assert that the flavor of "red" is most certainly that of vanilla cream with citrus.
Whether they're still made and bottled in the original factory, same as always, or they've been purchased by big conglomerates, these 11 sodas still hold tightly to their sense of place. Keep an eye out for them in specialty stores and on travels, or order them online and see what you've been missing.
Bitter, herbal Moxie soda originated in Maine in the late 1800s as a patent medicine called "Moxie Nerve Food." Flavored with gentian root, sassafras, wintergreen, and other herbs, it was one of the first mass-produced soft drinks in the United States. Though it's still somewhat unique to the Northeast, it's become more available in specialty stores and larger grocery stores since Coca-Cola purchased the brand in 2018.
This deep red, cherry-flavored soda was created in North Carolina in 1917. Even though it's only been available outside the state since the '90s, Cheerwine is probably the best-known regional soda in the country, thanks to the massive popularity of Southern food and the drink's cult-like following among many of the region's superstar chefs. Its sweetness and heavy carbonation make it a popular pair with North Carolina's famous vinegar-based barbecue.
The bittersweet espresso Manhattan Special takes its name from Manhattan Avenue in Williamsburg, Brooklyn, where the drink has been made since it was created in 1895. Invented by an Italian immigrant named Michael Garavuso and an osteopath named Dr. Teresa Cimino (Cimino's great-grandchildren currently run the company), the simple bottled drink—espresso syrup and soda water—was created primarily to serve the Italian immigrant community, who preferred espresso to American coffee, but quickly caught on with New Yorkers.
This incandescent red soda is so ingrained in Texas culture that Texans who grew up on the stuff report that its flavor—a bubble-gum-like combination of vanilla cream with orange and lemon—simply tastes "red." Like Cheerwine, it's a popular companion for barbecue thanks to its vigorous fizz and intense sweetness.
A Southern-born, ostensibly grape-flavored soda, NuGrape has been in trouble with the FTC twice for claiming the flavor in its recipe comes from real grapes. (The package now states that it's "artificially flavored grape soda.") Like many other regional candies and sodas from the South, you can occasionally find it in limited quantities in specialty stores and chains like World Market and Cracker Barrel, but its distribution is still mainly confined to the Southeast United States.
Connecticut-based Hosmer Mountain was founded in 1912 as a spring water delivery service; its current owners purchased the company in 1958 and began making sodas. These days, they're famous for their lightly carbonated sodas, which come in more than 30 different flavors and tend toward the drier side of the spectrum. Among their flavors are root beer, cocoa cream, black cherry, a Cola Red and a Cola Blue (meant to approximate Coke and Pepsi, respectively), and numerous specialty releases including a 2016 "Feel the Bern" soda.
Created in 1937 by Chicago Distilled Water & Beverage Co. partners Berney Berns and Ely Klapman in the Wicker Park neighborhood of Chicago, this root beer remains a Chicago staple despite now belonging to Indiana-based Hedinger Brands. It even had a brush with Chicago's notorious criminal element during the Prohibition era: A well-known gangster mentioned the root beer in his alibi when he was arrested for the murder of Octavius Granady during the city's "Pineapple Primary" riots in 1928, claiming he was working for the bottling company that day. (Whether he actually knew Klapman and Berns is unknown.)
Florida's Global Beverage Enterprises created this lightly sweet, cucumber-flavored soda in 2008. The flavor and aroma are remarkably similar to a freshly cut cucumber, which makes it popular with bartenders. The company has declined to reveal the type of cucumber used to make the extract, but has said that the specific variety is the reason for its particularly bright flavor.
Another beloved Midwestern beverage, Green River was invented by a confectionery shop owner in 1916 in Davenport, Iowa. The lime-flavored soda quickly gained popularity during Prohibition, and in the '50s it was nearly as popular as Coca-Cola. Though its name recognition has faded somewhat since, it's still sought after in Chicago, especially during St. Patrick's Day, when the city dyes the river green, and has even gone on to inspire a few songs—like Creedence Clearwater Revival's "Green River."
Born in Chicago and bottled in Johnson City, Tennessee, this soda-slash-energy drink has a more well-known sister: Mountain Dew. While "the Dew" was sold to Pepsi in the mid-'60s, Dr. Enuf is still bottled by the comparatively small Tri-City Beverage Company. A lemon-lime-flavored soda with B vitamins added, it was marketed as a health tonic and was reported to cure everything from constipation to headaches—surely thanks to the vitamins, and not the caffeine and sugar.
The newborn baby on this list, Utah-based Bandit Beverage was created by Cameron Green, who has long been obsessed with IronPort soda, a specialty of the Mountain West since the early 1900s that's similar to an extra-spicy root beer or sarsaparilla. Green got the idea to bottle IronPort, which is usually sold on tap in the region, while on a road trip, and started the company in 2014. He's still the primary owner, bottler, and delivery person.