The Best Spring Cookbooks We're Reading Right Now
Our editors on their favorite fresh reads for a new season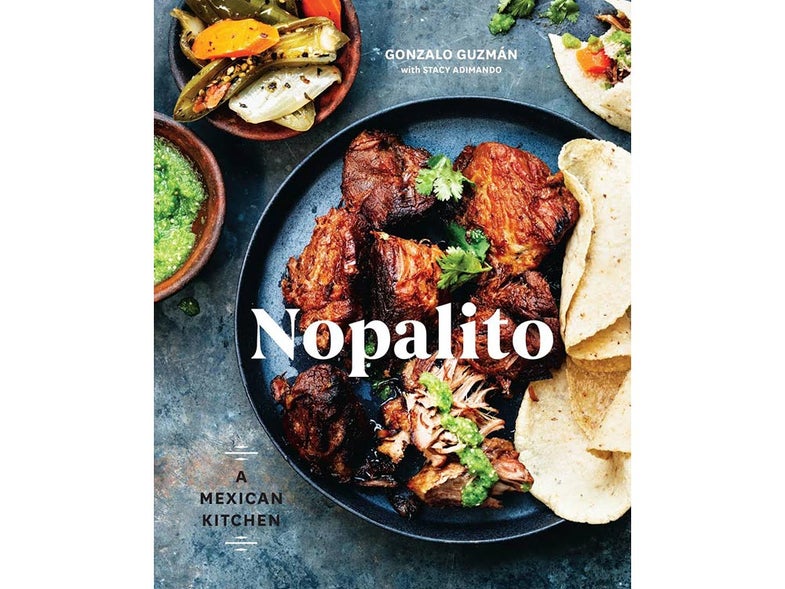 We may earn revenue from the products available on this page and participate in affiliate programs.
New cookbooks are always a bright spot after a long, sludgy winter. And around the SAVEUR offices, they are picked up quickly, sized up even more quickly, and claimed or discarded to the give-away-pile within moments of their arrival. From treatises on pasta to a tome on traditional Mexican cooking to a new bible of ice cream, these are our editors' favorite fresh reads for spring.
A beautiful, oversized volume dedicated purely to pasta and its breezy ease, Colu Henry's Back Pocket Pasta has been highly anticipated in my household. Not just because I (an honorary Italian-American) and my partner (a real-live Italian-American) have had the pleasure of regularly eating Henry's food at her picturesque Hudson Valley home, but because we often throw our health-conscious inhibitions to the wind in lieu of carbs and cheese and carbs. Henry is one of the most energetic, passionate people you'll ever meet—in person and on the page—and the photos by Peden + Munk translate her incandescence. Some brilliant highlights: Smoky garganaelli alla vodka (the book is worth all $28 just for this star), ramp & hazelnut pesto (hello, spring), and porchetta pasta (harness this for winter's end comfort). In the back pages you'll find an efficient little list of back pocket wines and cocktails recommended by Talia Baiocchi, editor-in-chief of PUNCH and brilliant wine writer. —Leslie Pariseau, Special Projects Editor
To start, I love Burmese food. So Burma Superstar immediately piqued my interest (even though I'd never been to the eponymous San Francisco restaurant). Over the past couple decades, the restaurant went from a local hole-in-the-wall specializing in an obscure Himalayan cuisine to an undeniable staple in the Bay Area restaurant scene. The book reflects both worlds in a way—that of the Wus, the Burmese-Chinese family that owned the struggling restaurant in the '90s, who quietly added a few of their favorite Burmese dishes to their mass-appeal Chinese-American menu, and that of Desmond Tan, the loyal customer who bought the place in 2000 with a vision for introducing his country's cuisine to a wider audience that didn't yet know what they were missing. Informative recipes and concise historical background set an educational yet approachable tone, while the occasional misty mountain vistas or bustling Burmese city street scenes (captured by John Lee) provide a reason to slow down and consider Burmese culture as a whole. Already, I'm eyeing the classic mohinga, a noodle soup thickened with toasted ground rice and mashed catfish, seasoned with ginger and lemongrass. —Alex Testere, Associate Editor
I haven't been to Ducksoup (the restaurant) in London, but its cookbook has inspired me to plan a visit soon. I like the people in this book—their reverence for good produce is loud and clear, and they cook the way I like to cook (get really good ingredients, treat them simply). I've been flipping through the book often, shuttling it back and forth between kitchen counter, coffee table, and nightstand, thinking about all the food I want to eat. A few of my favorite recipes so far: cured salmon, buttermilk, shaved radish, and dill; razor clams, wild garlic, and lemon; turmeric chickpeas, kale, garlic yogurt, and burnt lemon. I know I'll cook my way through the entire book as the seasons change and all the good produce starts showing up at the greenmarket. I haven't had such an intense love affair with a cookbook in a while, and it's kind of thrilling. —Kristy Mucci, Test Kitchen Associate
One of my favorite hashtags ever, #PutAnEggOnIt, is a mantra to live by. Almost any dish benefits from getting an egg topper, and Egg Shop: The Cookbook by chef Nick Korbee shows you the best ways to do so. Much like a good brunch should be, Egg Shop's book is bright, fun, easy, and approachable. It'll give you proper directions to cooking eggs—poaching to pickling—and then advise you how to go forth, lik throwing a couple over chilaquiles (a personal favorite) and baking. I'm really looking forward to putting pickled eggs on my next cheese plate. —Matt Taylor-Gross, Staff Photographer
I can't even be mad that Chicago pastry chef Dana Cree of Publican effectively wrote the ice cream cookbook I've been dying to write for years because Hello, My Name is Ice Cream is brilliantly done, a beautiful and authoritative text that deserves to be the new standard for home ice cream makers. Cree's foremost mission is to give readers insight into what, exactly, ice cream is, the foundational step to understanding how it works and why ice cream behaves the way it does. Her diagrams and sciencey dispatches clearly show how you can alter ingredients and technique to nail the texture and style you're after. Her flavor combinations (hello pineapple-jasmine and huckleberry-lemon sherbet) are smart, but the real power of this book is the knowledge it gives you to customize ice cream base to your liking. In Cree's view, once you understand the fundamentals, any flavor you can imagine can be yours. —Max Falkowitz, Executive Digital Editor
To me, nothing says spring more than St-Germain, the elderflower liqueur that's become synonymous with the elegance and taste of the modern bon vivant lifestyle. Released in December, How to Drink Fluently by Drew Lazor, with contributions from Camille Ralph Vidal, is "a drinker's guide to joie de vivre featuring more than 30 cocktails using the stuff. It's a simple, straightforward read—complete with pretty, let-it-be-summer-already photos by Lizzie Munro—that intersperses short essays about each drinking period of the day (brunch, aperitif hour, the nightcap) with recipes from top bartenders to fit them. And what better to pay homage to St-Germain than with love from Vidal, the French bartender and global brand ambassador also known as Madame St-Germain. * — Dan Q. Dao, deputy digital editor*
I've never been moved by a chef more than Gonzalo Guzmán, and a project more than his new cookbook Nopalito (disclosure: I was his co-author and collaborator). Named after his two authentic Mexican restaurants in San Francisco—and the Spanish word for the edible cactus leaves used in Mexican salads and side dishes—the book is a love letter to traditional Mexican food from a homesick cook who grew up there. Guzmán, who spent his childhood in a 400-person village in Veracruz, learned the recipes his mother and aunt would cook over fire after plucking and harvesting simple ingredients that grew nearby (cactus leaves from the yard, sweet potatoes from the garden, cacao from the trees, and corn from their nearby farm). For nearly 20 years since immigrating to the US, he's been a chef in San Francisco, learning to bring out the best in the humble dishes his family taught him. The new book spotlights around 100 recipes—including caldo tlalpeño, a homemade chicken soup with melty cubes of queso fresco, avocado, and whole chipotle chiles that spice and color the broth. It's a book that sheds light on fresh, soulful parts of Mexico's cooking culture that many of us may not yet know. —Stacy Adimando, Test Kitchen Director
God bless Mike Mills and Amy Mills, the father and daughter duo who run 17th Street BBQ in Murphysboro, IL. I've been lucky enough to eat their barbecue—a chopped pork shoulder sandwich and ribs—a few times over the last year and I'm never disappointed. Being from Texas I'm not too familiar with whole hog cooking, but in Praise the Lard, Mike and Amy do an excellent job instructing the neophyte in the nuance of handling and cooking an entire animal. Plus, there are a slew of other mouth watering recipes like savory cornbread pudding (which gets crispy on the outside, but jiggles like pudding in the middle) and Mike's from-scratch baked beans with four kinds of beans, honey, brown sugar, and mustard ) it complements pulled pork perfectly). —Matt Taylor-Gross, Staff Photographer
Liz Prueitt's new book, Tartine All Day (of the famed bakery Tartine in San Francisco), is an all-purpose volume loaded with thoughtful, measured recipes that speak to the pastry cook in me. Baking and pastry folk have a particular way of interacting with savory food. Part of it is frugality. When you make your living using craft and skill to turn inexpensive ingredients into wedding cakes and crusty loaves of pain au levain, shelling out $30 a pound for grocery store steak to toss on the grill can feel like an amateur dinner move. And for all that noise that we hear about the inherent differences between pastry and savory cooks, a lot of us pastry cooks can turn out a pretty solid multi-course meal; many of us actually love it. Tartine All Day is written for these kinds of cooks—the ones who aren't afraid of a bit of advance planning and formal technique but who also don't feel like blowing the bank on heaps of ingredients for every dish.
The "Basics" section resides, right where it ought to: at the beginning. It's a pointed cue to empower home cooks with make-ahead sauces, stocks, and preserving techniques that make quick and casual cooking for kith and kin graceful and, daresay, effortless. The steak is in there too, as well as a few impressive dinner party proteins like porchetta and roast leg of lamb, but the meat isn't the meat of the book. Rather, Tartine All Day is all about delicious, simple, do-able food, as prepared by someone who really knows what she is doing. Traditional soups like avgolemono (chicken, egg, and lemon soup) and billi bi (creamy mussel soup), plus panzanella, and an adaptable vegetable slaw are precisely the types of things I like cook at home. Chef Prueitt's beautiful new book is just about all the only encouragement I need to skip the takeout and feed myself tonight. —Kat Craddock, Test Kitchen Assistant