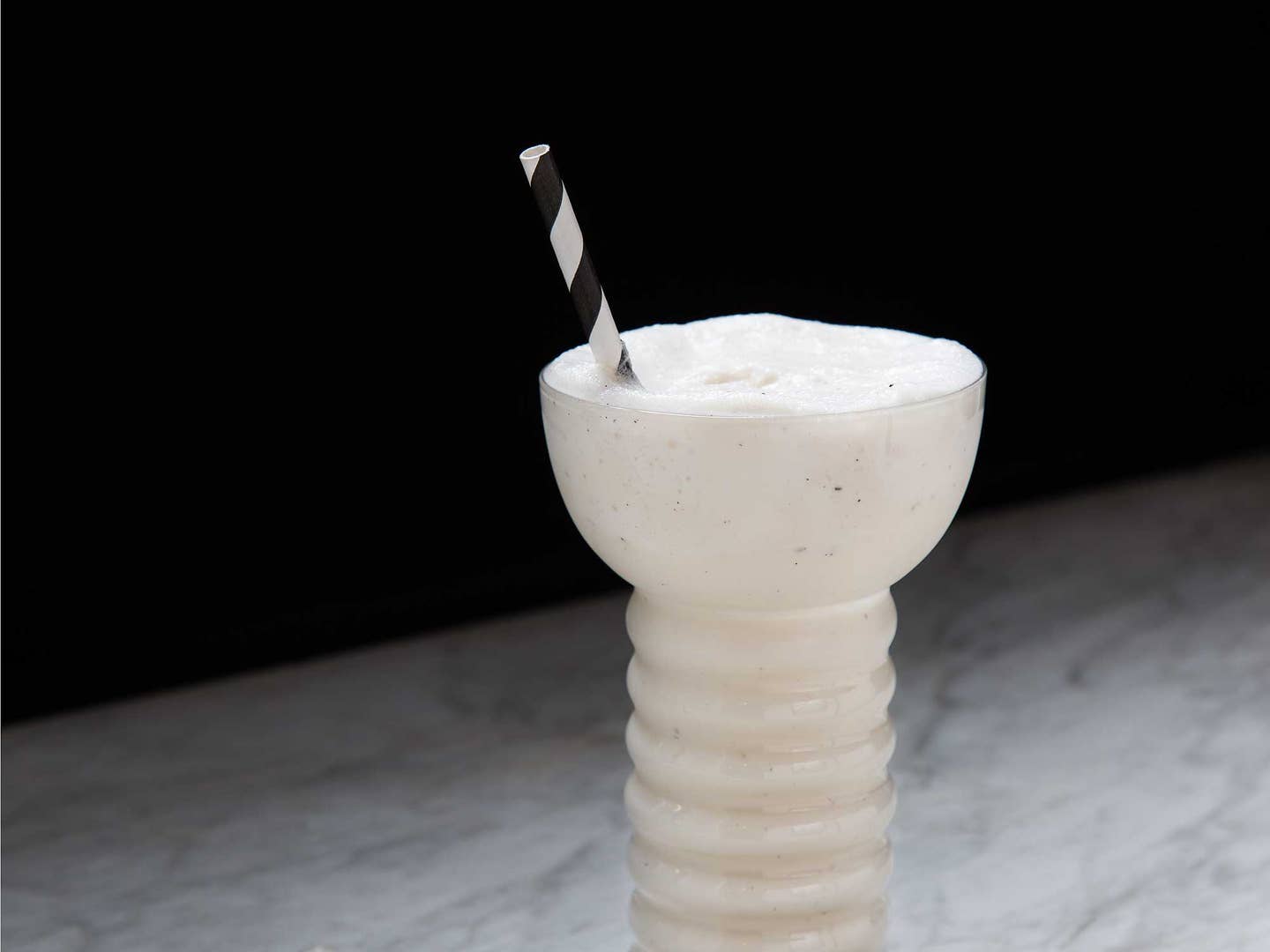 Drinks
Have You Had a Boston Cooler, the Midwest's Beloved Soda Shake?
This spicy-sweet treat is so much better than any float
As a product of middle America, the loosely defined region between Coasts that serves up not-so-trendy eats like Hoosier sugar cream pie and goetta, I'm accustomed to my home's local delicacies being mistaken for fetishes and sex acts. (No, sugar cream pie is not the world's best stripper name; goetta is not an offensive term two men would slur while talking about a babe with an especially fine ass.) But during an office conversation about Zesto, my favorite childhood soft-serve shop, when I mentioned Boston Coolers, the ginger ale and ice cream shake so exemplary that Zesto boasted the catchline "Home of the Boston Cooler," I was not prepared to retort the onslaught of sexual innuendos because didn't everyone grow up with Boston Coolers?
If you lived near a Zesto, Indiana's beloved ice cream chain, you knew about Boston Coolers, the ultimate shake that sees your average milk-and-ice-cream concoction, takes out the milk, and adds in spicy ginger ale. You know the lactose-induced nausea you get when you suck down 20 ounces of dairy? Soda shakes avoid that problem, plus this one comes with a warming hit of spiciness from the ginger to round it all out. Milkshakes are rich; Boston coolers are refreshing.
And while I've quickly learned that being an Ohioan or Illinoisan or Michiganian or Hoosier doesn't guarantee your familiarity with the treat, Boston Coolers are as Midwestern as Marge Gunderson and repressed emotions. Despite Indiana-based Zesto's catchline and the shake's misleading name, Boston Coolers are not brethren with Hoosier sugar cream pie or Boston brown bread; instead, they were born in the Motor City.
Named after Detroit's Boston Edison district, the elusive ice cream treat is not like any other whatever ice cream and pop concoction (we're in the Midwest right now, so we're calling it pop) thanks to two well-based decisions. First, it is blended up like a milkshake. Second, its choice of bubbles are some of the best non-alcoholic ones out there: Detroit's Vernor's Ginger Ale. A creation of soda pharmacist James Vernor, his namesake ginger ale is considered the oldest soft drink brand in the United States with its birthdate of 1866—root beer, though it may be old, didn't go commercial until 1876. And in the early 1900s, soda fountaineer Fred Sanders remembered the Golden Non Sequitur, "If You Can't Say Anything Nice, Add Ice Cream," and plopped two scoops of vanilla ice cream into a milkshake glass, poured in a few glugs of golden-hued ginger ale, and out popped the chillest treat out there.
The people spoke, and it was good—still is. At first sip, you'll wonder what the hell you're drinking; your tastebuds pick up the bubbles but your brain can't tell where they're coming from. And then, you'll feel the spicy-sweet flavor of ginger hit the back of your throat, its heat creeping up and cutting through the ice cream's richness. What you won't experience is the awkwardness of eating a float, in which you try to wedge off pieces of the ice cream scoops as they bobs in soda, and then you just end up waiting for it to melt so you can drink your mixed drink of carbonation-less soda and liquid ice cream. You also won't taste anything artificial—just use good vanilla ice cream and ginger ale flavored with real ginger.
Had not Fargo been set during one of Minnesota's brutal winters and instead during one of the Midwest's sticky-hot summers, Marge and Norm definitely would've sucked these down with burgers.