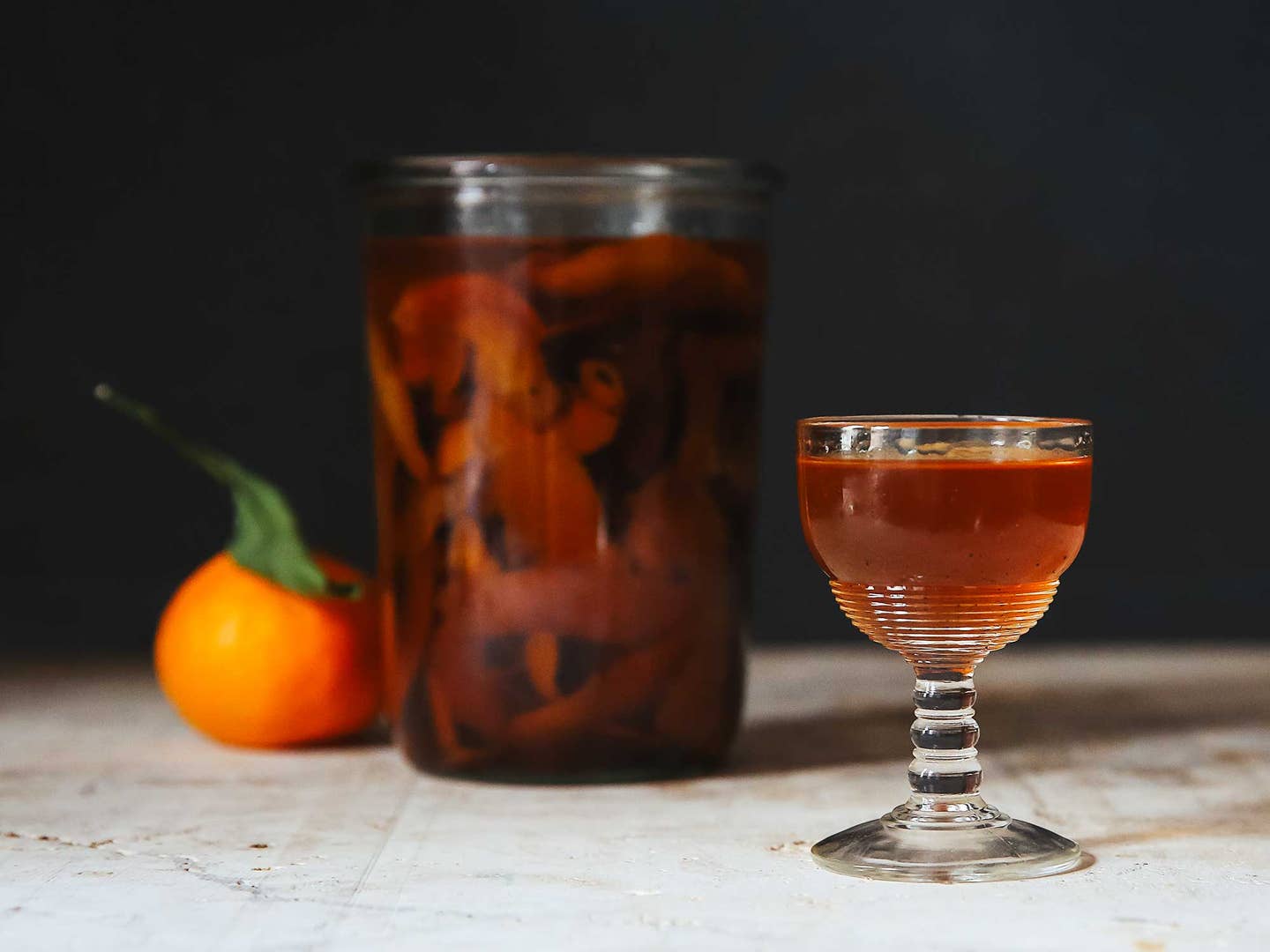 Drinks
Make Orange-Rum Liqueur to Give the Gift of Caribbean Tradition
For Jessica B. Harris, the holidays come with rum and clementines
After many decades spent traveling in the Caribbean around the holidays, I can now understand the subtle signs that Christmas is coming. In Jamaica and Puerto Rico, it's the appearance of fresh pigeon peas at the market. In Guadeloupe, the sounds of pork being hacked on wooden tables portend the roasts being prepared for the holiday meal. For me though, the holiday is not seen through crispy pork cracklings and peas and rice; rather it has a yellowy-orange hue, the colors of citrus, because while I've adopted many of the traditions of my Caribbean friends, it's my home in New Orleans that remains the locus of my Christmas celebrations.
There, I know the holiday season is upon us when I round the corner to my house and see my neighbor's lemon tree overflowing with fruit, so abundant that they've begun to fall to the ground. Out my back door, the grapefruits hang from one tree in round globes, the Meyer lemons are plump and ready to pick, and the kumquats are dotting their tree like so many holiday decorations.
My garden is filled with citrus because I was told early on in my New Orleans experience that old Creole families used to decorate their holiday tables with small potted wax myrtle or citrus trees. The holiday trees were adorned with small paper cones filled with candies, blown glass ornaments, and thin tallow candles wired to the branches. This tradition goes back to the days when the French-speaking Creole world of the Vieux Carré (commonly known as the French Quarter) and its faubourgs was still very culturally separate from the Anglo world of the growing city, and to the days before evergreen Christmas trees became fashionable via Queen Victoria's Teutonic example.
I embraced the tradition with my usual exuberance, each year purchasing another type of live citrus tree: orange, Meyer lemon, kumquat, grapefruit, makrut lime. After the holiday is over, the trees retire to the backyard to be planted and I anxiously await their fruiting. One year, when the oranges were plentiful and the sweet, round kumquats required culling so as not to get out of hand, I spied a bottle of flavored French Caribbean rum labeled creole shrubb for sale in the local supermarket. It took me back to my island Christmases, and I remembered the tradition of one of my favorite holiday spots: Guadeloupe.
The Caribbean region is home to a variety of homemade beverages that are essential for proper year-end celebrations. In the Hispanic Caribbean there are the alcoholic milk punches like coquito; in the English-speaking West Indies, no one would set a drinks table without a decanter of freshly prepared sorrel; and in French-speaking Guadeloupe and Martinique, Creole shrubb is the concoction required during the holiday season. This is not the vinegar-based colonial refresher that has come back into fashion recently, but rather a conjoining of citrus and rum that is considered a table essential.
This French island tradition ironically might have arrived in the Caribbean from the Crescent City itself: According to local legend, the idea of making a shrubb was brought from New Orleans in the middle of the 19th century by a rum distiller in the now-volcano-destroyed city of Saint Pierre, Martinique. The idea of rum and citrus, though, goes further back. Père Labat, the Dominican monk to whom we owe much of our knowledge of life in the Caribbean in the 17th and 18th centuries, reported that the enslaved Africans mixed local lemons with skimmings from sugar processing into a drink they called La Grappe.
Although there are many recipes for shrubb, my peripatetic life has kept me from making it in the traditional manner, which involves sun-drying citrus peels and a lengthy maceration. I have created my own variation using some of the fruit from my Louisiana trees and local rum made from the sugarcane that culturally connects New Orleans with the French Caribbean. The recipe is simple: Rhum agricole, a caramel-y rum distilled from sugarcane juice rather than molasses, is combined with the peels of bright, sweet citrus fruits, usually clementines. Then vanilla, cinnamon, and cane sugar are added. It only begins there, however; there are as many variations as there are grandmothers in the Caribbean, each with its own special fillip. Some add a few cloves, others fresh nutmeg, and still others a bit of prune liqueur. I'm still working on mine.
I allow it to mature for a few weeks in an iced-tea crock like the ones I've seen used for infusing rums in a mountain retreat in Guadeloupe, then pour it into a cut crystal decanter and place it proudly on a silver tray on my holiday bar, joining the limoncello and satsuma-cello that my New Orleans friends make and gift. Then, either after a meal, or when guests come to visit and pick up their gifts from under the year's new citrus tree, I pour it into antique cordial glasses, a present from my father on a Christmas long, long past, and sip it slowly, marveling at how sometimes in my life the past really is prologue.