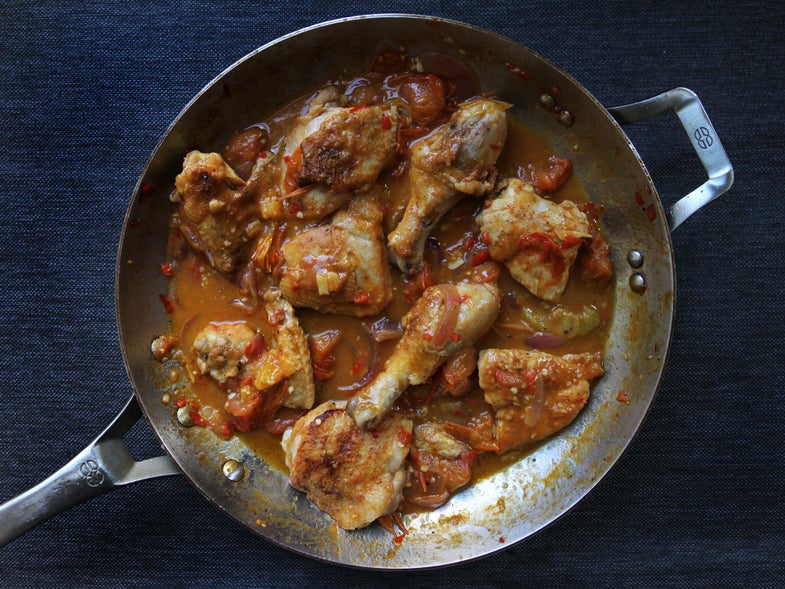 One of my favorite parts of summer is tomato season. I look forward to seeing the fruits popping up at farmers' markets and on restaurant menus—bright red and juicy beefsteaks, bold and sweet orange cherries, green and yellow heirlooms. They usually coincide with a plethora of chiles, and I love to throw the two together in all kinds of dishes. This classic chicken arrabbiata embraces summer's bounty in a simple, one-skillet main. I sear the tomatoes in a hot pan until they burst and release their juices, add the chiles, then cook the chicken in the resulting spicy sauce. I love it with a good hunk of bread on the side to sop it all up, but you could definitely throw this over pasta, rice, or couscous. —Farideh Sadeghin, test kitchen director
Chicken Arrabbiata
A one-skillet chicken dish full of ripe summer tomatoes and plenty of spice.
Time: 45 minutes
Ingredients
1 (3-4 lb.) chicken, broken down into 8 pieces
Kosher salt and freshly ground black pepper
2 Tbsp. olive oil
1 1⁄2 lb. multicolored cherry tomatoes
2 tsp. granulated sugar
2 garlic cloves, roughly chopped
1 fresno chile, stemmed and roughly chopped
1 red onion, thinly sliced
Salad, crusty bread, or pasta, for serving
Instructions
Season chicken with salt and pepper. Heat oil in a 12-inch skillet over medium-high; working in batches, cook chicken, turning as needed, until browned, 12-15 minutes. Transfer to a plate and add tomatoes to skillet; season with salt, pepper, and sugar. Cook tomatoes, shaking the skillet, until they just begin to burst, about 5 minutes. Add the garlic, chile, and onions and cook until onion is soft, about 6 minutes more. Return chicken to pan and cook, covered, 5-7 minutes. Remove lid and cook, stirring and breaking up tomatoes, until the chicken is cooked through and the sauce has thickened slightly, about 18 minutes more. Serve with a salad, crusty bread, or pasta.