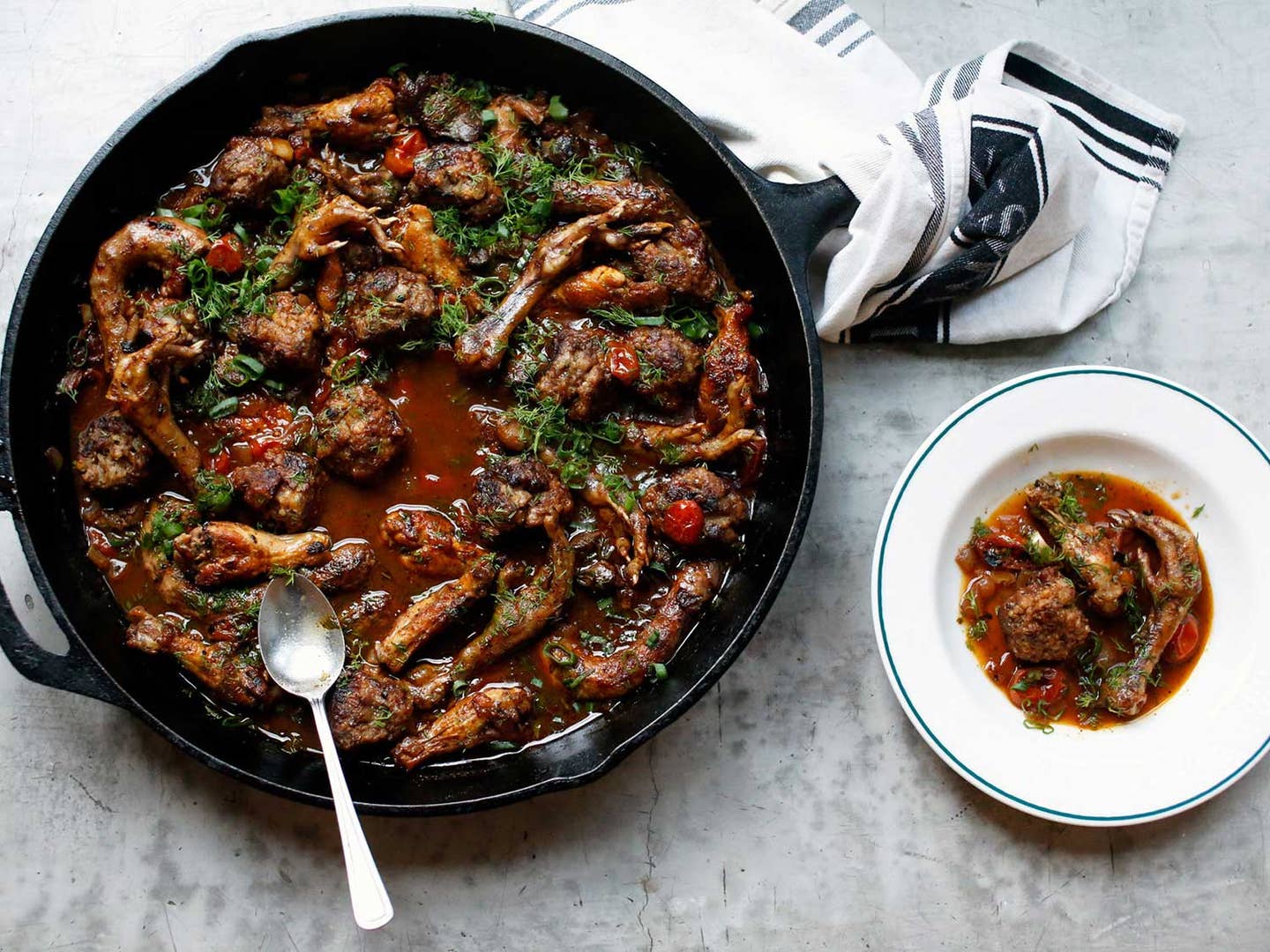 Culture
Making The Case for Chicken Foot Fricassée
The long-standing Jewish dish is getting a modern update—but the chicken feet are here to stay
When Toronto chef Anthony Rose first prepared his Jewish fricassée—a humble dish of chicken feet, gizzards, and meatballs—his girlfriend was horrified. After all, those nubby, gelatinous extremities do look uncomfortably similar to human baby hands. But that hasn't stopped Rose from putting the dish, which has origins in Mitteleuropa, on the menu at Rose & Sons, his year-old delicatessen just north of the city center. (It's also occasionally on the menu at his Canadian-themed smokehouse Big Crow, in a woodsy cabin behind the deli). Rose grew up eating fricassée as a "Shabbat classic," and cooking the dish now transports him back to his grandmother's kitchen: "It's so clear in my head, I can see the fricassée on the counter, waiting for me to grab a meatball." For Ashkenazi Jews of a certain age, fricassée evokes all kinds of beloved memories. "People say they haven't seen the dish in 20 or 30 years," Rose explains, when they see it on his restaurant menu. "It's wild." And as for the fearful? He says eating chicken feet is just like eating chicken wings.
Rose's take on classic chicken fricassée is inspired by his Polish grandmother Esther Gottlieb's version—but only loosely based on her recipe. Her version was more grand, with prime cuts like chicken thighs; more modern versions often did not include feet or gizzards. But, after researching the dish, Rose discovered its more impoverished and gnarly past: "I wanted to put all the offal back in," he says, "those were the bits and pieces I was really looking for." Rose serves his fricassée in a slightly sweet, ruby-red sauce that is probably more Hungarian in origin, and piquant from copious amounts of smoked paprika and apple cider vinegar. This fricassée—"sort of a stir-fry," as Rose puts it—is actually an amalgam of his own memories of the dish combined with how Rose's business partner, Robert Wilder, remembers his Polish mother-in-law Gella Rothstein made hers. Which is to say, spicier.
Fricassée is a funny thing: It's originally a French dish—the word is likely a portmanteau of the French words "to fry" (frire) and "to break" (casser), as in to cook chicken "broken" into parts. In France the dish has medieval roots, but is usually less offal-oriented, featuring chicken braised in a wine-cream sauce (a kosher nightmare which Rose himself used to cook as a young fine-dining chef in San Francisco). In Tunisia, where the word has traveled and come to mean something else entirely, fricassée is a fried bread sandwich filled with flaky tuna, harissa, and pickled vegetables.
Jewish fricassée is probably most closely related to the Polish potrawka, a dish of chicken or turkey with peas and carrots stewed in a cream and flour sauce and finished with lemon. As it so happens, both Gottlieb and Rothstein, who inspired Rose's rendition, immigrated from Poland when they were young, perhaps bringing their own memories of the dish along with them. Rose likes to serve his fricassée with steamed white rice, though some versions call for Chinese noodles in yet another nod to the modern Jewish love affair with Cantonese-American cuisine. Clearly, Jewish fricassée has evolved over the years, but it is almost always a dish that economizes the home kitchen to use up odds and ends—literally feet—as well as various off-cuts like chicken necks, gizzards, or wings. Then there are the meatballs, which the preeminent Jewish cookbook author Joan Nathan thinks were a Romanian and/or Italian-American addition to the dish, since ground meat patties are a big part of the cuisine of the former Turkish colony, and the ball shape was so popular among Italian immigrants who often lived alongside Jewish immigrants. In Rose's recipe, in another nod to tradition, the meatball mix is augmented with ground chicken because red meat was scarce in Poland (though Rose thinks that back in the day, the "meatballs" were actually mostly made of matzo meal).
Fricassée is a very forgiving dish, but there is some labor involved: The meatballs and whatever other parts you use are sautéed individually before they're submerged in the paprika sauce and baked in a large casserole. Rose's version is finished with a showering of fresh green dill and chopped scallions, and he also tops it with torn pieces of fried chicken skin known in Yiddish as gribenes, the recipe for which you can find in his recent cookbook The Last Schmaltz. Like much of Rose's food, fricassée is an old and odd dish rarely seen on restaurant menus, but that shouldn't dissuade you from trying it—feet first.