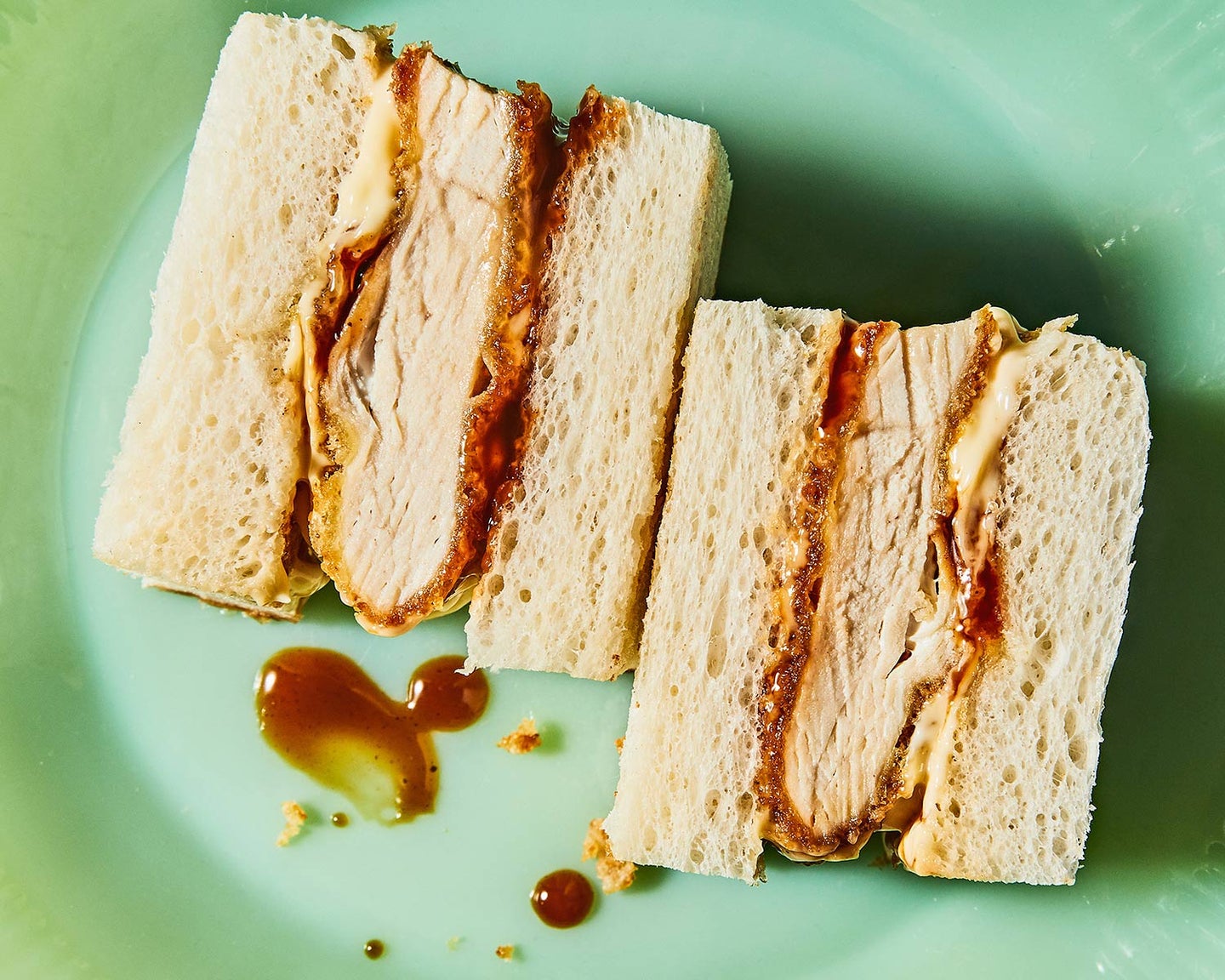 Setting up a station with the flour, egg, and panko makes quick work of breading the chicken for this katsu sandwich. The Gaijin Cookbook author Ivan Orkin recommends using pie tins for each ingredient. Trim the fried cutlets to fit the slices of the bread—and be sure to eat the trimmings.
Excerpted from The Gaijin Cookbook: Japanese Recipes from a Chef, Father, Eater, and Lifelong Outsider © 2019 by Ivan Orkin. Reproduced by permission of Houghton Mifflin Harcourt. All rights reserved.
Featured in: You Only Need These 4 Things to Make Killer Katsu Sandwiches at Home
Equipment
Chicken Katsu Sandwich
In this classic katsu sando, fried chicken is sandwiched between slices of fluffy milk bread slathered with mayo and tonkatsu sauce.
Time: 20 minutes
Ingredients
1 boneless, skinless chicken breast (about 12 ounces)
1 tsp. kosher salt
1⁄4 cup all-purpose flour
1 large egg
3⁄4 cup panko bread crumbs
About 1⁄2 cup vegetable oil
4 slices Japanese milk bread (shokupan) or other white bread, crusts removed
2 to 3 tsp. Kewpie mayonnaise
2 Tbsp. Bull-Dog tonkatsu sauce
Instructions
Slice the chicken breast in half horizontally to create 2 fillets, each about ½ inch thick. Season with salt.
Set up a breading station by lining up three shallow trays and filling them with the flour, egg, and panko, respectively. Lightly beat the egg. Working with one piece at a time, coat the chicken with flour, gently dusting off any excess, then dip in the egg, followed by the panko. (To ensure a good coating of bread crumbs, cover the whole piece of chicken and press down gently.)
In a medium skillet, add the oil (it should come ¼ inch up the sides of the skillet) and heat over medium to about 350°F. Test the oil by adding a few bread crumbs; if they immediately begin to sizzle, the oil is ready. Carefully slide one piece of chicken into the oil and fry, turning once, until golden brown, about 3 minutes per side. Transfer to a paper towel or wire rack to drain while you fry the remaining piece.
Trim the chicken pieces to fit the bread, then spread each slice of bread with the mayonnaise and Bull-Dog sauce; sandwich the chicken between them and serve.