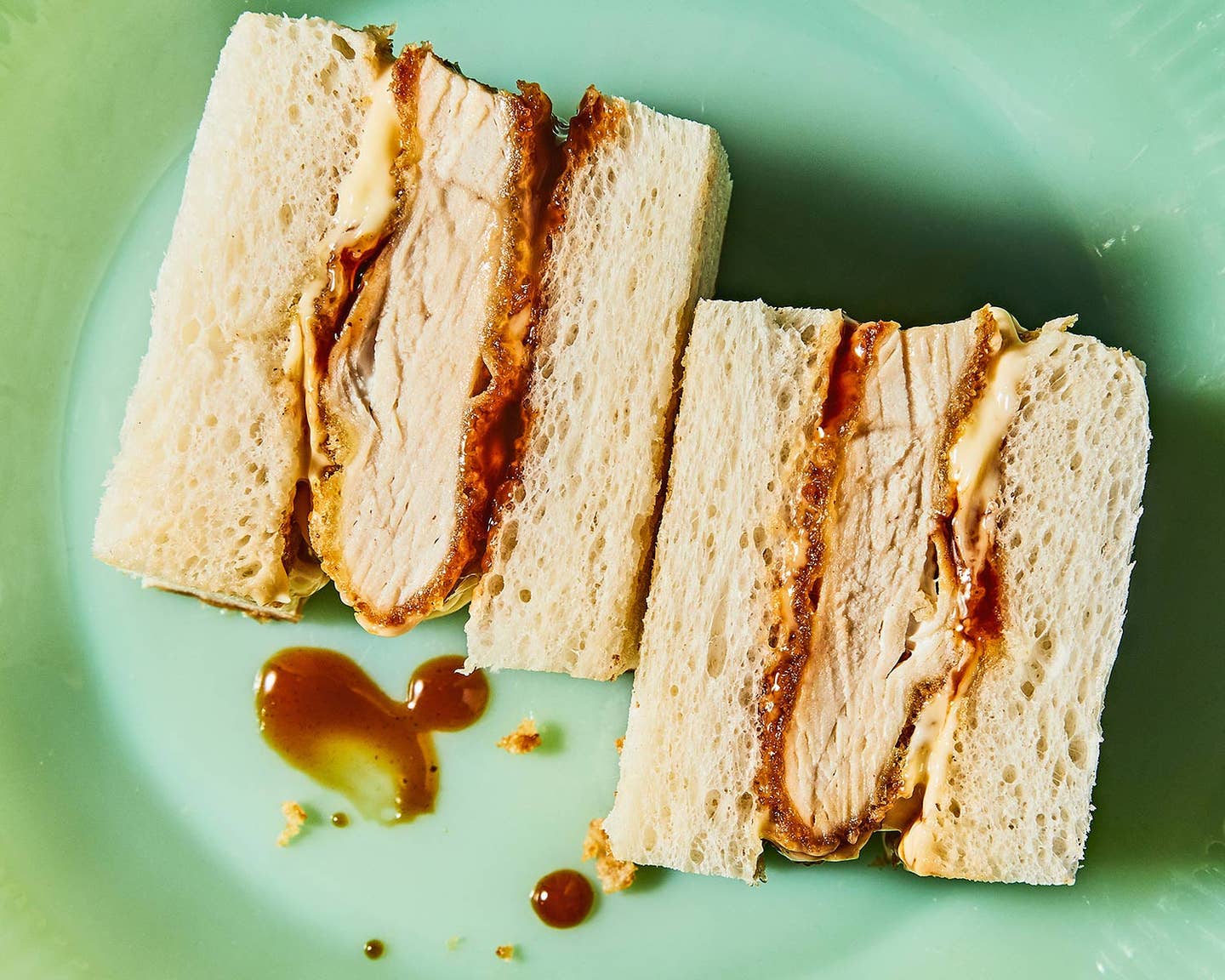 Recipes
You Only Need These 4 Things to Make Killer Katsu Sandwiches at Home
Chef Ivan Orkin shares the essentials for mastering this simple and satisfying Japanese sandwich
A dish being described as "basic" is like a hex for a restaurant, written off with the pumpkin spice lattes and avocado toasts of the culinary world. But when it comes to the humble katsu sando—a Japanese sandwich comprised of only a crispy fried meat cutlet, mayonnaise, tangy tonkatsu sauce, and slightly sweet white milk bread—chef Ivan Orkin is all for embracing the descriptor. "The joy of a sando is in its simplicity and how basic and beautiful it is," says Orkin, the author of The Gaijin Cookbook: Japanese Recipes from a Chef, Father, Eater, and Lifelong Outsider, Saveur's October Cookbook Club pick. He calls them the "first cousins to the Wonder Bread sandwiches you ate from a paper bag as a kid," equal parts nostalgic and satisfying.
Orkin grew up eating stacked deli meat sandwiches in New York City, the polar opposite of the simple sando. But after spending the better part of three decades living in Japan and operating two popular Tokyo ramen shops, the gaijin (translating to "foreigner" or "outsider") got to know them quite well. Usually they were eaten while running to catch a train with his kids, grabbing an artful box from a Tonkatsu Maisen department store kiosk, or as a late-night snack with his co-writer Chris Ying at a convenience store like Lawson's. "No matter what time of day you get a sando or how long it's been sitting, it's rarely soggy," he says, "and if you get it in the morning, sometimes the cutlet is still warm inside the bread."
And about that bread. Japanese milk bread (shokupan) is the squishiest, most pillowy-soft white bread you'll ever taste. It is the most essential part of the katsu sando, with the crusts cut off so "between the crispy cutlet and the soft bread, you only have two textures to savor," Orkin explains. "With the crust, there would be a third texture interfering, and that's why you don't often have cabbage or any crunchy vegetable in the sandwich either—just sauces." Those sauces are highly specific, too: Kewpie mayonnaise—which is eggier and richer than American mayonnaise and gets a punch of umami from MSG—and Bull-Dog tonkatsu sauce, a tangy-sweet-bright fruit-and-vegetable sauce that is like a Worcestershire-spiked ketchup. Both sauces soak into the just-fried cutlet and the soft bread, combining everything into compressed, flavor-packed bites.
Once a sando is assembled, with sauces slathered on both pieces of bread and the meat cut to perfectly fit between them, it is cut in half diagonally in convenience store wrappers or into thirds to show off the layers in boxes. The latter is the style that has become highly Instagrammable in America, thanks to restaurants like Konbi in Los Angeles. The graphic shot of their egg salad sando with half a jammy egg in the middle is arguably the most-liked version on the internet, and Orkin compares that presentation to what you'd see in those fancy Maisen boxes in Tokyo. It's also the reason he thinks sandos have found their place in pop culture. "Americans have really latched onto the sando. They wax poetic about it, but in Japan it's the most basic thing that everybody eats. It's like a British tea sandwich seen through the eyes of the Japanese, so nothing groundbreaking, but I'll say it's still gratifying to see people embrace it so much."
Although Orkin feels it's best to stick to tradition with just milk bread, katsu, Kewpie mayo, and Bull-Dog tonkatsu sauce, he doesn't want to "be the cooking police" for home cooks if they want to add their favorite relish or pickled onions to their sandos. "[This book] is not a comprehensive guide to Japanese food, but rather a story of my specific experience of it," he writes in Gaijin. And during our chat, he adds: "I hope people will make it the traditional way to understand what it is and know they can master it, and then they can add if they want and change things to suit their tastes."
One thing he does not mind switching up is the type of katsu. "If you want to play, play around with the filling," he suggests. "To get into the joy of the sando, keep it to a limited number of ingredients, but you can swap one meat for another." The most common are pork loin, pork tenderloin, and chicken breast, but any thinly-pounded meat or already cooked-and-ready-to-crisp meat is fair game. At Orkin's New York restaurant, Ivan Ramen, he has a rotating katsu sando on the menu. Right now it's a tongue katsu (which doubles as an excellent pun) that kitchen cooks until tender before three-stage breading with panko and frying. He's also teamed up with Billy Durney from Hometown Bar-B-Que to make a smoked turkey katsu, which could make your Thanksgiving very interesting. He'd even try brisket. In Japan, fried shrimp and ham cutlets are common, and his book features menchi katsu (ground beef croquettes) sandwiched between milk bread.
Ultimately, Orkin doesn't care what you put inside your katsu sandos as long as you make them. And if you can't find milk bread in your small town and don't want to try your hand at baking a loaf, don't be discouraged. Orkin has a cooking PSA for anyone reading his cookbook or trying new recipes in general: "I'm a massive advocate of not letting lack of ingredients affect what you cook. It's a shame when people don't make something based on ingredients. If you can't get milk bread, try bakery white loaves until you find the right one." Plus, you really can't go wrong with this dish. "Any tasty bread that's soft, crispy pork or chicken, and all that umami in the sauces, it can't be bad," he reasons. "People should just eat more katsu sandos, period."