Recipes
Hainanese Rice Noodle Soup with Pork and Pickled Bamboo (Bau Luo Noodles)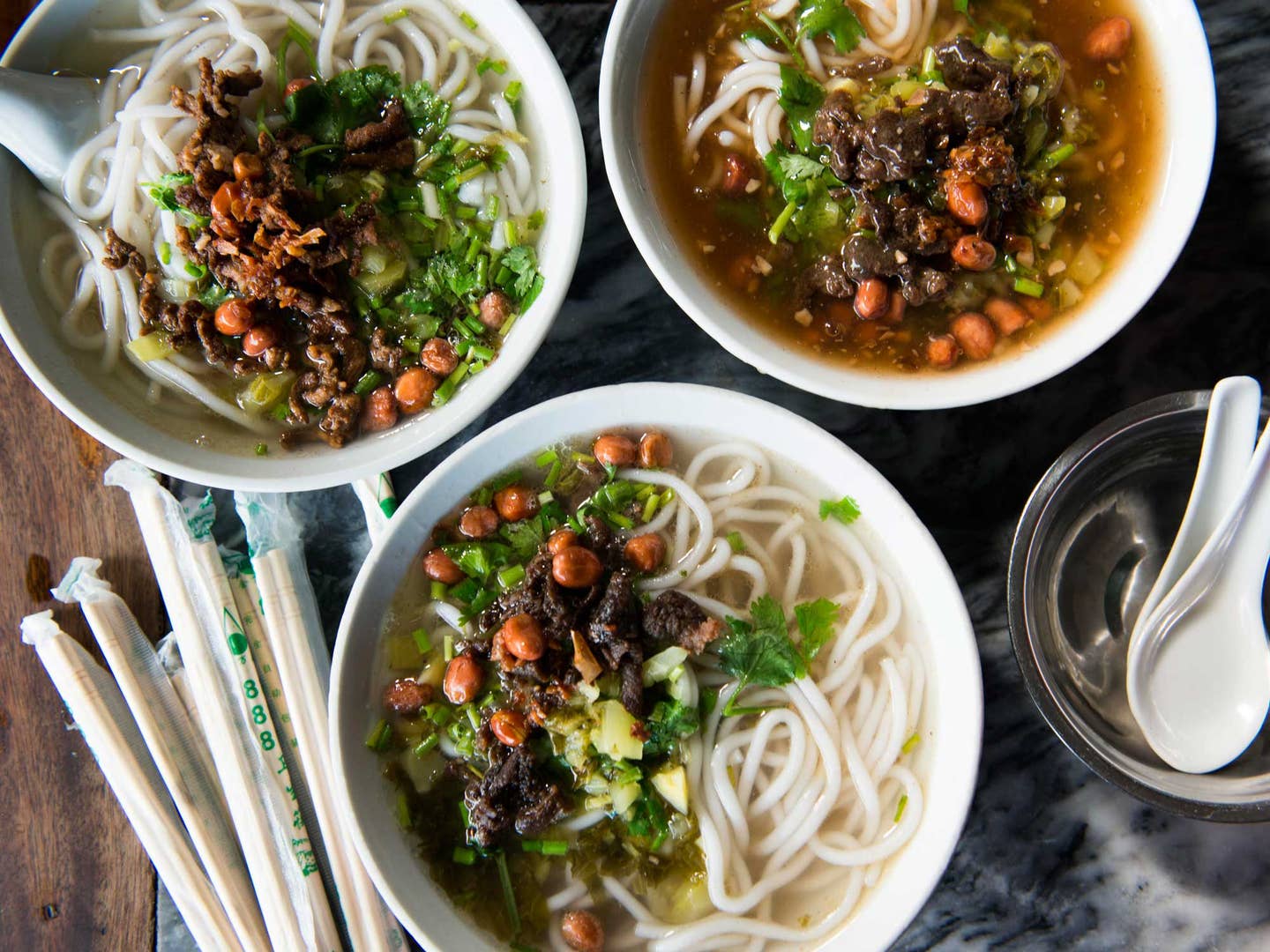 This vibrant noodle soup, a staple of nighttime street-food stalls in Wenchang, is built on a fragrant broth, so be sure to use a homemade version. though these food stalls typically make the noodles by hand, thick Filipino "luglug" noodles are a good alternative.
Ingredients
4 oz. pork shoulder, trimmed and cut into 1/4-inch strips
2 tbsp. soy sauce
1 tbsp. toasted sesame oil
2 tsp. ground white pepper
2 garlic cloves, minced
3 tbsp. vegetable oil
1⁄2 cup whole peanuts
1⁄4 cup minced beef jerkey
10 oz. dried luglug noodles
4 cups chicken broth (see note above)
1⁄2 cup pickled mustard greens, rinsed and roughly chopped
1⁄2 cup preserved bamboo shoots in chile oil, rinsed and roughly chopped
1⁄4 cup roughly chopped cilantro
1 scallion, finely chopped
Instructions
Step 1
In a small bowl, combine the pork with the soy sauce, sesame oil, 1 teaspoon white pepper, and the garlic. Toss to combine and let marinate at room temperature for 15 minutes. Meanwhile, warm the vegetable oil in a large wok over medium heat. Add the peanuts and fry until fragrant and golden brown, about 5 minutes. Scrape the peanuts into a bowl, return the wok to the stove, and increase the heat to high.
Step 2
Add the pork with its marinade to the wok along with the beef jerky and cook, tossing often, until the pork is golden brown and cooked through and the jerky is soft, 3 to 4 minutes. Remove the wok from the heat, stir in the remaining 1 teaspoon white pepper, and keep the pork warm.
Step 3
In a large pot of boiling water, cook the noodles until tender. Meanwhile, heat the chicken broth in a small saucepan until hot. Drain the noodles and divide among 4 large serving bowls. Pour the broth over the noodles and top each with mustard greens, bamboo shoots, cilantro, and scallion. Divide the pork over the noodles and sprinkle with the peanuts before serving.