Leftover White Wine Is Your Ticket To Expertly Deglazed Chicken Marsala
And 10 more ways to not let that last splash go to waste.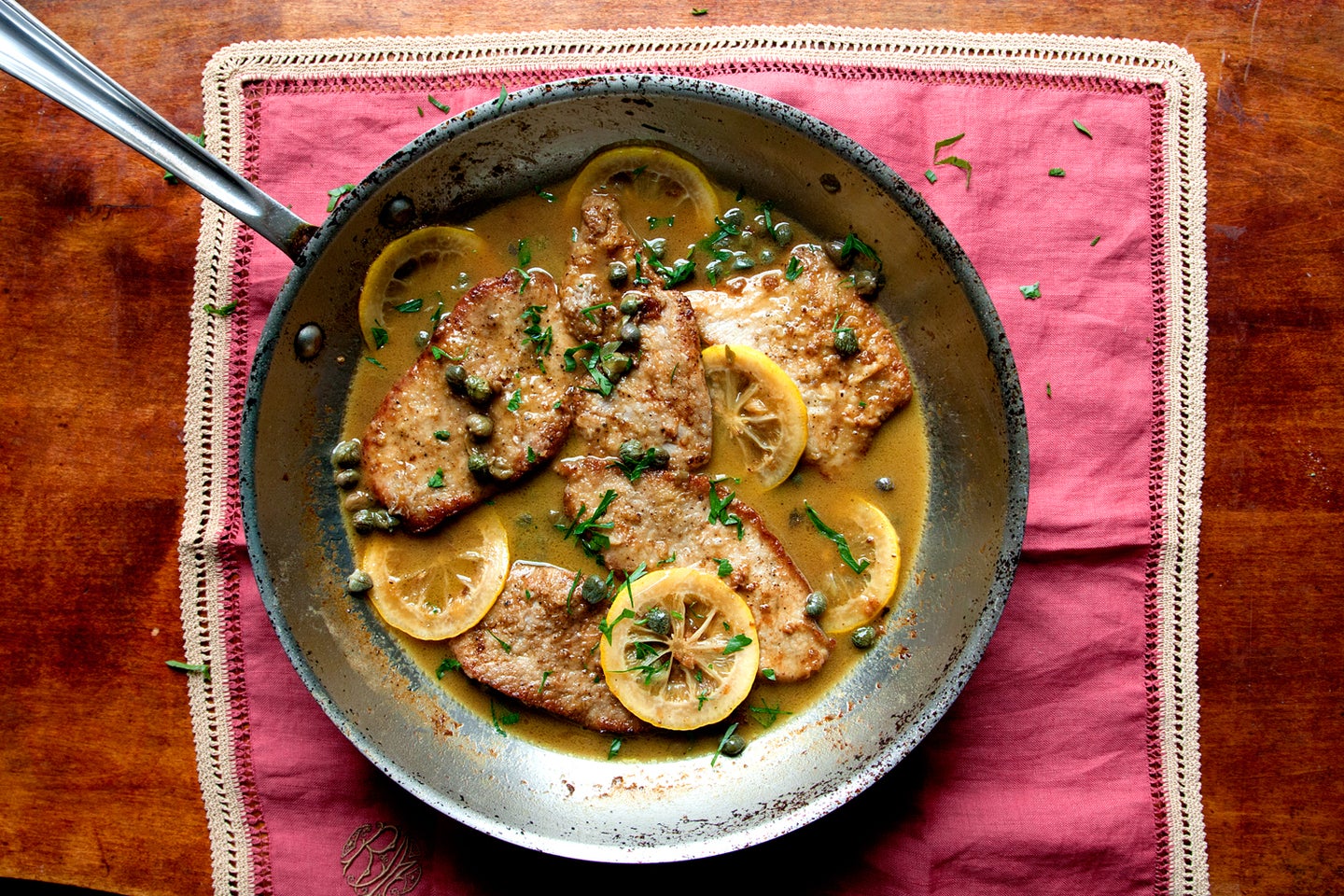 The easiest solution to emptying that half bottle of wine from last night's dinner is, of course, to drink it. But if you weren't crazy about it in the first place or want to try out a different bottle for the next meal, don't cast the dregs aside—cook with it. White wine pairs especially well with seafood (and seafood pastas), and it also deserves a place in your soups, braises, and even desserts. Here are our 10 favorite ways to eat your wine.
An Italian-American classic, shrimp scampi is a simple dish of sauteed shrimp tossed with a sauce of white wine, garlic, lemon juice, and butter, then served with pasta. Get the recipe »
Thyme and white wine bring out the sweet flavor of mussels in this classic dish. Get the recipe »
In this easy weeknight recipe, pounding the chicken cutlets before cooking renders them thin and terrifically tender. Deglazing the pan with Marsala and stock after cooking the chicken creates a quick, rich sauce. Get the recipe »
At Boulestin, Agen prunes, prized for their caramel notes and soft texture, are infused with brewed tea, cinnamon, and armagnac and then used to top this sumptuous custard. Get the recipe »
This braised chicken recipe is emblematic of the Basque region's affection for colorful, peppery stews and is adapted from a version served by Spanish chef Sébastien Gravé. While paprika works in a pinch, it's worth seeking out the flakier, lightly spicy, and more enigmatic Espelette pepper which is traditional in the region. Get the recipe »
Tender veal scaloppine dredged in flour and sauteed in butter gets a boost of brightness from a simple pan sauce made with white wine and a generous squeeze of lemon. Get the recipe »
You'll want some crusty bread to sop up all the boozy broth after you're done with the mussels. Get the recipe »
In this comforting dish from James Beard award-winning chef Andrea Reusing of Lantern in Chapel Hill, North Carolina, chicken stew is enriched with bacon and crowned with featherlight, parsley-flecked dumplings. Get the recipe »
This rich, smooth soup balances the gentle flavor of fennel with spices and a bracing addition of white wine and Pernod. Get the recipe »
Enriched with white wine, a bit of dried chile heat, and loads of deliciously salty pancetta, the sauce for this version of the classic Italian dish comes from Salvatore Denaro, the chef at Montefalco's Arnaldo Caprai winery. Get the recipe »
Invented in San Francisco, this "little soup" is hearty, flavorful, and loaded with succulent seafood. Get the recipe »