Recipes
Shrimp Scampi
Add this easy, garlicky seafood pasta to your weeknight repetoire.
Serves

serves 6

Cook

30 minutes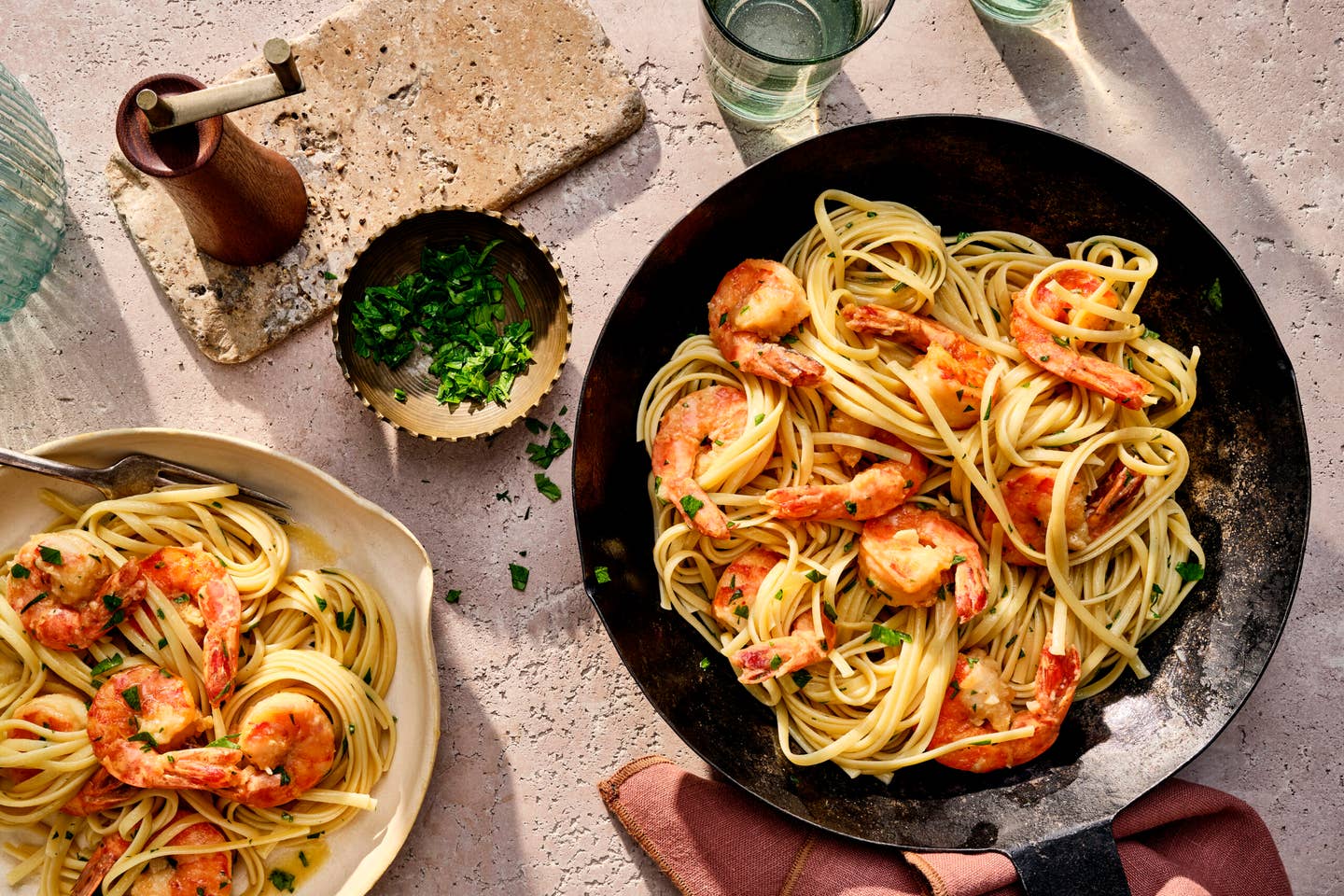 In this Italian American classic, sautéed shrimp are tossed with a sauce of white wine, garlic, lemon juice, and butter, then served with pasta. This recipe is inspired by the shrimp scampi served at New York's legendary Rao's.
Ingredients
1 cup extra-virgin olive oil
2 lb. large shrimp, peeled, deveined, and butterflied
1 cup all-purpose flour
Kosher salt and freshly ground black pepper
1 lb. dry linguine
1½ cups dry white wine
½ cups chicken stock
¼ cups plus 1 Tbsp. fresh lemon juice
1 tbsp. Worcestershire sauce
5 garlic cloves, finely chopped
8 tbsp. unsalted butter, cubed
2 tbsp. finely chopped parsley
Instructions
Step 1
To a large skillet set over medium-high heat, add the oil. While the oil heats, to a large bowl, add the shrimp and flour and toss to coat. When the oil is hot and shimmering, add enough shrimp to fill the pan without crowding. Fry, turning once, until golden, about 3 minutes. Using a slotted spoon, transfer to a paper towel-lined plate and season with salt. Repeat with the remaining shrimp and set aside. Discard the oil, wipe the skillet clean, and return it to the stove.
Step 2
Bring a large pot of generously salted water to a boil. Add the linguine and cook, stirring occasionally, until al dente, about 10 minutes. Drain, return the pasta to the pot, and cover to keep warm.
Step 3
While the pasta cooks, make the sauce: To the empty skillet, add the wine, stock, lemon juice, Worcestershire, and garlic and turn the heat to high. Cook until reduced by half, about 5 minutes. Whisk in the butter and season to taste with salt and black pepper. Turn the heat to medium, stir in the reserved shrimp, and cook until heated through, about 1 minute.
Step 4
Pour the shrimp and sauce over the pasta, add the parsley, and use tongs to gently combine. Serve immediately.