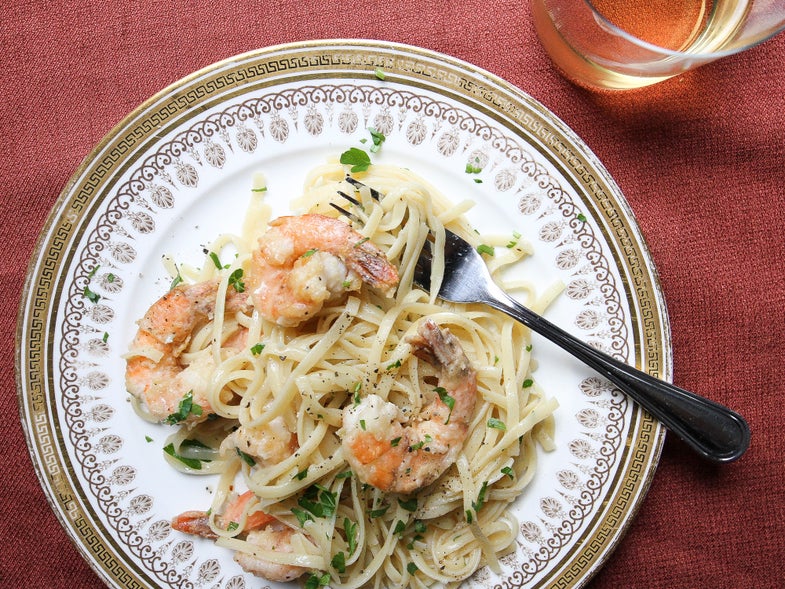 An Italian-American classic, shrimp scampi is a simple dish of sauteed shrimp tossed with a sauce of white wine, garlic, lemon juice, and butter, then served with pasta.
Featured in: Christmas Eve Means Shrimp Scampi
Shrimp Scampi
Purists may note that this Italian-American specialty isn't really scampi (Adriatic crayfish)—but as its name promises, it really is shrimp cooked scampi-style.
Time: 30 minutes
Ingredients
2 lb. large shrimp, peeled, deveined, and butterflied (about 1 1/2 lbs. peeled)
1 cup flour
1 cup olive oil
1 1⁄2 cups dry white wine
1⁄2 cup chicken stock
1 tbsp. worcestershire sauce, or more to taste
5 cloves garlic, minced
cups Juice of 1 1⁄2 lemons (about 5 tbsp.)
8 tbsp. unsalted butter, cubed
Kosher salt and freshly ground black pepper
1 lb. linguine
2 tbsp. minced fresh parsley
Instructions
Dredge shrimp in flour and set aside. Meanwhile, heat oil in a large skillet over high. Working in batches, sauté shrimp until just golden, about 3 minutes. Transfer to a paper-towel–lined plate to absorb excess oil and season with salt. Repeat process until all shrimp have been sautéed.
Drain and discard excess oil from pan and wipe clean. Add wine, stock, worcestershire sauce, garlic, and lemon juice. Cook over high heat until reduced by half, about 5 minutes. Whisk in butter, and season to taste with salt and pepper. Lower heat to medium and add shrimp to reheat, tossing to coat well with sauce, about 1 minute.
Meanwhile, bring a large pot of generously salted water to a boil. Add linguine and cook, stirring, until al dente, about 10 minutes. Drain, then toss with the shrimp and sauce. Add the parsley and season with salt and pepper.