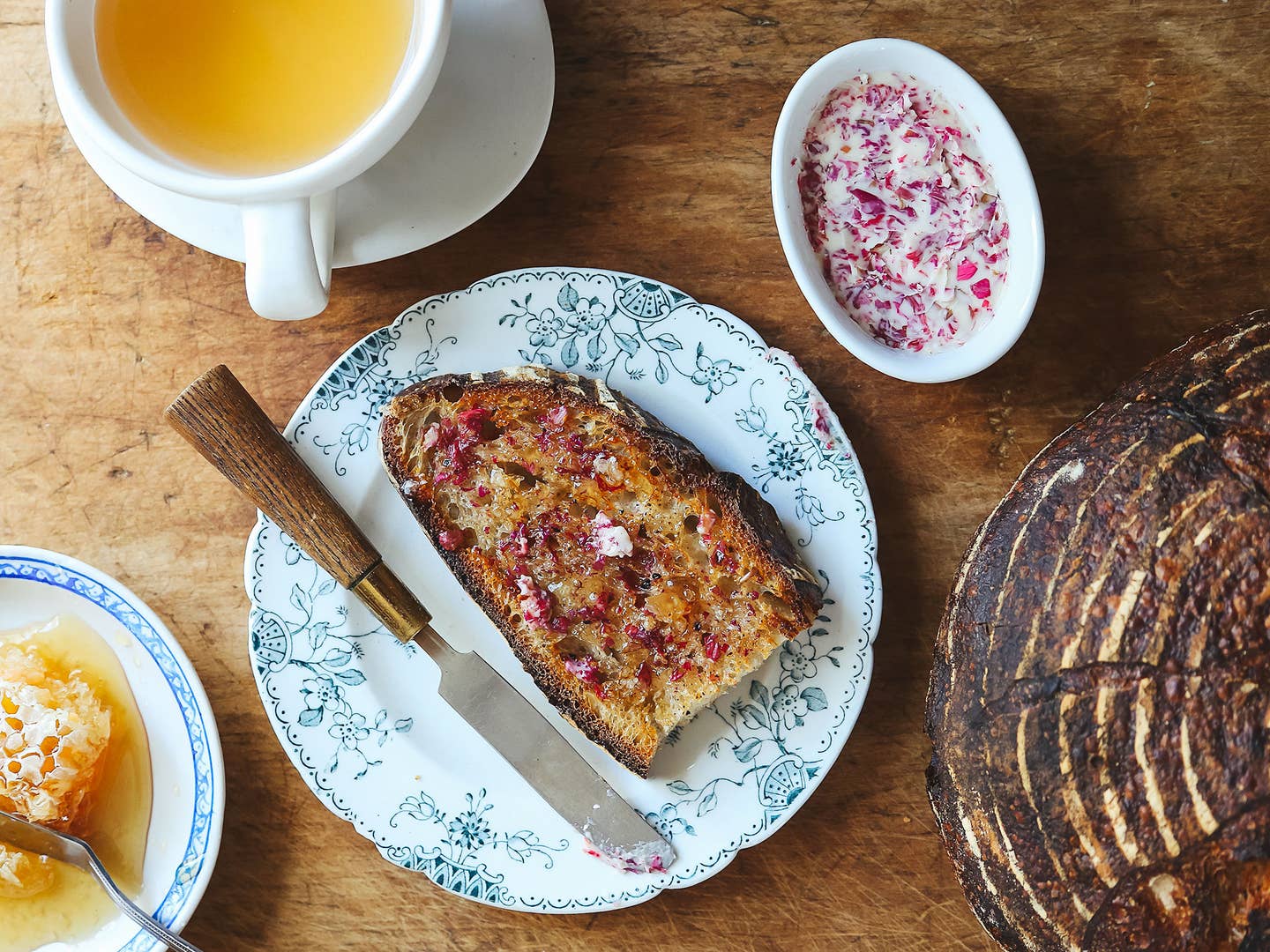 Techniques
Why—And How—You Should Incorporate Roses In Your Diet
Your favorite romantic flower isn't just for your garden
I've always loved roses in a vase, but recently I've started to add them to just about everything I eat. I make a tea out of dried rose buds, ginger, and cinnamon, a combination that's perfectly sweet, spicy, and comforting on a cold gloomy day, and I always keep plenty of rose products on hand. And with over 300 species of rose out there, there are plenty to plant and eat. They're pretty and delicious, and, as I've found out, they have some interesting benefits and side effects.
I talked to Christine Buckley, an herbalist based in NYC, all about roses. The first important thing she notes about working with roses: They're not all good to eat. Stick with the ones that smell good to you, and avoid the roses that don't have any smell. Roses that live in the deli generally have a scent, but avoid these too; they were likely sprayed, and rule number one of working with roses is: Don't eat them if they were sprayed.
Herbalists point to a number of benefits to eating roses. It acts as an anti-inflammatory, refrigerant, and decongestant. Buckley explains, "Medicinally, we use the entire plant, from root to thorn. All parts of it are wound healing: from external wounds to internal wounds to spiritual wounds (like a broken heart, for example)."
And what about rumors that roses are also aphrodisiacs? "It's true, because it gets things going and opens the heart up. This is not to be confused with heating things up, that's what ginger does," says Buckley.
Mostly, roses help with immediate needs. Buckley mentions soothing a temper, comforting someone after a heart rate-raising event, or easing a burn. Because of this, she says it's good to have some rose products on hand. Buckley suggests using petals in a quick and easy tea, mashing them into a honey, or adding them to butter.
Of course, you can buy roses already made in jams, spreads, and spice blends. A recent favorite of mine is the Rosey Harissa from New York Shuk. It's perfect for adding spice and that distinct floral note to various dishes without going overboard on the rose. I asked co-founder Leetal Arazi about the product: "My fascinations with all things rose started when my grandmother would pick the most fragrant roses from our garden and every summer would make us a small jar of rose jam. That delicate flavor of real roses has stuck with me.
But I've also been keeping track of other ways I've seen roses used as an ingredient. On a trip to Italy last spring, I had the pleasure of visiting the Corte Bianca Franciacorta vineyard. Over lunch, I discovered a rose vinegar drizzled over toasts with goat cheese.
The petals can also be pickled. When you strain the petals from the vinegar, transfer them to a clean jar and keep them in the fridge (for up to a month). In the summer, they're perfect over tomatoes and jalapenos with a little bit of oil and sea salt (John Karangis of Union Square Hospitality gave me this tip). Add them to shaved radish or fennel salads, or serve them on a cheese board.
For more involved recipes, I asked some chefs who I've seen use roses in their cookbooks or in their restaurants. They all praise rose as an ingredient, but are quick to warn that a little goes a long way. Chef Josef Centeno, of Baco in Los Angeles, says, "I love Middle Eastern and North African spices, and rose is used in blends such as ras el hanout and advieh. There's nothing else like it. I use dried rose petals and powder sparingly and only in specific applications because of its floral intensity."
Sam Smith of Tusk in Portland, Oregon, says "It's an extremely versatile ingredient that can be used in both sweet and savory applications but, for me, cooking with rose, especially rose water, should be done with restraint. If too much is used, it can take over a dish and end up tasting more like perfume than something you would want to eat." So take note: Always use a light hand when cooking with roses. And don't be afraid to combine rose with other bold flavors, "I like rose balanced with pungent, salty, or sour flavors and aromas. I sometimes use dried rose petals in my pickled red onions," Says Centeno.
For a fun, rosey breakfast, try the Marcona almond, coconut, and rosebud breakfast dukkah from Centeno's book, Baco. I've made it several times and have given jars of it to friends (it's a really good edible gift, FYI). Combine it with thick yogurt and a bit of honey, or sprinkle it over oats or porridge. "I think it's the saltiness and fattiness of the Marcona almonds in the dukkah that complements the floral notes of the rose. So this nut-and-spice mix is a little sweet, salty, floral—and crunchy and a little rich—all at once. I also like their color, and use the dried petals (as opposed to powder) so that they also add a different texture when broken up with a pestle."
Joshua McFadden, of Ava Gene's in Portland, Oregon has a bright, refreshing cucumber and rose salad in his book Six Seasons. "Cucumbers and roses both peak around the same season (midsummer), and cucumbers also have a very floral aroma, so we thought they'd be delicious together. This salad recipe uses both rosewater and rose petals, but if you're cooking with roses, a little goes a long way. Use too much and it can be very overpowering or even unpleasant."
The lamb shoulder with rose and pistachios at Tusk is a slightly surprising (but still delicious!) way to use roses. I hadn't seen that combination before, and decided to bug Sam Smith about it. Turns out it was actually inspired by the pistachios. "I took a lot of ingredients that I really love with pistachios, and put them all together in the same dish. Lamb and pistachio is a classic combination in Italy. And rose and pistachio are flavors that are commonly found in a lot of Middle Eastern dessert…So we put all of these elements together and it worked really well." He shared the recipe, and you can be sure that it does work really well. It's a bit time-consuming, but it's worth the effort.