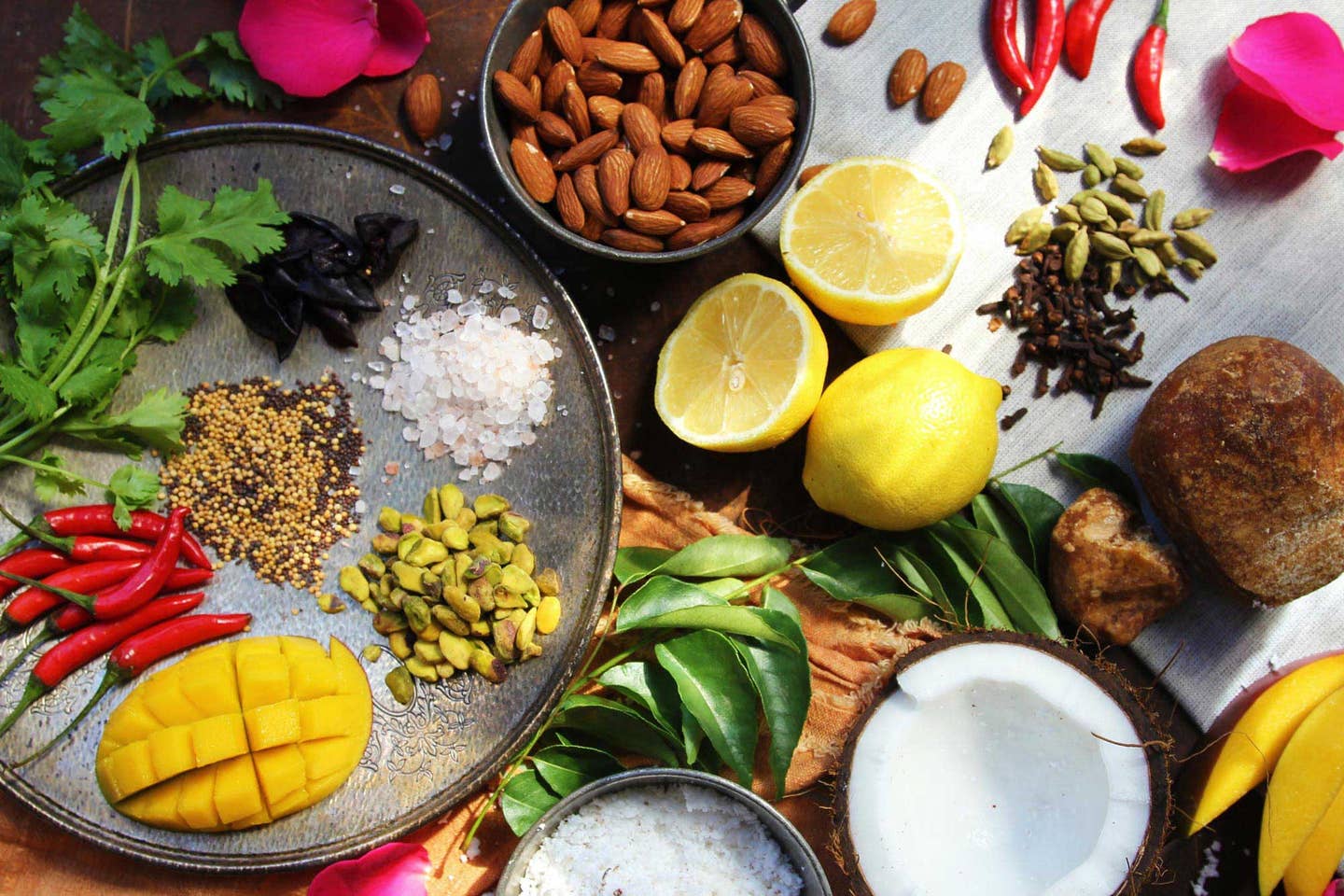 Drinks
Ten Chilled Indian Drinks to Beat The Summer Heat
During the stifling heat of summer in India, these cold, richly spiced drinks are comfort in a glass
During my sun-scorched school vacations in Mumbai, cold drinks were considered a quotidian necessity. On afternoons when the city was bleached pewter by the sun, my mum would be ready with trays heaped with candied fruit and nuts, and icy, buoying drinks. Often, she'd roast and pound fennel seeds with sugar, stirring it all into a tall glass of water. Sometimes, there would be a whole trove of flavored syrups sitting in the fridge, made from bael fruit (Bengal quince) or phalsa (black currant), kewda (pandanus flower), or ripe mango. But my favorite was always the baflo, a Gujarati-style drink made from green mango, sugar, salt and chaat masala: Its sharp tang papered the back of my throat and cloaked me from the flaying breezes of May.
My friends had their own favorites, of course. A friend who spent her summers with her grandparents in Chennai loved sarsaparilla squash, the woody, herbal notes assuaged by the addition of sweet jaggery; my Sindhi friend loved a drink called gulab jo sharbat made from rose petals and cardamom; my friend from Odisha favored rabri sharbat, a drink made from yogurt and rabri, a creamy condensed milk pudding, with fruit essence and a layer of coconut shavings.
Seemingly counter-intuitively, many Indian summer drinks come with a ripple of spice. But there is science behind this. The stab of the chili (or the ginger or the garlic or the cardamom) raises the internal body temperature to match that of its surroundings, thus generating sweat which wicks away the heat from the body. This practice also draws from ayurveda, in which every ingredient is imbued with either cooling or heating properties. My grandmother, who spent much of her life in Gujarat and Rajasthan, would never accept a glass of chaas without a temper of salt, mustard seeds, and a green chili—a marriage of ingredients she believed was ideal for dispelling heat. Similarly, in Delhi, jaljeera vendors line the torrid streets, streaking huge earthen pots of cumin-water with amchoor, jaggery, mint, black salt, and pepper. Across India, a galaxy of spice-led cordials (clove, cardamom and such) has quenched the thirst of my parents and grandparents. The spice pricked, then numbed, then pacified.
Nowadays, in an age awash with Coke and Pepsi, the most common lament among people of a certain vintage is that these iconic flavors are being left behind. But this can be reversed! Here are a few—some on the frontlines, others less known—that rank among my favorites.
Falooda is less a drink than it is a hallucination of colors and textures: Vanilla ice cream, slippery vermicelli noodles, colorful jellies, khus khus (green vetiver), pistachios, and drifts of swollen black tukmaria (basil seeds) are piled in a glass over a bed of fuchsia-colored rose syrup. Some believe a version of this was carried to Mumbai by immigrants from Iran in the 1940s (The Iranian dessert faloodeh similarly marries rosewater, ice, and vermicelli noodles). Others, like eminent food historian K. T. Achaya, believe that it is moored to earlier, royal Mughal beginnings. In The Story of Our Food, he writes, "A favourite of Emperor Jahangir's was faluda, a rich jelly-like drink made from the strainings of boiled wheat mixed with fruit juices and cream."
Of all the heat-beating cold drinks in India's southwestern Goa state, perhaps the most lush is the orchata. Not to be confused with Mexican horchata, orchata is a clean, simple drink made from ground almonds and sugar, faintly accented by rose, and is prepared most often for special occasions. In Maria Teresa Nenezes' Goan cookbook and memoir, The Essential Goa Cookbook, she writes of the drink offered at her sister's wedding party in 1935: "Trays of wine, liquors, the special xaropes, or syrups, of Goa … We children concentrated on orchata, and of course, sampled every tray that passed us!"
Frothy-headed neer mor is made from buttermilk that is bright with rings of green chillies, curry leaves, coriander and ginger, and anointed with a temper of asafoetida, curry leaves and crackling mustard seeds. It is indigenous to the southern states of Karnataka, Andhra Pradesh and Kerala.
When India was cleaved in two by the British in 1947, the Sindhi community along the border was splintered across India and Pakistan. Their homes annihilated by the brutal violence of the time, many wended their way into the new India, carrying little more than memories of their culture and cuisine. Among their many glorious dishes is the rococo chandan jo sharbat. The colour of tea-stained paper, the drink is made from powdered sandalwood and rose and kewda (a relative of pandan) flower water, left to steep in sugar syrup overnight. It's prepared in homes, usually on special occasions, and served in tall glasses with cold water or soda, then gilded with diaphanous chandi ka varq (silver leaf).
Puce-hued panagam is South India's armor against the ripe, ruthless summer sun. It's made from jaggery, lemon juice, and cardamom, with the low thrum of ginger, and is often served on the holy days of Rama Navmi and Narasimha Jayanti, that fall in April or May. An excellent restorative, the earthy sweetness of the jaggery blunts the afterburn of the ginger and cardamom, and seems to extinguish thirst more thoroughly than fizzy sodas and thick milkshakes.
It's easy to find one of the many government-sanctioned bhaang, or cannabis, shops in the northern Indian city of Varanasai. But beyond its approval by the Indian government, bhaang also has a higher sanction—that of Lord Shiva himself, who is known for imbibing the intoxicant. In the holy city, you can buy bhaang by itself, or lightly spooned into thandai—a thick, creamy milk drink peppered with nuts, spices, rose petals, and poppy seeds.
Across India, sour green mango has been tucked into many dishes—sapid curries, chutneys, pickles and raitas, voluptuous kheer, and even as a flavoring agent for dal. This liquid iteration, aam panna, is made by sweetening the boiled pulp of green mangoes with sugar or jaggery, and stirring in black salt and roasted cumin powder.
At the base of the flavor of solkadi is the tart kokum fruit, a member of the mangosteen family that grows on the western coast of Maharashtra. Its purple pelt is peeled away from its flesh, soaked in the fruit's juice, then salted and dried in the sun. This solam (dried peel) then soaks in a glass of water, staining it a pale pink. The water is added to freshly pressed coconut milk, and then mixed with a bracing shower of salt, green chili, and nubs of garlic. It's the perfect partner to spicy Maharashtrian seafood, the creaminess of the coconut and tang of the kokum mollifying the bite of the masala in the fish.
In the eastern state of Bihar, sattu ka sharbat (made from a puff of powdered roasted black chana, or chickpeas) is consumed any one of three ways: ladled into buttermilk with a ripple of black salt, lemon, cumin and coriander leaves; with sugar-sweetened cold water; or with water topped with crumbled brittle jaggery. It's a nutritious morning beverage, usually drank for energy before the day builds itself.
Decades ago, the owners of Tambe Arogya Bhavan, a tiny Maharashtrian eatery in Mumbai, stumbled upon the excellent idea of adding a glug of buttermilk to creamy shrikhand (sweetened strained yogurt) to combat the harsh, hot summer. This became known as piyush (meaning "ambrosia" or "nectar"), and is now popular everywhere, especially in Mumbai. At Tambe, it's still made in the old way: The buttermilk is whisked in a wooden churn before the shrikhand is added, its tooth-tingling sweetness lulled by nutmeg and saffron.