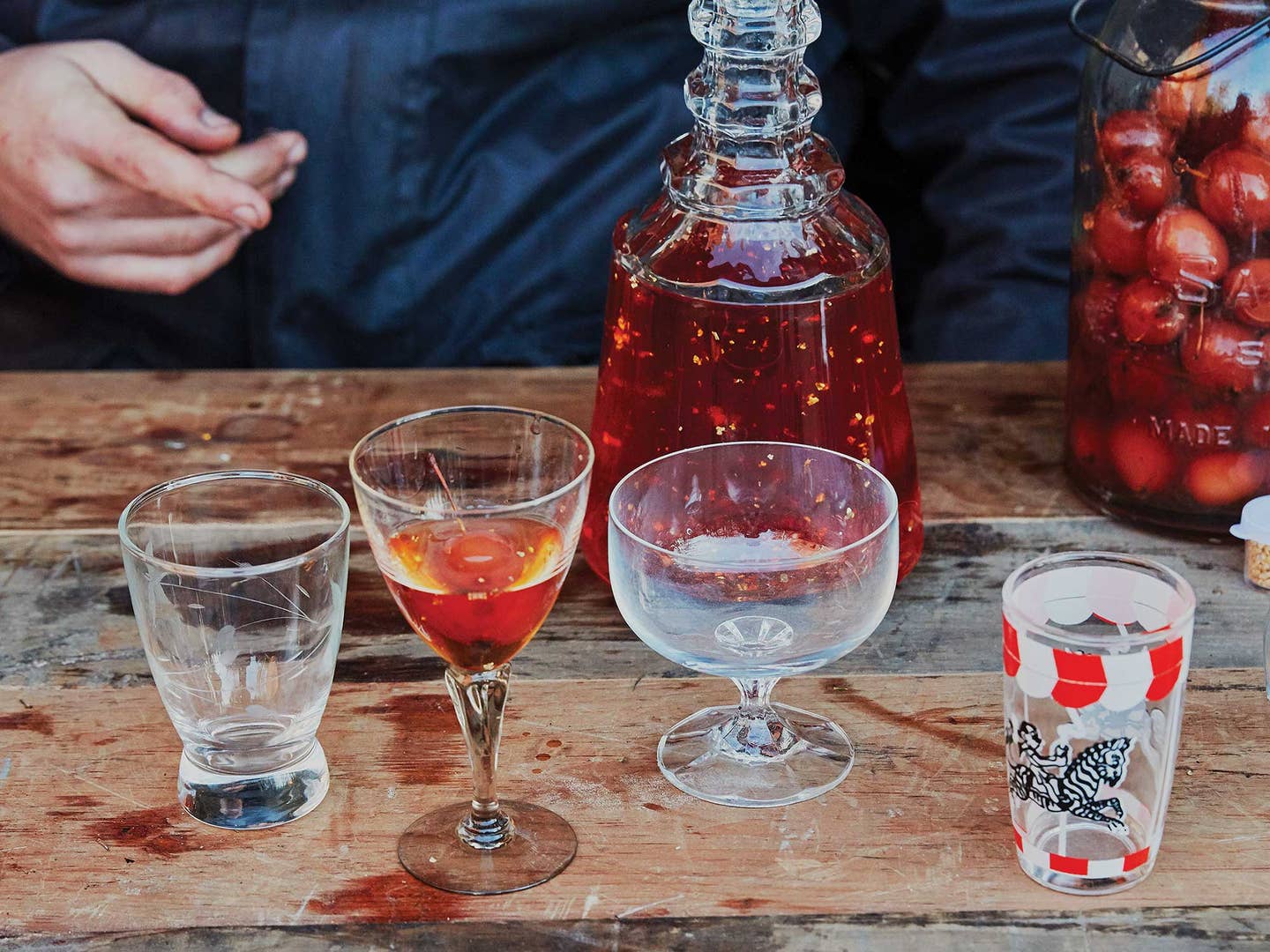 Drinks
Give Crab Apples a Chance With This Cinnamon Liqueur
Those hard, knobbly fruits may not be good for pie, but they're perfect for soaking in booze
If you live in a part of America where winter is something to be endured, where layering is less a fashion statement than a climate necessity, you probably have crab apple trees somewhere. You may have wondered about what they're good for, besides looking pretty. Even at the SAVEUR office, where a number of us grew up in cold places, we were a little at a loss. The hard, knobby fruits are just too tannic and bitter to eat fresh, and cooking with them is a challenge. One editor's father had a go-to thing to do with crab apples—as a kid, he and his pals would hurl them at each other in a particularly cruel form of snowball-fight-meets-dodgeball-in-warmer-weather—not that we'd endorse that sort of thing.
We do, however, endorse soaking crab apples in booze. If you feel confident enough about the food-safety of the crab apple trees in your neighborhood, or you come upon a source of the fruit, do like the good people at Joe Beef do and turn them into crab apple liqueur. It's a warm, spicy treat they make for a day of cooking whole birds outdoors and roasting chestnuts over an open fire, crab apples steeped with cinnamon, maple syrup, and sugar for a fortifying sipper that's redolent of autumn flavors.
The hyper-tannic crab apples wind up balancing out all the sweetness of the sugar and the heat from the Everclear—yes, go for it, you want its strength to stand up to the eventual dilution from fruit juices and sugar syrup—bring apple skin flavor and structured fruitiness to earthy maple. We recommend drinking it all winter long.