Recipes
Crispy Pork Belly with Roasted Vegetables and Applesauce
Serves

serves 4 to 6

Cook

7 hours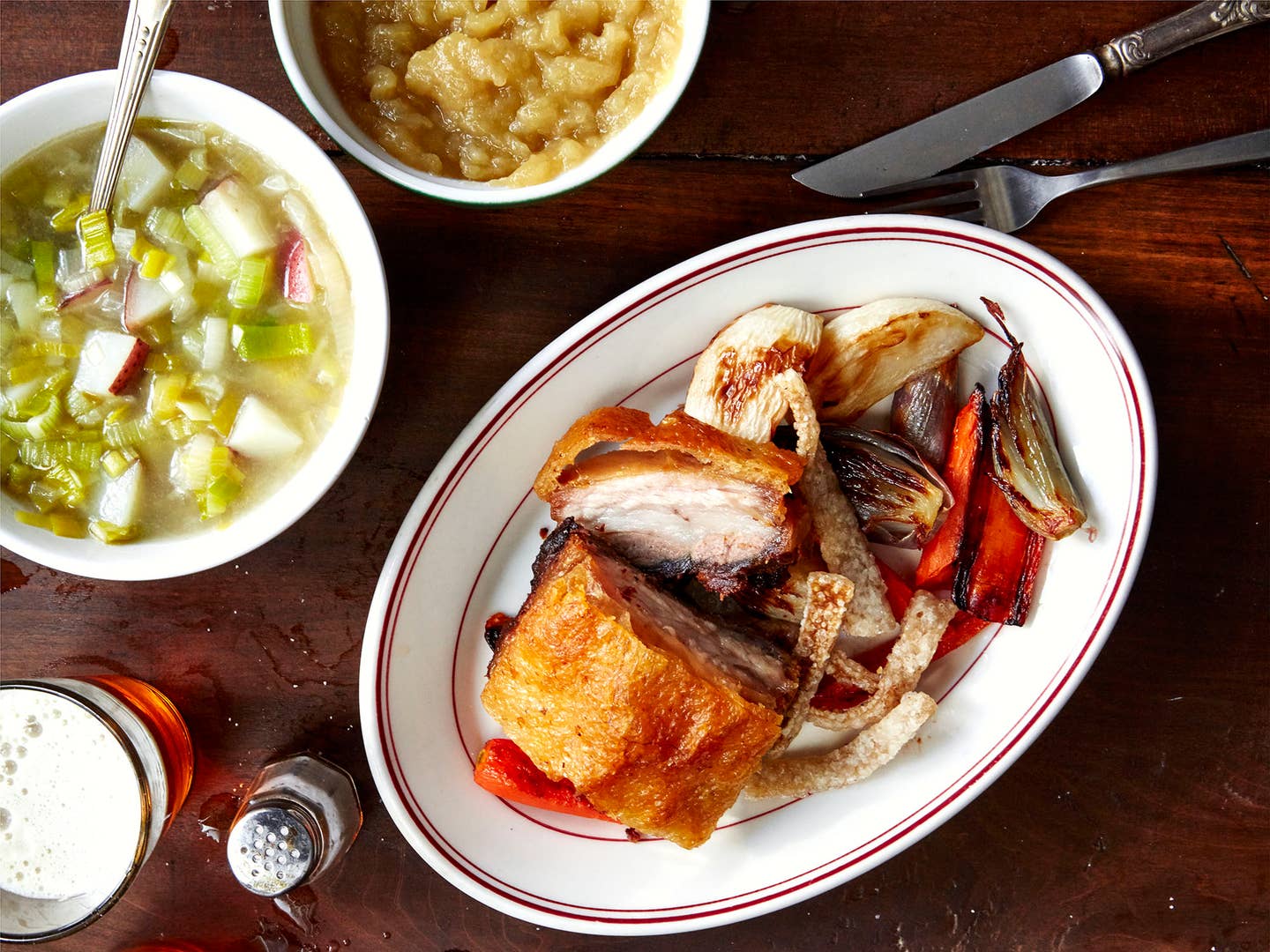 The skin on this slow-roasted pork belly gets peeled off and fried into cracklings, allowing the fat underneath to render and caramelize. Whatever vegetables are in season—this time of year, it's carrots, turnips, and leeks—pair well with the meat, which is served with a cider-spiked applesauce and best enjoyed with a bitter ale, one of the many beers you can drink with it at the Black Bull Inn and Hotel in Coniston.
Ingredients
One 4-lb. piece skin-on pork belly
Kosher salt and freshly ground black pepper
6 shallots, halved lengthwise
6 small carrots, cut into 3-inch lengths
4 small turnips, peeled and quartered
3 medium leeks, white and light green parts, cut into 3-inch lengths
1⁄4 cup olive oil
Vegetable oil, for frying
3 Granny Smith apples, peeled, cored, and roughly chopped
1 cup apple cider
Instructions
Step 1
Heat the oven to 250°. Place the pork belly, skin side up, in a roasting pan. Pour 1⁄2 cup water into the pan and cover with foil. Bake until the belly is tender, 3 1⁄2 to 4 hours. Remove the pan from the oven.
Step 2
Increase the oven temperature to 425°. Peel away and reserve the skin from the pork belly, transfer the pork to a cutting board, and season with salt and pepper. Drain off the liquid from the roasting pan then add the shallots, carrots, turnips, and leeks to the pan. Drizzle the vegetables with the olive oil, season with salt and pepper, and bake, tossing once halfway through, until the vegetables are golden brown and lightly charred, about 1 hour and 15 minutes.
Step 3
Heat the broiler, place the pork belly over the vegetables, and broil until golden brown on top and crisp, 8 to 10 minutes. Remove the roasting pan from the oven, transfer the pork belly to a cutting board, and tent the pork and vegetables with foil to keep warm.
Step 4
Meanwhile, cut the pork skin into rough 1-inch strips and dry thoroughly. Pour enough vegetable oil to come 2 inches up the side of a 6-qt. saucepan, attach a deep-fry thermometer to the side, and heat to 350°. Add the skin to the oil and fry until crisp, about 8 minutes. Using a slotted spoon, transfer the cracklings to paper towels to drain and season with salt.
Step 5
In a small saucepan, combine the apples with the cider and bring to a boil. Reduce the heat to maintain a simmer and cook, stirring, until the apples break down into a thick sauce, 30 to 35 minutes. Season the applesauce with salt.
Step 6
Transfer the roasted vegetables to a large serving platter. Cut the pork belly into 3-inch pieces, arrange over the vegetables, and garnish with the cracklings. Serve the pork and vegetables with the applesauce on the side.